Thanksgiving is my favorite holiday and has become increasingly so the older I get.  Not only is it the start of the festive holiday season but it's an opportunity to take a breath and consciously sit and think about all I am grateful for.  That sounds trite but making memories and revisiting traditions helps to cement this gratitude.  Usually we begin the day with a very early start involving the local YMCA Turkey Dash.  Next we head home and watch Macy's Thanksgiving Parade on the TV with a glass of champagne in hand.  Then, as the National Dog Show is starting, the Thanksgiving turkey is shoved in the oven and we sit down for a game of Christmas-opoly, charades and other silly games.
The practice of roasting a turkey is not much of a big deal to a Brit, because we grew up enjoying 'Sunday roasts' most weekends.  So when Thanksgiving comes around I try to think of different ways to prepare the turkey, just for the thrill.  Here are a five ideas I have tried out with reasonable success.  And a sixth for good measure.
Beer Can Turkey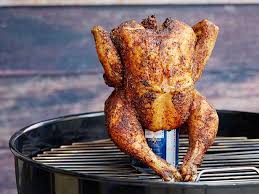 Beer can turkey is a variation on beer can chicken, in which a chicken is propped up over an open can of beer that bastes the bird from the inside. For a turkey, you'll need to find two 24-ounce cans of beer.  One for the interior basting and one for the dripping pan and for basting the outside of the bird with spices to season. Cooking can be done either in an oven or on the grill; either way, consider purchasing a special rack to help keep the bird upright while it's roasting.
Smoked Turkey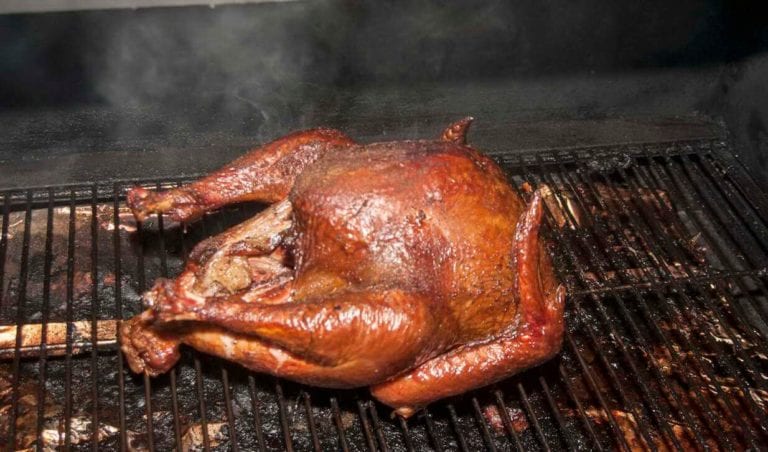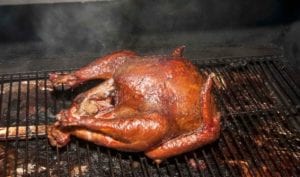 You can make a smoked turkey at home, no matter what kind of grill you've got on your deck.  But a smoker is ideal because it maintains the smoke and temperatures so you don't have to oversee the process so painstakingly. The most important thing is to use a grill where you can create indirect heat, maintain consistent temperatures, and add in the element of wood smoke.  Apple wood imparts a mild and sweet flavor while cherry wood or hickory are also great choices.  Smoking a Thanksgiving turkey can be a long process, so be sure to start early in the day so that the turkey will be done by dinner time.
Pickle Brine Turkey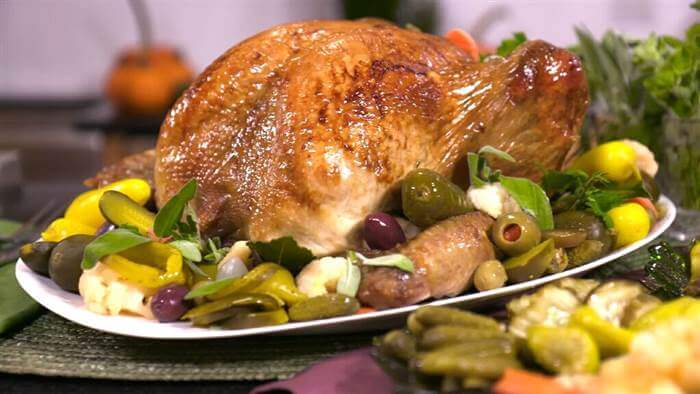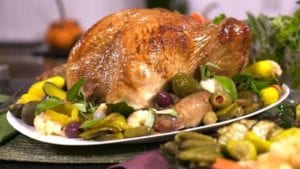 My husband's favorite is a super flavorful turkey soaked in a dill pickle brine overnight.  The basic brine includes garlic, black peppercorns, mustard seed, celery seed and dill seed.  For added spiciness, he usually throws in chopped jalapeno, habanero or any other hot pepper and zesty pickle juice.
Mike is a chili fanatic so the spicier the better, as far he is concerned.  And if it is a home-grown pepper, even better.  But why brine?  Because during brining, the turkey absorbs extra moisture, which in turn helps it stay juicy. Since the turkey absorbs salt too, it also gets nicely seasoned. Even better, the salt breaks down some of the turkey's proteins, making it more tender.  I think of brining as insurance against a dry bird.  And he thinks of the pickles and peppers as his twist on a good recipe.
Spatchcock Turkey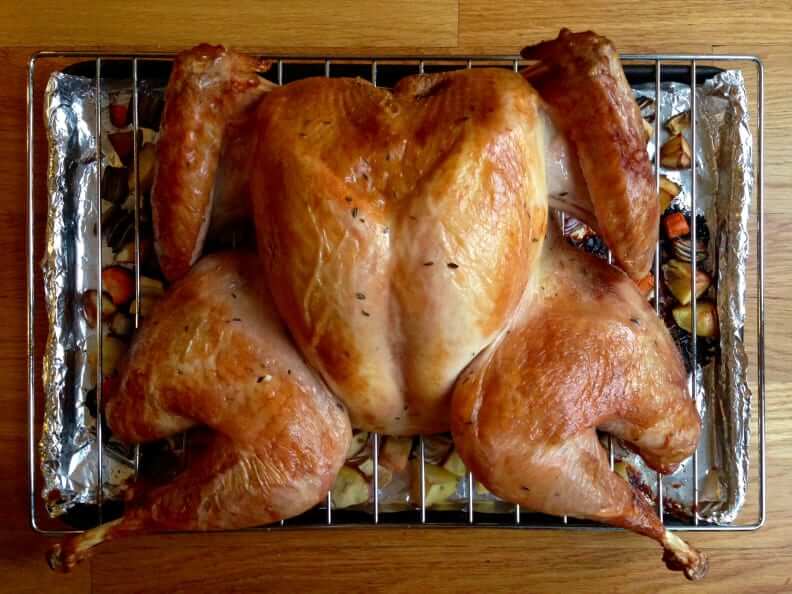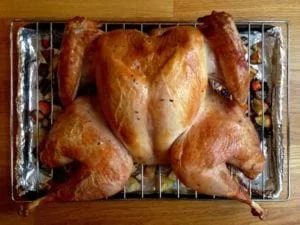 I discovered spatchcocking one year by accident.  After failing to allow sufficient time to defrost the bird I had to think of a creative way of ensuring we would eat before midnight.  A little research resulted in the discovery of the spatchcock technique. By splitting the bird and laying it flat, you increase its surface area, allowing it to cook more evenly and in less time.  Spatchcocking is a brilliant move for anyone short of time, since a 10-14-pound bird will roast in just 90 minutes.
I recommend placing the spatchcocked turkey on a baking tray and letting it sit for at least 30 minutes (or cover and refrigerate overnight). This will allow juices to release and help to provide crisper skin.  Brush the spatchcocked turkey with olive oil and herbs, and bake it until it is tender and the skin is crisp.
Bacon Wrapped Turkey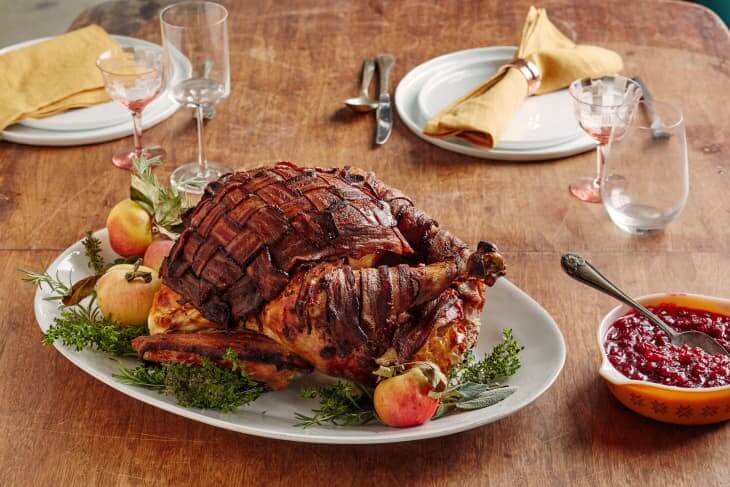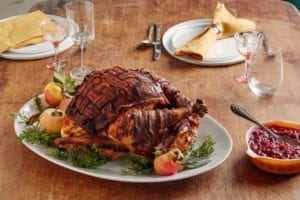 A bacon-wrapped turkey is not just a fun party trick; the bacon creates a barrier of salt, fat, and moisture that keeps the turkey moist and seasons it as it cooks.  Wrapping a turkey in bacon eliminates any brining, salting, or basting to make a flavorful turkey and creates a stunning, crispy "skin" — a welcome contrast to the tender turkey meat. And it's much easier than it looks.  This turkey is for:
the minimalist who wants to create a great, flavorful moist turkey with a big wow factor
the bacon enthusiast who knows everything is better with bacon
the crafty person who enjoys weaving the perfect turkey jacket.
Weaving the jacket is actually easy to do and brings out your inner kindergartener. Even if you are a turkey novice, you can make this turkey!
Flavorly's Big Turkey Dinner
But cooking turkey this Thanksgiving isn't for everyone.  What if you're on your own?  Maybe it's too much fuss for two people?.  What about the leftovers?  What if you just don't feel like it? Well we have the perfect solution!  Flavorly has a delicious 'Big Turkey Dinner" that will fit the bill.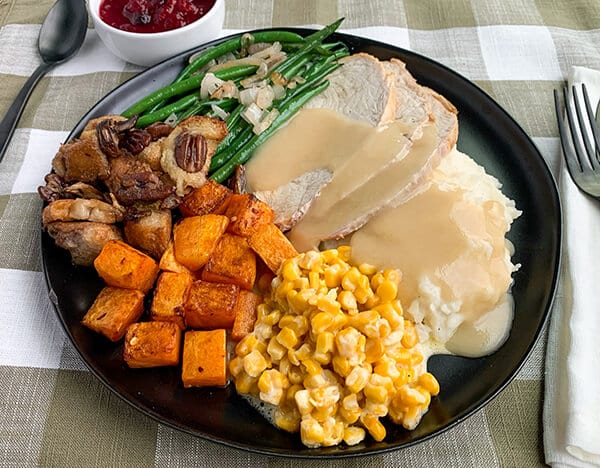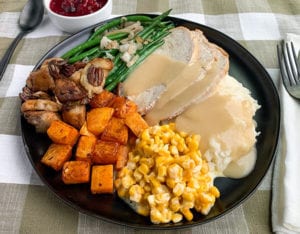 A generous serving of all of your holiday favorites that's sure to please any appetite – large enough for two (or one with plans for some hefty leftovers). Oven-roasted all-natural turkey breast, carved and smothered in our scratch-made turkey gravy. Served with our chef-prepared classic holiday sides: butter-shallot green beans, garlic mashed potatoes, mushroom, and pecan stuffing, creamed corn, roasted butternut squash, and our house-made cranberry sauce. How can you resist?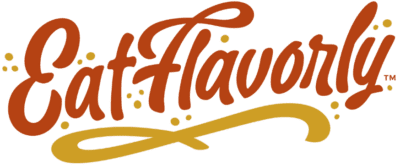 Sources
https://www.mentalfloss.com/article/88350/10-creative-ways-prepare-turkey
https://www.foodandwine.com/holidays-events/thanksgiving/thanksgiving-turkeys..
https://www.plainchicken.com/6-ways-to-cook-a-turkey/
https://mobilerving.com/blog/6-ways-to-cook-turkey-in-an-rv
https://www.today.com/food/7-fun-alternative-turkey-recipes-thanksgiving-dinner-t142004
https://www.foodandwine.com/meat-poultry/turkey/7-non-traditional-ways-serve-turkey-thanksgiving
https://www.reviewed.com/ovens/features/10-alternative-ways-to-cook-a-turkey