I have a confession to make.  I have never been to Casablanca.  In fact, I am writing this blog about Moroccan Tagine without ever having been to Morocco or experienced authentic tajine.  When I say I haven't experienced it, I mean I haven't had the pleasure of cooking it in that unmistakeable cone-shaped earthenware pot.  I haven't shared a traditional communal tagine in a mountain village and I haven't been to Marrakech and haggled for one in the local markets. Clearly, after considerable research today, I have missed out on an unforgettable lifetime experience!  In fact, I am starting to think that once Covid's over I need I need to start planning a vacation to Morocco and not just because I have a crush on Humphrey Bogart…
Moroccan Culture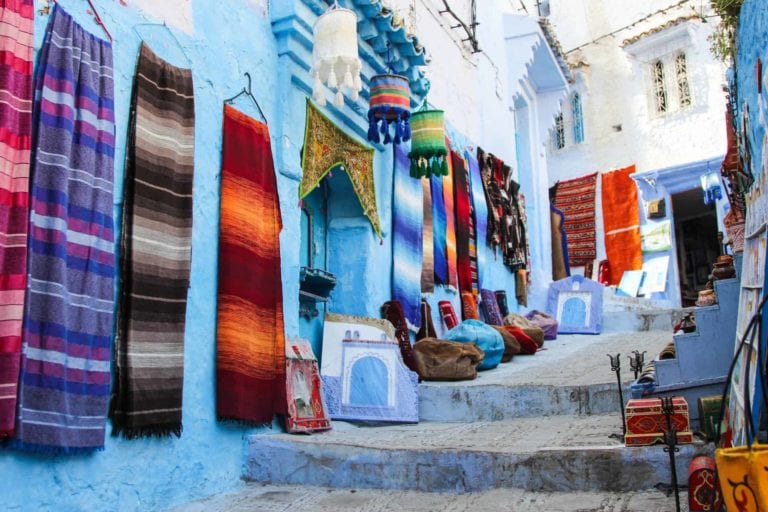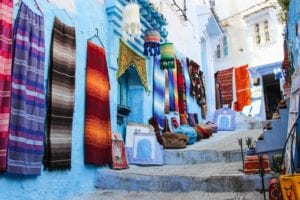 Morocco is allegedly a fascinating country of contrasting experiences.  Firstly, marvel at Casablanca's Moorish architecture and buzzing restaurant scene or escape to the exotic beaches of Essaouira and Tangier.  Then, trek up to the Berber villages of the High Atlas Mountains or descend upon the many souks (markets) of Marrakech and Fez.  It boasts a kaleidoscope of colors and a smorgasbord of flavors and is one of the most exotic culinary destinations in the world.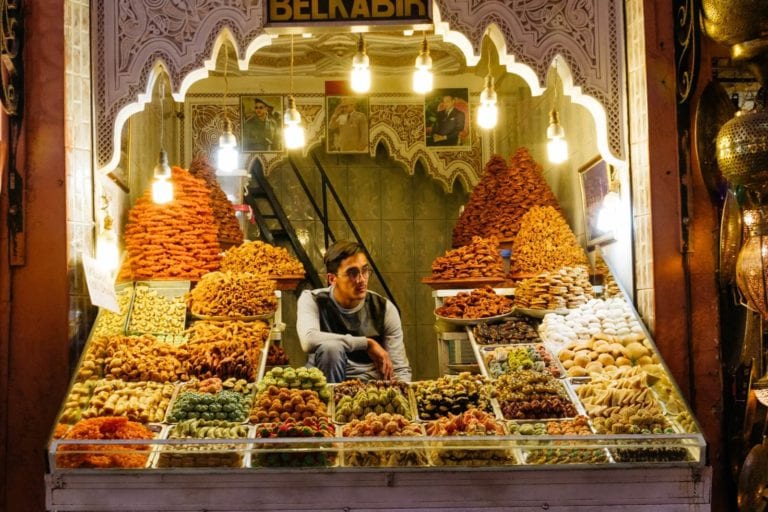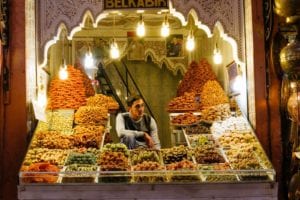 Moroccan Cuisine
Morocco's distinct culture is a story best told through its cuisine, an exciting mix of Berber, Arabic, Andalusian, and Mediterranean cuisines with some European and sub-Saharan influences thrown in for good measure.  Consequently imagine markets and alleyways filled with fresh baked goods, produce, pungent aromas from colorful barrels of exotic spices.  And wherever you find yourself, you're unlikely be far from a simmering tajine in the making.
What is Tagine?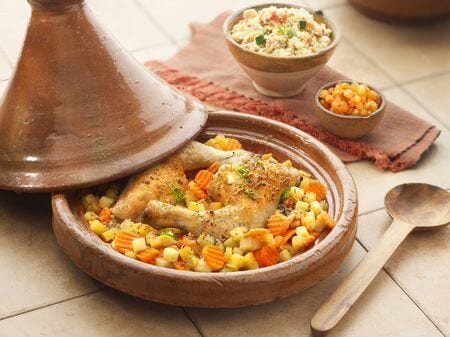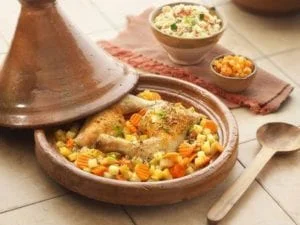 The word tajine or Moroccan tagine is a distinctive earthenware dish with two parts.  It comprises a pose unit which is flat and circular with low sides and a large cone, or dome-shaped cover that rests inside the base during cooking. Tagine refers to both the food prepared in that dish or to the dish itself.  The unique shape of the tagine, with a fluted cone top, consequently traps steam as the dish cooks.  This allows the food inside to cook evenly and helps tenderize the meat.  Evidently, Tagines were first used in North America for cooking food over fire.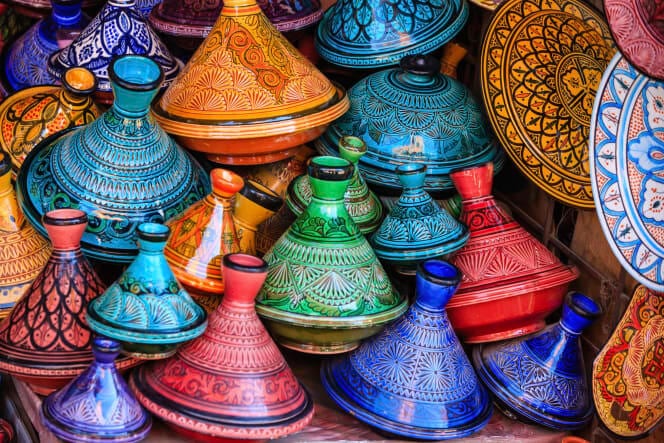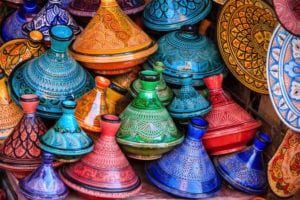 While many tagines are beautifully hand-painted the basic cooking version is unpainted and only occasionally glazed. Practical and durable the dish is synonymous with Morocco for good reason.  In fact, every roadside stall, tourist restaurant and cafe seems to have pots of the stuff simmering all day long.  I guess you might say that a Tagine is to Morocco as a wok is to Asia.
The Thousand and One Nights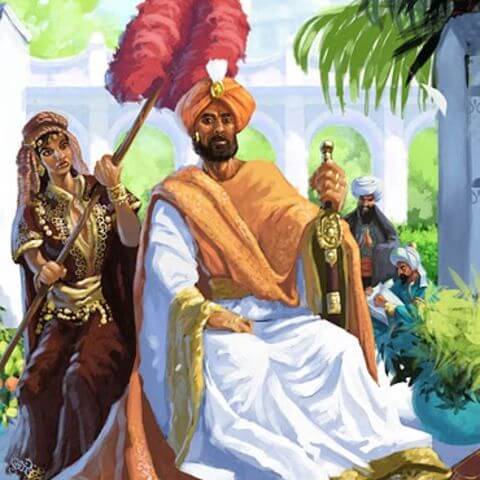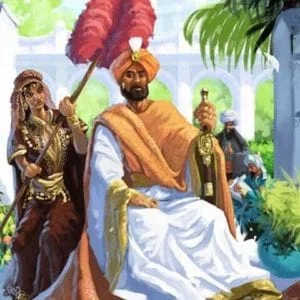 Most people agree that the tagine's origin dates back to the late 18th century when Harun al Rashid ruled the Islamic Empire. However, there is another school of thought that the use of ceramics in Moroccan cooking is probably of Roman influence.  For instance, Romans were known for their ceramics and likely brought that tradition to their rule of Roman Africa. Either way, the first appearance of tagine recipes appeared in the 9th century in the publication The Thousand and One Nights.
What goes in a Tagine?
The main ingredient in a Moroccan tagine is any type of beef, lamb, poultry or fish that is fresh and in abundance in the market.  Whereas it can also be a delicious vegetarian dish without any meat.  Slow cooking allows the ingredients to mix their scents in perfect combination. The slow cooking leaves the meat juicy and tender while oriental spices such as turmeric, cinnamon, saffron, ginger and cumin enrich the flavor.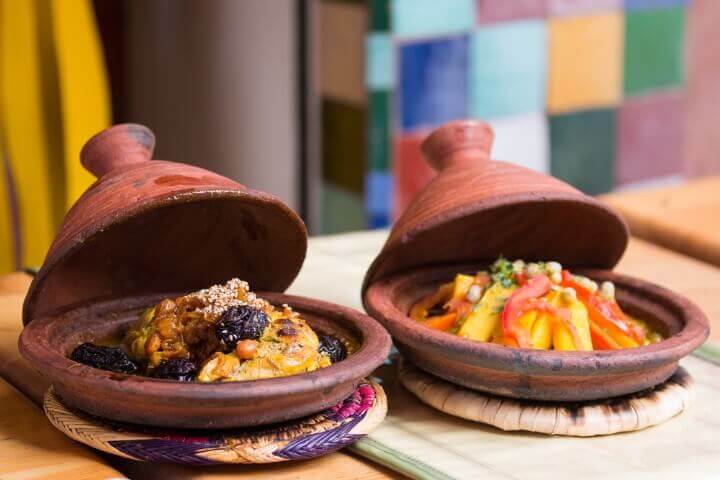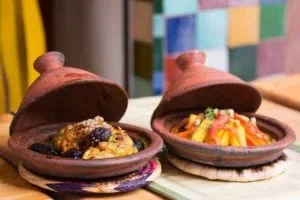 Some tagines feature dried fruit and nuts and you will also find fresh herbs, olives, and preserved lemons, and even eggs and sausage.  Taking things to another level, there is a Berber tagine which distinguishes itself by how the vegetables are artistically arranged around the lamb for a beautiful presentation.
Casablanca
Casablanca is a great restaurant city. Unlike Marrakech, Casablanca has a buzzy restaurant scene fueled by both locals and visitors. For example, La Corniche, the city's waterfront boulevard, lined with umbrella-shaded beach cafés, chic lounges, and ocean-view restaurants, wouldn't seem out of place on the French Riviera.  Culture Trip has great tips on some of the best places to enjoy tagine in the city.
As time goes by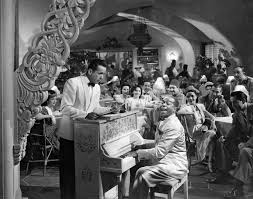 You must remember this
A kiss is just a kiss
A sigh is just a sigh
The fundamental things apply
As time goes by…
(Herman Hupfield, 1942)
In conclusion…
Flavorly's version of traditional Moroccan tagine begins with a leg of lamb which we cube and subsequently slow braise in a blend of North African spices, onions, tomatoes, apricots and raisins.
Why don't you order some before too much time goes by…
Sources
https://www.masterclass.com/articles/how-to-use-a-moroccan-tagine
https://www.moroccoworldnews.com/2012/06/46130/moroccan-couscous-and-tagine/
http://www.kouskousrestaurant.com/news/2016/3/17/the-origin-of-ta
https://www.thespruceeats.com/the-moroccan-tagine-2394748
https://www.mosaicnorthafrica.com/moroccan-tagine/
https://www.legalnomads.com/tagine-morocco/
https://yourstory.tenement.org/stories/moroccan-tagine
https://www.accesstrips.com/blog/morocco-travel-story-told-through-cuisine
https://www.nytimes.com/2015/11/01/magazine/an-unforgettable-tagine-in-morocco.html