Well this is it.  I've been putting off writing this blog for a long time.   There's only one meal left on Flavorly's menu that I haven't touched on in some form or other when discussing regional cuisine.  And it's Peri-Peri Grilled Chicken.  Why have I left this amazing dish until last?  Because it is a classic example of South African cuisine and since Chef F and the Fourie family hail from this beautiful country, I feel they are far more qualified to talk about it than I.  However, by coincidence I did have the opportunity to spend a few years working in South Africa in my 20's and have some very fond foodie memories.  So, this blog is a kind of homage to that period of time in my life.  In that spirit I will share with you three of my favorite culinary experiences from those days.
The Braai:  Camping at Merry Pebbles
In July of 1992 we arrived in South Africa after my fiance had been offered work with Anglo American Crown Mines.  Age 23 and 24, it was a love story of note.  We had met at Leeds University five years previously as teenagers.  A brilliant geologist and mineral engineer he accepted his first job overseas as a laboratory researcher upon obtaining his PhD.  All starry-eyed, I followed in his footsteps and we found ourselves in Johannesburg at a most interesting time in South African history:  The turning point of apartheid and the release from jail and subsequent election of Nelson Mandela.
South African Tradition
Tom's lab partner, Marius, was Afrikaans.   On our first out-of-town weekend trip to Kruger National Park, he was anxious to introduce us to one of South Africa's great culinary institutions:  The 'braai'.
This is a picture of Marius preparing our inaugural braai at the Merry Pebbles resort.  On the car ride from Johannesburg to Sabie, Marius balanced that orange bowl of pungent marinade on the back seat while he assumed the role of driver.  In the bowl steeped three succulent rib eye steaks.  Tom and I sat inhaling the aroma for the length of the 4 hour road trip.  At times it was overwhelming, but it was worth it.  When we arrived at our destination and found our rustic accommodation Marius lit up the braai and after the coals turned gray he started to cook the meat.  I will share the marinade recipe at the end.
A lengthy social experience
What is a braii?  In the words of Carina Claassens "Braaing is one of the few things in South Africa that cuts through cultural and racial lines. Regardless of language, race, or culture, the love of meat cooked over a wood fire is something that all South Africans share. It really is a South-African tradition."  I couldn't agree more.  Yes, it is a barbecue.  But it is as much about the social experience around the barbecue as it is about the process of cooking food.  And the process of cooking food is of the utmost importance:  Take your time and don't rush it.
A blend of earthy simplicity and sophisticated culinary art
I have so many amazing memories of South African braais, starting with that first one outside the Kruger National Park.  While I don't recall the detail of every one, what I do remember is some of the most exquisite dishes I have ever experienced came off a braai.  This might sound like madness by comparison with typical grilled American burgers, hotdogs and ribs drowning in bottled barbecue sauce.  But in contrast, what comes off a braai is usually a culinary labor of love and far removed from 'fast food' in every sense.
The Potjiekos:  On the Terrace with the Van Tonders
After a few months living in a slightly run-down, detached rental property with Marius, Tom and I decided to move on.  It wasn't so much a need for privacy but more a matter of personal safety.  I came home one day from work one day to find armed robbers in the house and our belongings in pieces.
Soon after that we moved into what was described in the newspaper ad as 'a garden cottage' on the grounds of a larger property, owned by the Van Tonder family.  To be honest, it was a garage that had been converted into a den for their now grown-up teenagers.  But it was in an idyllic setting at the bottom of a tropical garden next to the swimming pool.  And to us it was a safe haven that exposed us less to rising violence in the suburbs.  There we experienced our first 'potjiekos' on the verandah with our landlords Johann and Lynda Van Tonder.
A cast iron three-legged pot
In South Africa, a potjie directly translates as "small pot" from Afrikaans and is a traditional round, cast iron, tripod pot. It is similar in appearance to a cauldron, is usually black and is used to cook potjiekos over an open fire.  
Potjie can also refer to the technique of cooking potjiekos. This tradition originated in the Netherlands during the Seige of Leiden and was brought to South Africa by Dutch immigrants. It persisted over the years with the Voortrekkers and survives today as a traditional method of outdoors cooking.  Among the South African tribes these pots also became known as phutu pots.
Voortrekker History
These cast iron pots perfectly suited the nomadic lifestyle of the indigenous tribes and Voortrekkers during the 17th and 18th centuries. The Voortrekkers traveled with their pots hooked under their wagons. The pots and their contents protected with a layer of fat. When the wagons stopped at the end of the day, the pots were unhooked and the available meat was stewed with potatoes and vegetables.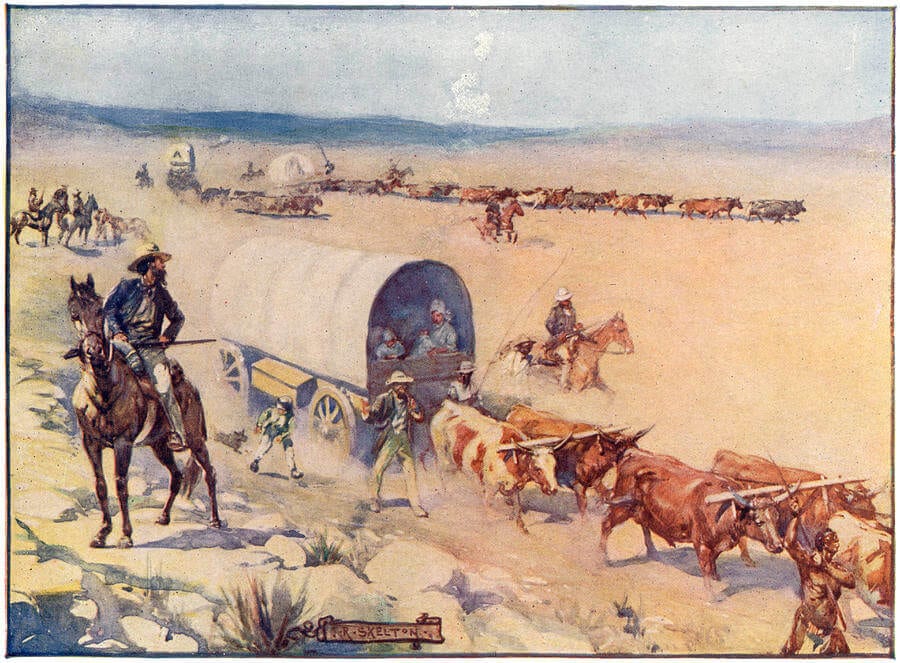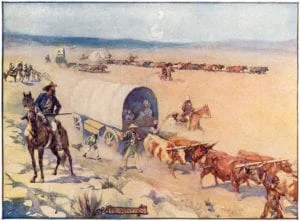 How it works
Cast iron pots are ideal for cooking food as they are able to retain heat well and only need a few coals to keep the food simmering for hours. The pots allow steam to circulate instead of escaping through the lid making them ideal for cooking tender roasts and stews. Ingredients are kept simple with meat, potatoes and some vegetables.  The first layer is normally meat which can be sea food, poultry, pork, game or red meat. Next would normally be the vegetables, then the starch and lastly the sauce would be added. Ingredients that need to cook longer are very often placed closer to the bottom of the pot.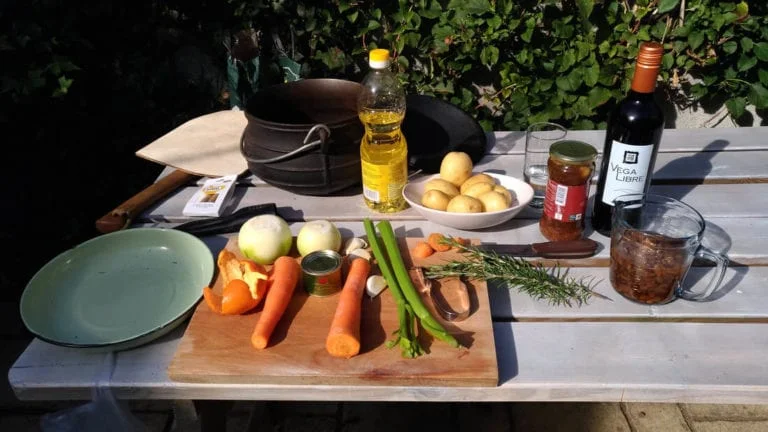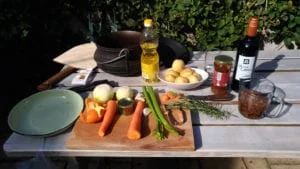 The Art of the Perfect Potjie
Perfecting a potjiekos requires practice, plenty of time and constant attention. The cast-iron pot retains heat brilliantly and the art of using that to your advantage is in achieving a sustained simmer, not lurching between a rapid boil (which toughens meat) and the heat dying out completely. The pot must be at a happy bubble, sometimes described as a 'prrrt-ing' sound. If it's quiet, nothing is happening inside. Listen closely at all times. Resist the temptation to lift the lid too often, and to stir the stew. Preheat the pot over the coals and don't be afraid to take it off the heat to maintain control and avoid burning, especially between browning meat and cooking onions, and when layering.
Peri Peri Grilled Chicken:  Road Trip to Mozambique
After a while we ventured a bit further afield at the weekend.  A few friends suggested we go diving in Mozambique which entailed a five hour overnight drive from Johannesburg.  So we set off, stopping on the outskirts of the city for some fast food to fuel us for the journey.  My girlfriend Alison, who was on a one year overseas assignment for Cadbury, had just discovered a place called Nando's Chicken and insisted that we make our stop there.  This was when I tasted Peri Peri chicken for the first time.  In the car in the dead of the night, with sauce dripping down my chin, on the way to Mozambique.
The Nando's Story
You will read on the website that the Nando's story started centuries ago, when the Portuguese explorers set sail for the East. The winds of Africa called them ashore.  Subsequently they discovered the African Bird's Eye Chilli – more commonly known as Peri Peri. A spice like no other, they used it to create a unique Peri Peri sauce.  The same Peri Peri flavor inspired Fernando Duarte to invite his friend Robbie Brozin to a humble Portuguese eatery in the heart of Rosettenville, South Africa, in 1987.  After just one bite of the mouth-watering marinated chicken, they knew it was a taste that had to be shared.
Peri Peri Sauce
Recipes vary, but peri-peri sauce is typically made from crushed chiles, lemon, pepper, garlic, salt, onion, bay leaves, vinegar, and oil. To make peri-peri sauce, all of the ingredients are pureed together. The mixture is kept raw if being used as a marinade, but it is simmered in a covered pot over low heat for about an hour if being used as a condiment.
Peri-peri sauce is most commonly used on chicken and fish, but has a wide variety of applications on different dishes. You can buy pre-made peri-peri sauces at most major grocery stores. They range in heat, from medium to extra-hot, so start low if you're fearful of the tongue-torching capabilities of this particular condiment. If you want something much cooler, "perinaise" (a combination of peri-peri sauce and mayonnaise) is a great milder option.
Flavorly's Peri-Peri Chicken is one of my favorite meals.
Marius's Famous Braai Marinade
INGREDIENTS
400 ml tomato sauce

300 ml fruit chutney

50 ml Worcestershire sauce

100 ml soy sauce

500 g onion diced

80 g garlic chopped

150 ml olive oil

200 ml red wine

100 ml cola

50 g BBQ spice

50 g cracked white pepper

80 g Maldon salt

80 g chopped thyme

30 g paprika

10 g chopped chillies (optional)
METHOD
Mix thoroughly and leave to rest in the fridge for 30 minutes.
Pour liberally over the meat and marinade for at least three hours prior to the cooking.
When cooking, baste liberally with the remaining marinade.
Head on over to Flavorly and try out our Peri Peri Grilled chicken and other global flavors for yourself!
Sources
https://www.allrecipes.com/article/what-is-peri-peri/.
https://www.nandos.com/story/.
https://www.getaway.co.za/food/master-perfect-potjie/.
https://www.instructables.com/How-to-make-Potjiekos/.
https://exploresideways.com/blog/everything-you-need-to-know-about-a-south-african-braai/.
https://bbqboy.net/things-you-must-know-about-south-african-braai/.