Today was a day much like any other day during Covid.  Except that I have become more appreciative of my free time at the weekend now that I work full-time during the week.  Today I caught up with some girlfriends over brunch at The Oaks Kitchen & Bar in the Cane Island Community.  I don't know what it is about brunch, but I could quite happily eat Eggs Benedict for brunch every Sunday whereas I would tire very quickly of eating any other meal with the same regularity.  I am spoiled for choice of brunch venue here in Katy, Texas and I suspect it is much the same in other parts of the country.  But brunch wasn't always a 'thing' and its origins are interesting.
Brunch is a Portmanteau
One of the most enjoyable aspects of writing blogs is discovering something you never knew existed.  When researching the history of brunch I learned an intriguing new word:  Portmanteau.  If you look it up, there are two definitions:
a large trunk or suitcase, typically made of stiff leather and opening into two equal parts.
a word blending the sounds and combining the meanings of two others.  For example motel (from 'motor' and 'hotel') or brunch (from 'breakfast' and 'lunch').
So, there you have it:  Brunch is a 'portmanteau'!  It is also by definition served before 3pm although not in a suitcase!  It often has some form of alcoholic drink involved (most usually champagne or a cocktail).  Additionally, it originated in England in the late 19th century and became popular in the US in the 1930's.
The Thrill of the Brunch
The concept of brunch can, in part, be traced back to the upper-class British tradition of hunting luncheons. In between chasing the foxes, men and women gathered for decadent early lunches, complete with a multitude of meats, egg dishes and plenty of adult beverages.  While chicken galantines, cold sliced headcheese and port wine are a far cry from the 'huevos rancheros' and Belgian waffles we enjoy today, this meal was the first time breakfast and lunch foods were combined into one mega-meal.
Who is Guy Beringer?
Originally, the word "brunch" first appeared in print in an 1895 Hunter's Weekly article. In "Brunch: A Plea," British author Guy Beringer suggested an alternative to the heavy, post-church Sunday meals in favor of lighter fare served late in the morning. "Brunch is cheerful, sociable and inciting," Beringer said. "It is talk-compelling. It puts you in a good temper, it makes you satisfied with yourself and your fellow beings, it sweeps away the worries and cobwebs of the week."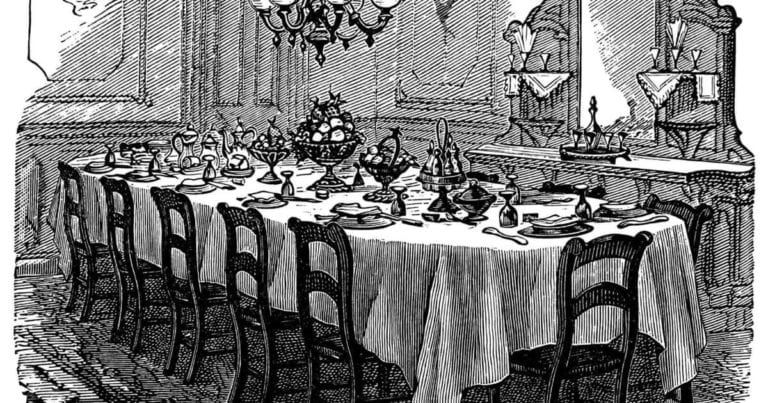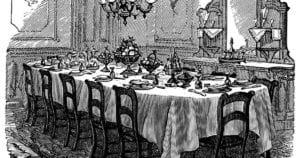 A year later in 1896, the word, "brunch" circulated in America for the first time. The article "The Newest Thing in Lunches" in the New Oxford News and Notes for Women, introduced readers to the "fad" of eating between breakfast and lunch.
1930's Hollywood
Brunch in the 1920s was a meal for the upscale crowd, a crowd who could get away with day-drinking with gusto (not to mention blatant disregard of Prohibition). The tradition of brunch definitely caught on in the US in the 1930's, supposedly because Hollywood stars making transcontinental train trips frequently stopped off in Chicago to enjoy a late morning meal.
It was a meal championed by hotels since most restaurants were closed on Sundays.  Moreover with church attendance flagging after World War II, people were looking for a new social outlet that also let them sleep in a bit. Restaurants soon followed suit and began offering lavish spreads of food and signature cocktails, such as Bloody Marys, Bellinis and Mimosas.
It's 5:00pm Somewhere!
Cookbooks of the 1930s recommended a brunch hostess make alcohol available for her male guests, but avoid imbibing herself, suggesting recipes for "mocktails" like tomato and clam juice. Things were still sexist in those days.  It wasn't until the early 1950s that the stigma of day-drinking diminished within the middle class.  Subsequently post-World War II families included working women who were looking for a weekend respite from the work week.
The Bloody Mary
The Bloody Mary cocktail,  acquired its name allegedly from Mary, Queen of Scots, and was invented in France. Later it was spiced up for American tastes at New York City's King Cole Bar. This concoction was a likely choice for brunch due to its "hair of the dog" status as a hangover remedy.  In addition it resembled the non-alcoholic tomato juice cocktails that were popular appetizers in restaurants, and renowned as healthful elixirs.
Sex and The City
Today, brunch may owe its prominence in pop culture to the ladies of Sex and City, making it no surprise that the Food & Wine magazine named New York City the best brunch city in the United States. Eggs benedict, perhaps the most famous of brunch dishes, was invented in NYC.  The city's brunch menus also frequently featuring local favorites, like Nova lox and smoked sturgeon.  Well there you go, I never knew my favorite brunch dish had a claim to fame!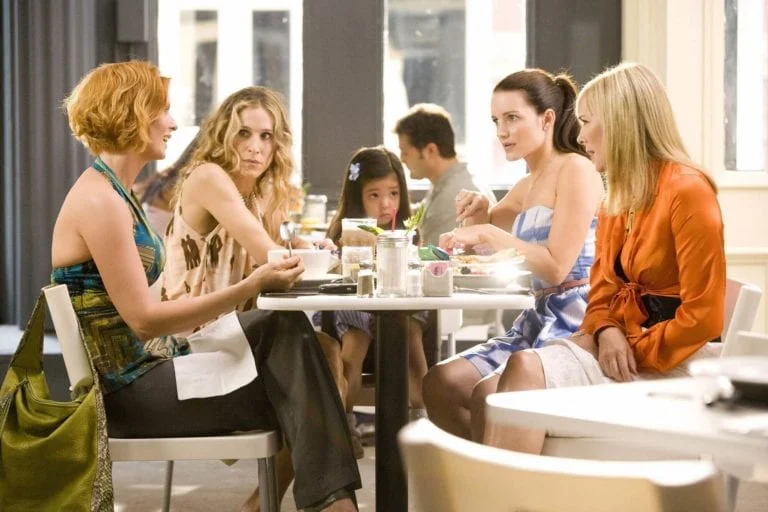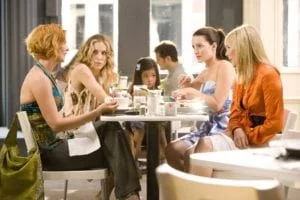 Brunch in other States
Brunch is also huge in Atlanta, highlighting southern influences with dishes like fried chicken benedict atop buttermilk biscuits. Las Vegas may make the biggest splash with brunch though. Revelers on 'The Strip' enjoy opulent, all-you-can-eat buffet feasts that frequently include luxury foods like jumbo crab legs, lobster, and oysters. Many brunches throughout the U.S. also often feature many diners' favorite feature…unlimited or "bottomless" mimosas and Bloody Mary cocktails.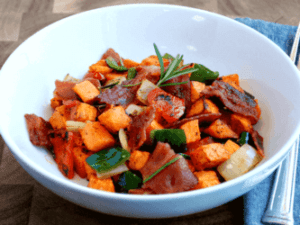 What's your favorite brunch dish?  Flavorly's got some great options for you if you're brunching in this weekend!  How about Bacon and Spinach Omelette, Sweet Potato Hash or Barbacoa Breakfast Hash?  Head over and get yours now before we sell out!
Sources
https://www.mashed.com/22358/brief-history-brunch/
https://www.southernliving.com/breakfast/brunch/brunch-origin
https://www.smithsonianmag.com/arts-culture/the-birth-of-brunch-where-did-this-meal-come-from-anyway-164187758/
https://www.history.com/news/the-goods-on-brunch
https://blog.grubhub.com/the-history-of-brunch
https://www.touchbistro.com/blog/a-brief-history-of-brunch/
https://theculturetrip.com/europe/united-kingdom/articles/the-interesting-history-of-brunc/