I was lucky enough to be spending a few days in the US Virgin Islands recently.  As I sat and enjoyed another mouthful of exquisitely prepared local food at The Longboard restaurant on St John, I thought it would be a wasted opportunity not to write about food culture in the Virgin Islands.  In particular, Caribbean fusion cuisine.  My hope had been to explore an abundance of local eateries and sample dishes native to area (the least sophisticated and the more authentic the better).  But, due to the pandemic, many were either closed or operating on a limited basis.  Happily, I did manage to experience a little of what was available, and eagerly I took the opportunity to learn about what wasn't.  This is what I discovered.
Where are the Virgin Islands?
The Virgin Islands belong to an archipelago of volcanic Caribbean islands and islets lying east of Puerto Rico, Culebra and Vieques. A US territory since 1917, it attracts visitors because of its pristine white-sand beaches, coral reefs and verdant, rugged hills. St. Thomas island is home to the capital of the US Virgin Islands, Charlotte Amalie. To the east is the island of St. John, most of which comprises untouched Virgin Islands National Park. St. Croix island, regarded as the culinary capital of the Caribbean, is located to the south.  The climate in the Virgin Islands is tropical with an average winter temperature of 28 degrees Celsius and its warm turquoise seas provide a home to more than 500 species of fish, 40 types of coral and hundreds of invertebrates.  Of course, seafood is prominent in the kitchens of the Virgin Islands.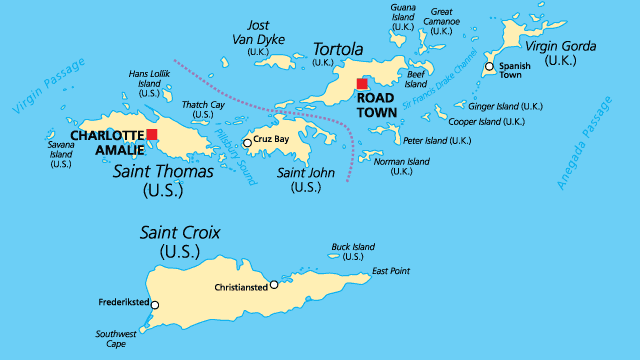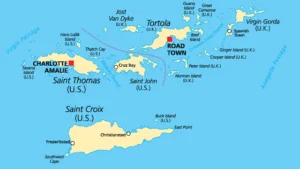 Virgin Islands Culture and Influences
The US Virgin Islands has a rich cultural legacy. The flags of seven different nations have flown over these islands, leaving their distinct imprint on the people, history, culture, architecture, art, music, and cuisine.  Subsequently, St. Thomas, St. Croix and St. John were the birthplace of fusion long before culinary fusion became a trend.  Dishes imported by the British, French, Spanish, Dutch, Swedes, Danes, and Americans, all of whom had colonized the West Indies, are blended with the flavors of the African slave trades, indentured Indian workers, and native ingredients from cultures like the Taino and Arawak Indians.  In other words, it is with good reason that the Virgin Islands are known as 'the melting pot' of the Caribbean, housing many different cultures.  Accordingly, food culture in the Virgin Islands is synonymous with Caribbean fusion cuisine.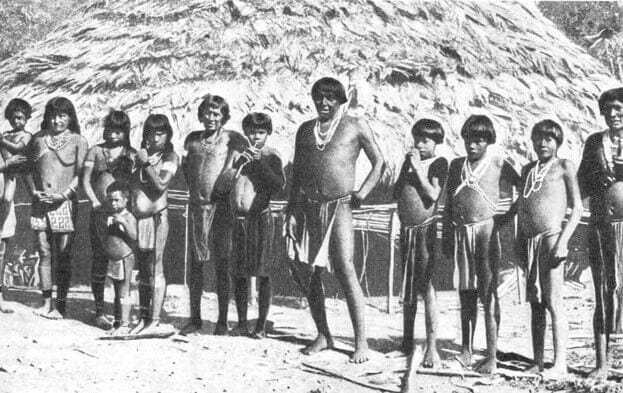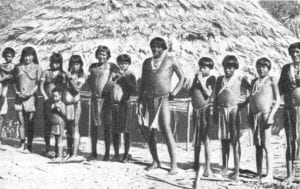 Caribbean Fusion Cuisine
Virgin Island cuisine reflects all the various peoples that have inhabited the islands throughout history.  Therefore, it is a fascinating fusion of contrasting cultures and time periods.  It encompasses bush food created by indigenous islanders, Caribbean dishes from other islands in the region, Rasta 'Ital' food that reflects the cultural and spiritual traditions of some of the island's locals, and sweets crafted around readily available ingredients. For the most part, traditional food on the island evolved from slave meals, finding basic ingredients and making them into something easy to carry that can sustain you all day.
Indigenous Native Americans
In the first place, the original indigenous people known to have inhabited what is today the Virgin Islands were the Taínos. At the time of European contact in the late fifteenth century, they were the principal inhabitants of most of Cuba, the Dominican Republic and Haiti, Jamaica, Puerto Rico, the Bahamas and the Lesser Antilles including the Virgin Islands.  They spoke the Taíno language, an Arawakan language, and raised ground provisions such as tanya, dasheen and cassava.  They used these ingredients in their dishes, and their legacy lives on in the Kallahoo and the Johnny Cake.  If you visit the island of St John you may stumble upon 'Petroglyphs' (Taino rock carvings) on one of the numerous hiking trails or while sunbathing next to a former Taino village adjacent to the magnificent white sands of Cinnamon Bay.
Kallaloo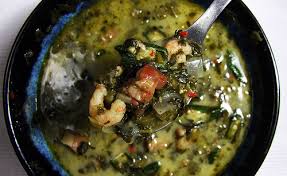 The dasheen vegetable is the foundation of the signature Caribbean dish 'Kallaloo' (or Callaloo).  This is a soup or stew of the leaves of the dasheen plant or, if unavailable, then another leafy plant such as spinach or collard greens.  Also known as coco, taro and tannia, dasheen is a starchy tuber. The 'corm' (root) is considered by some to have a texture and flavor superior to that of a Jerusalem artichoke or potato and the leaves are a good source of vitamins A and C.  Ingredients such as okra, salted meats, coconut milk, hot and black pepper, fish, onions, and spices usually flavor Kallaloo.  The dish is similar in taste to the Louisiana gumbo.
Johnny Cake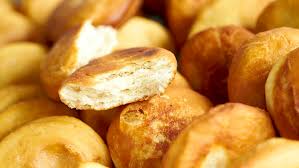 The Johnny Cake is another favorite food of the Virgin Islands.  It is deep-fried or baked as a bread or biscuit and authentically made using cassava flour.  It may be eaten hot or cold.  Its alternative names are journey cake, spider cornbread, shawnee cake or johnny bread.  Cassava, also known as yuca, is a long tuberous starchy root that is a core ingredient in many Latin American and Caribbean cuisines.  Locals mash it and add it to stews or use it to make bread and chips. They take care to cook or press it before eating it as it is poisonous in its raw form. When raw, cassava's flesh is white; when cooked, it turns yellow, slightly translucent, and a little sweet and chewy.
Jerk Chicken
Jerk refers to a style of  cooking in which the main ingredient (chicken, meat, seafood or vegetables) is coated in spices and slow-cooked over a fire or grill.  The wood is traditionally green pimento over burning coals and the resulting smoke flavors the dish. The cuisine had its origins with the Taino, who developed the jerk method and later taught it to African slaves, who in turn adapted it in creating jerk chicken. The word jerk reportedly stems from the Spanish charqui, meaning dried strips of meat similar to the modern-day jerky.
African Slavery
The single largest influence on modern Virgin Islander culture comes from the Africans enslaved to work on sugar and cotton plantations from the 17th to the mid-19th century. These African slaves brought with them traditions from across a wide swathe of Africa, including what is now Nigeria, Senegal, both Congos, Gambia and Ghana.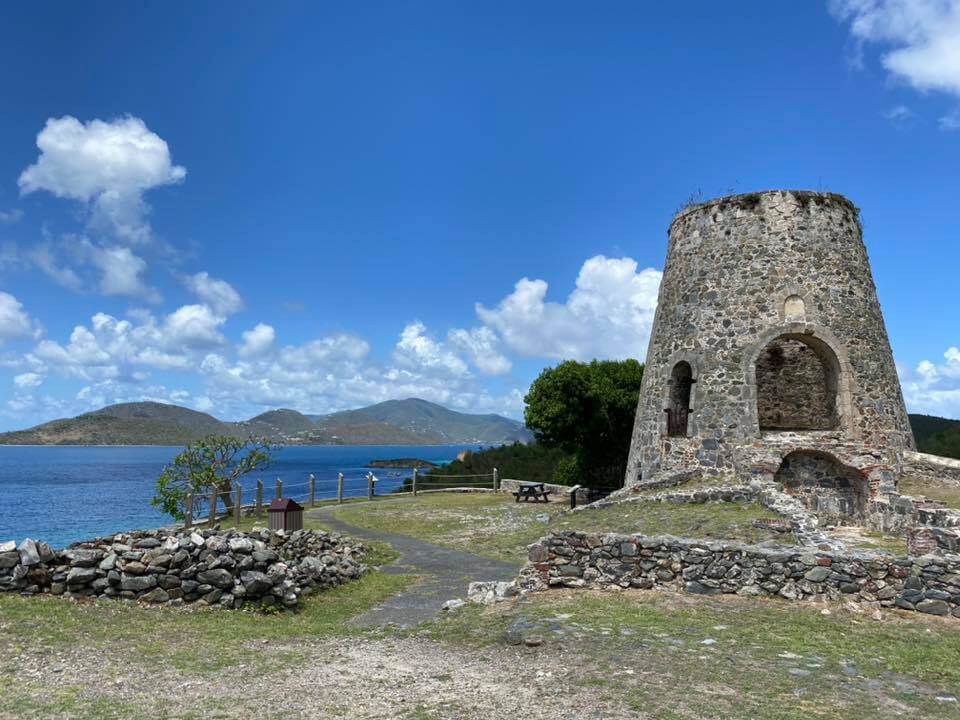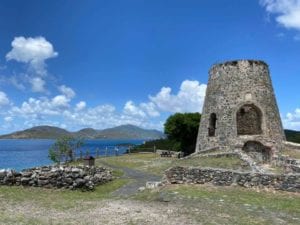 African slaves working on the plantations received plots of their own on which to grow food.  Subsequently, they began to incorporate food from the Virgin Islands into more familiar recipes from Africa. They cooked with plantains, yams, beans, and okra, as well as salt pork and salt fish. To add flavor, they used chili peppers, which are high in vitamins A and C.  The scotch bonnet, a type of pepper grown on the Virgin Islands, is reputedly more than 50 times hotter than a jalapeno.
Salt Fish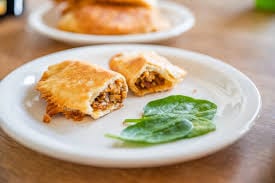 Generally, plantation owners purchased food supplies from abroad to feed their enslaved African workforce and the introduction of saltfish became the mainstay of their diet.  The supply was provided by the shipowners from overseas maritime provinces.  Accordingly, these sources transported enormous amounts of saltfish packed in barrels, lumber, and other materials that were unavailable in the Caribbean.  Salt fish is a salt cod import, which stores forever without refrigeration.  It is a pungent hash of flaky fish with onion and peppers for seasoning. A staple food in the Virgin Islands, it was often a breakfast food, or cooked inside patés – fried, meat-stuffed bread eaten for breakfast or a snack. On the other hand, it is common in chowders and stews.
Fish and Fungi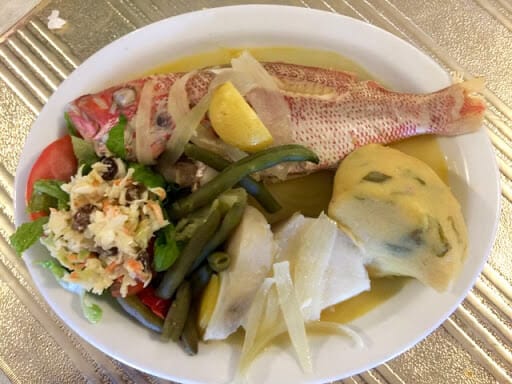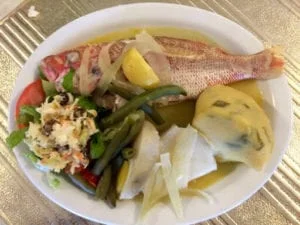 Fish and Fungi (foon-ji) is the unofficial dish of the US Virgin Islands. Danish Law (owners of the Virgin Islands until 1917) allowed each slave six quarts of Indian meal (cornmeal) and six salt herring per week. Occasionally, there were other foods in the ration, like yam and other vegetables.  But, the mainstay of cornmeal and fish led the African women to the creative result of fish and fungi, a Caribbean version of polenta.  Fungi is not mushrooms but a thick mash of okra with the addition of cornmeal and water. The fresh, whole fish has a Creole-style seasoning and develops a typical crispiness in the frying pan. Afterwards  a sweet onion gravy tops the fish. Fungi and fried fish present together on the same plate, piping hot and ready to be consumed.
Indo-Caribbean Indentured Workers
After the abolition of slavery, from 1838 to 1917, over half a million Indians from the former British Raj or British India and Colonial India, replaced the Africans.  Subsequently, they arrived at thirteen mainland and island nations in the Caribbean as workers to address the demand for sugar cane plantation labor.  Importantly, this indentured community accounts for the Indo-Caribbean food culture in the Virgin Islands that delivers aromatic curries, chutneys and roti.
Some of the typical Indian spices found in a Caribbean market include Caribbean Curry Powder and Colombo Powder (curry powder with roasted uncooked rice that acts as a natural thickening agent).  In addition, you will find Garam Masala, Cumin, Fenugreek and Nigella Seeds (resembling onion seeds with a gentle, onion taste).  Neem is a seasoning for vegetables, stews, curries and dhals as well as a spice for medicinal purposes.  It stimulates appetite, relieves headaches and cures intestinal worms!
Roti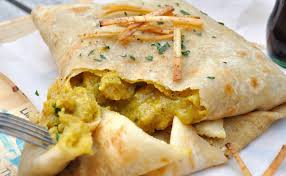 To begin with, Roti is a light, fluffy dough that wraps around spiced or curried meats, chicken, or veggies.  Originally brought to the islands by the indentured Indian laborers, roti has become a popular staple food.  It is commonly an accompaniment to various curries and stews.  Accordingly, the traditional way to eat roti is to break it by hand, using it to sop up curry sauce. However, in the Caribbean, the term roti may refer to both the flatbread (roti) itself and the more popular street food item, in which the roti is folded around a savory filling in the form of a wrap.  In summary, the roti wrap is the commercialization of roti and curry together as a fast-food or street-food item in the Caribbean. Meanwhile, this wrap form of roti originated in southern Trinidad.
European Settlers
European settlers brought recipes to the Virgin Islands that included ingredients such as beef, onions and garlic.  They also developed recipes for local produce – limes, mango, guava and sugar cane.  The English, after taking over from the Spaniards, introduced plants from the South Pacific Islands, various fruits such as the mango and mandarin orange as well as turmeric, black pepper and coffee.  They also influenced traditions as roast beef, salt beef, cakes, tarts and Christmas pudding.
The US Virgin Islands were under almost two hundred years of Danish ownership (1733-1917).  It follows that Danish cuisine could have been a big influence.  However, the difference in climate between the two regions and the lack of availability of local ingredients in Danish cuisine prevented translation.  Furthermore, importing food on long ship itineraries from Denmark was impractical due to lack of refrigeration on the vessels.  Despite this, three staples emerged and remain in common between the two:  Salt fish, fishcakes, a pickled cucumber and lime condiment and a red dessert made from guava fruit.
Red Grout Dessert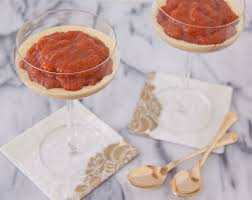 'Red Grout' dessert is made out of the juice and skin of guava with tapioca.  It was traditionally served on 'Transfer Day' (March 31) to commemorate the transfer of the islands from Denmark to the US.  Grout is a dessert that is served at Christmas and other special holidays based on the Danish dessert Rod Grod. In Denmark they make it with berries but in the Caribbean, it was originally made using guavas.  Sometimes red food coloring was added to resemble the one made with berries.  A recipe for the dessert can be found here: https://www.thespruceeats.com/red-grout-dessert-4039772
The Rastafarian Community
Many residents still supplement their diets or income by maintaining small holdings where they continue to raise livestock, poultry, fruits, herbs and vegetables. For example, the largest concentration of farmers on St. Thomas is located on the western end of the island in Estate Bordeaux.  There, the Virgin Islands government has set aside a parcel of land for agriculture purposes. It incorporates some 50 farm plots here ranging in size from one to five acres.  Interestingly, a significant number of the farmers embrace the Rastafarian lifestyle.  Although people associate this lifestyle mostly with dreadlocks and reggae music, it also involves a healthy, spiritual connection with the earth and a natural diet free from additives, chemicals and most meat.
Annual Agricultural and Cultural Vegan Food Fair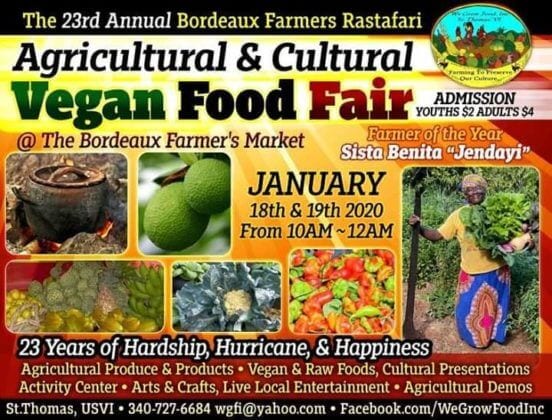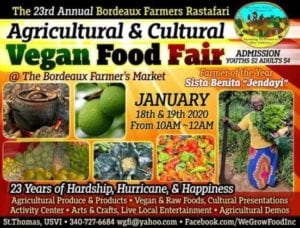 January 2020 saw the 23rd Agricultural and Vegan Food Fair in Bordeaux to promote, support and celebrate farming and vegan-ism in the region.  At the same time, guests enjoy an array of produce, live performances, agricultural demonstrations and cultural delights every year.  While perusing the vendors stalls, they will find watermelon, soursop, guavaberries, all kinds of greens, sweet potatoes, pumpkins and an array of other produce and prepared foods.
Ital Cooking
Rastafarianism first developed in Jamaica in the 1930s.  Then, on St Croix, Elder Rastafaris say that the religion made its way to the island shortly after it took root in Jamaica.  Rastas believe eating pure, organic food increases one's natural connection with nature.  In other words, getting that food directly from the land is just one more way they strengthen that bond. The style of primarily vegan eating is known as 'ital' cooking.  Humorously, Rastas commonly say, "Ital is vital," pointing to how the diet got its name. In recent years, ital cooking has become more popular as interest in health food grows and new restaurants serving ital-inspired food have sprouted up.
At Rastafari food fairs like the one held in St. Thomas every January, popular dishes include made-from-scratch barbeque jerk tofu, hearty pumpkin stews, and red pea (kidney bean) loaf. Since they avoid added fats and salts, Rastas excel at creating complex flavor profiles from herbs and spices.  Typical examples include lemongrass, allspice, nutmeg, and thyme.
Shown opposite is a tropical 'poke bowl' that I enjoyed one evening.  It included sushi rice, mango, papaya, pineapple, avocado, sweet and spicy soy, spicy aioli, local microgreens and wahoo fish.  Although poke bowls originate from Hawaii, the meal additionally reflects the Rasti/Ital influence – fresh fish (not shellfish), and grains coupled with an assortment of organic fruit and vegetables.
Rum and Tea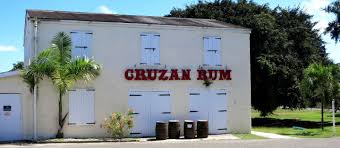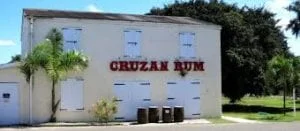 It would be remiss of me to write about food culture in the Virgin Islands without considering the beverages.  Especially rum and tea.  Every island in the Caribbean has its variety of rum and the Virgin Islands are no exception.  Rum derives from sugar cane or molasses and traditionally distilleries on the sugar plantations manufactured the liquor.  Above all, in the Virgin Islands, Cruzan rum, which is manufactured on St Croix, is the most popular.
Rum Based Cocktails
Inevitably, rum-based cocktails are extremely popular with tourists, such as the 'Painkiller' and the 'Bushwacker' to name but two.  The Bushwacker was invented in 1975 at the Ship's Store, Sapphire Pub at Sapphire Village in St. Thomas, Virgin Islands. It is similar to a creamy, chocolate piña colada and colloquially referred to as a 'grownup milkshake'.
The Painkiller is trademarked by Pusser's Rum Ltd as their signature drink. The British Virgin Islands is its place of origin and the 'Soggy Dollar' beach bar on the Island of Jost Van Dyke may be where you will read about it most online.
As a side note, the Bushwacker tasted like liquid Tiramisu to me and the Painkiller (illustrated opposite) tasted like exactly like what it is… a kind of Pina Colada and orange mixer.
Bush Tea
I had never heard of the term 'bush tea' until I visited St John.  The author of 'Crucian Contessa' describes the essence of it.  She writes: "If there is one thing we have an abundance of on [St Croix] it is literally bush, grass, vegetation!  Everything is green, not because it wants to be but because it literally has to be!  What else should nature create when it has an over-abundance of fertile earth, life encouraging sunshine, and enough rain to keep everything flourishing and alive…".
Bush Tea As Medicine
She goes on to explain how in the Virgin Islands tea leaves of various kinds are a go-to remedy for all kinds of ailments as well as a healthy hot drink.  "If you had the flu, white sage was good for that…bronchitis, then you drank white head bush…sleep, the leaves from the soursop tree would help you rest. If you had high blood pressure, then you drank vervine…here on the island, every morning begins on green."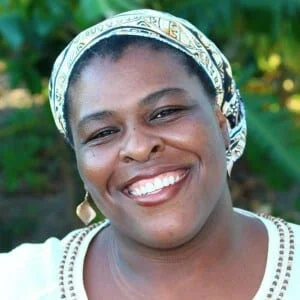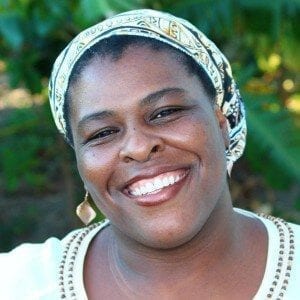 McDonalds Meets Bush Tea
Bush tea comes from any number of local ingredients found in the bush, such as ginger, mint, lemongrass and basil.   The ingredients are really up to the bush picker that morning.  Just to underline the significance of 'bush tea', McDonalds adopted it in Puerto Rico and the US Virgin Islands as the 'hot beverage of choice', designating it as a fully-fledged menu item in 2013. This surely has to be one of the world's most unlikely conceptual unions:  An iconic American convenience food giant brings organic, plant-based bush tea into the family!
The Taste of St Croix
Beginning in 2001, a festival named 'The Taste of St Croix' has celebrated the special spirit and flavor of the island by pooling culinary artisans from more than 40+ local chefs, restaurants, and farms. This premier event, the brainchild of two local restaurateurs, began twenty years ago as a way to showcase the diverse and delectable cuisine and culture of St. Croix with its influences from all over the Caribbean and the world.  Today, the "Taste" has an international reputation as one of the finest food and wine events in the Caribbean.  In fact, it continues to attract thousands of guests including international winemakers, rum distillers, beer brewers, and celebrity chefs.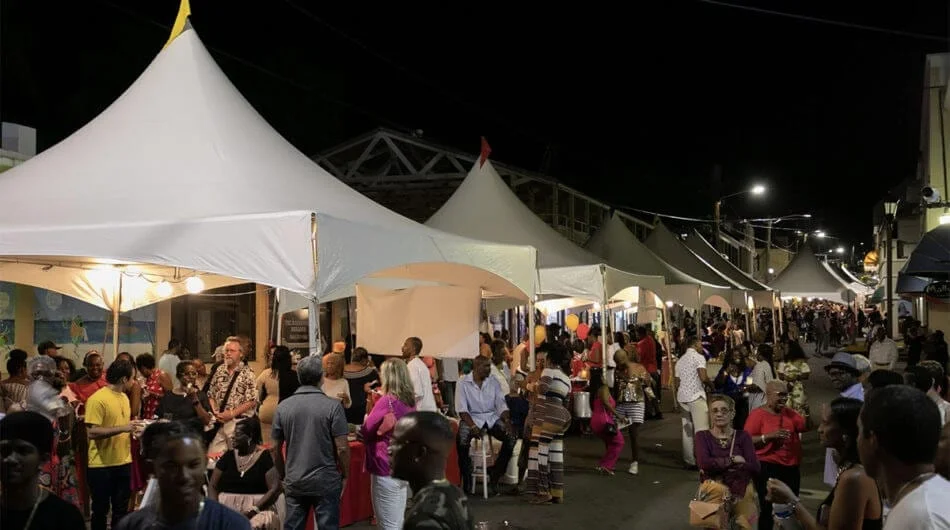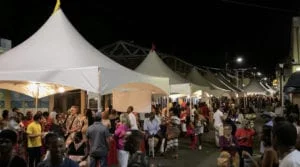 The Virgin Islands – particularly St Croix – are without doubt an impressive food tourism destination.  Having visited just two islands this summer (St John and St Thomas) I feel like I experienced only a tip of the culinary iceberg.  There is so much history and so many cultural influences in the region.  I feel you could study and sample it for weeks and never cover the full terrain.  In conclusion, maybe if you're thinking about a vacation in the Virgin Islands, you could plan it to coincide with this event.  If not, I definitely recommend you try one of the cultural food tours of St Croix or St Thomas alongside the breathtaking beaches, hiking trails, snorkeling and diving.  I would go back in a heartbeat.
Looking for a taste of the Caribbean?  In the meantime, try Healthy Gourmet's Creole Blackened Chicken or Jamaican Jerk Chicken and get it delivered to your door!
Sources
http://www.best-virgin-islands-guide.com/foods-of-the-virgin-islands.html
https://www.frommers.com/destinations/virgin-islands/in-depth/food–drink
https://www.stthomasfoodtours.com/single-post/2016/10/12/A-history-of-Virgin-Islands%E2%80%99-cuisine
https://www.iexplore.com/articles/travel-guides/caribbean/us-virgin-islands/food-and-restaurants
https://flavorsofstthomas.com/2017/01/19/top-10-food-and-drinks-in-st-thomas/
https://www.smithsonianmag.com/travel/new-usvi-food-tour-explores-traditional-cuisines-180963415/
https://www.visitusvi.com/food-recipes
http://valeriesims.com/taste-virgin-islands-cuisine/
https://en.wikipedia.org/wiki/Culture_of_the_Virgin_Islands
https://www.adventure-life.com/caribbean/virgin-islands/articles/cuisine-of-the-virgin-islands
https://www.whattodo-vi.com/food-in-the-vi/
https://www.whattodo-vi.com/local-sustainable-and-wild-a-caribbean-culinary-revolution/
https://www.sun-sentinel.com/news/fl-xpm-1990-07-05-9002020505-story.html
https://www.caribjournal.com/2016/11/22/virgin-islands-food-tours/
https://www.nationalgeographic.com/culture/food/the-plate/2016/07/for-rastas–eating-from-the-earth-is-a-sacred-duty/#close
http://chefs4dev.org/index.php/local-products/dasheen/index.html
https://www.thespruceeats.com/introduction-to-cassava-yuca-2138084
https://www.encyclopedia.com/places/latin-america-and-caribbean/caribbean-political-geography/virgin-islands
https://www.blackhistorymonth.org.uk/article/section/history-of-slavery/origins-slave-food-callaloo-dumplings-saltfish/
https://www.britannica.com/topic/jerk-chicken
https://bvipropertyyacht.com/yachting/saltfish-slavery-and-the-canadian-maritimes/
https://www.liverpoolmuseums.org.uk/diet-and-food-production-enslaved-africans
https://virginislandsthisweek.com/st-thomas/st-thomas-historic-sites/men-and-women-of-the-soil-the-estate-bourdeaux-farmers/
https://www.thespruceeats.com/red-grout-dessert-4039772
https://virginislandsthisweek.com/st-croix/our-island-still-retains-a-few-danish-food-traditions/