There's a joke in the EatFlavorly kitchen to do with the pronunciation of one of our prepared meals – the traditional French "Beef Bourguignon".  To a Brit like me, the pronunciation of French vocabulary might be easy but it's only because we grew up living across the channel from France.
On the other hand, we struggle to pronounce most things on a Mexican menu so when I hear the name "Beef Boing-Boing-Boing" mentioned by EatFlavorly's Chef Barry it makes me smile and decide I much prefer it said that way!
Jokes aside, what is there to learn about this mighty dish?  As with any well-loved, timeless recipe the answer is plenty…
Russ Crandall, food blogger and NYT best-selling author writes that "…it's important to acknowledge the fact that every dish and every ingredient has its own rich history, no matter its date of origin".  It follows that having insight into the background and history of a recipe makes it more meaningful.  As a result, it creates joy in the cooking and in the eating.  History is all-embracing and defines and shapes ingredients and recipes. In fact, native and immigrant culture, geography, societal influences and other environmental factors help us understand how recipes evolve, especially those that have survived the passage of time.
What is Beef Bourguignon?
Boeuf or Beef Bourguignon is a traditional, French recipe of beef braised in red wine, onions, carrots, mushrooms, garlic and a 'bouquet garni' of thyme, parsley and bay leaves. Beef Bourguignon reputedly takes two days to perfect, not because of an overly complicated recipe, but rather to allow the flavors to develop fully.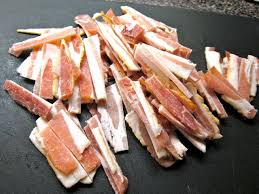 The dish is often flavored with bacon 'lardons', a traditional charcuterie, cut from the slab in baton-shaped morsels about ½" thick by 1" long.  In classic French cuisine, à la Bourguignonne describes a dish that has, alongside its red wine component, a garnish of bacon, mushrooms and small onions.
Burgundy, Bourgogne and Bourguignon
Beef Bourguignon comes from a region of France known as Burgundy or "Bourgogne". Burgundy is a historic region in east-central France, 60 miles south east of Paris. One of 13 regions of metropolitan France, it is famous for its Burgundy wines among others.  Additionally, it is visually striking.  For example, Canals and grand châteaux lace the area.  Furthermore, the capital, Dijon, of mustard fame, is home to the imposing Palace of the Dukes, where the distinguished Musée des Beaux-Arts was established in 1787.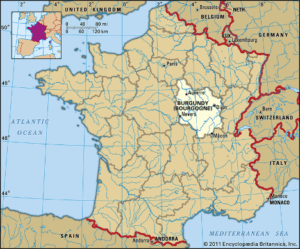 Travel writer Rick Steves describes Burgundy as "a region overflowing with edible, drinkable, scenic and floatable delights. Its rolling hills and a handful of sleepy villages have given birth to the superior wines and fine cuisine that say French."
Burgundy takes its name from the Burgundians, an East Germanic people who moved westwards beyond the Rhine during the late Roman period. The region is a historical crossroads from the north of Europe to Italy and the Mediterranean coasts.  As a result, ancient trade routes along the Rhone and Saone river have provided inroads for spices and ingredients from many other cultures and regions.
Fete du Charolais
Boeuf Bourguignon combines two of the region's top products:  Red wine and Charolais beef.   The Charolais is a breed of white cattle that originates from the Charolles region of southern Burgundy.  Charolais cattle yield good quality meat in large quantities. Their intramuscular fat also contributes to excellent edible quality in their beef cuts.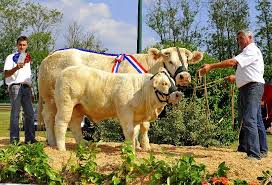 At the end of August, in Burgundy, the "Fête du Charolais" celebrates Charolais beef.  It is a festival that takes place in the city of Saulieu in Burgundy. Firstly, musicians, meat lovers and farmers gather in the streets.  Then everyone enjoys an unforgettable gastronomic experience with a plate of their traditional Beef Bourguignon.
Burgundy Wine
Burgundy is one of the most famous and influential wine growing regions in the world.  Romans introduced the first vines.  Later, the industrious Cistercian monks developed the techniques and knowledge required for much larger scale production.  Subsequently, the wines from the famous vineyards of the Côte de Beaune and the Côte de Nuits are listed as Word Heritage with UNESCO.
Pinot Noir is the primary red wine grape grown in Burgundy and the wine used to make Beef Bourguignon.  The fact that Pinot Noir is a light-bodied red wine with moderate tannin levels is important.  It ensures that that flavor of the meat is enhanced rather than masked.  Good quality wine is key because when you reduce everything the flavors intensify.  In other words, whatever is prevalent in the wine will really stand out in the sauce.
From Peasant Food to Haute Cuisine
The Dukes of Dijon
Beef Bourguignon has its origins in the 1500's when it provided a way to tenderize tough meat. Accordingly, joints of beef stretched further in terms of using cuts that were sometimes hard to eat. The most spectacular kitchens of Burgundy were those at The Palace of The Dukes of Burgundy in Dijon (built in 1435).  Here, Duke Philip The Bold (1342–1404), son of the King John II of France, helped establish the tradition of good food based on the exceptional raw ingredients available locally.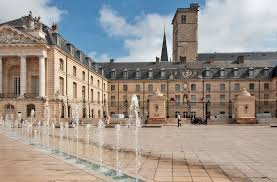 Auguste Escoffier
Georges Auguste Escoffier was a famous French chef, restaurateur and culinary writer who popularized and updated traditional French cooking methods.  French society referred to him as "the king of chefs and the chef of kings".  He earned a worldwide reputation as director of the kitchens at the Savoy Hotel (1890–99) and afterward at the Carlton Hotel, both in London. Consequently, his name is synonymous with classical French cuisine.  Beef Bourguignon didn't reach French restaurants until 1903 when Escoffier published its ingredients and method in Le Guide Culinaire. He used a whole piece of beef that he succeeded in tenderizing by braising over two days.  Consequently, almost overnight it became a fine dining sensation at tables in Paris, London and New York.
Julia Child
Julia was a pioneer of French cuisine and cooking techniques in the US with numerous cookbooks and programs.  For example The French Chef was first broadcast in 1963.  Previously in 1961, in her famous cookbook Mastering The Art of French Cooking, Julia reintroduced Beef Bourguignon.  Most notably she adapted the recipe to use beef cubes rather than one large chunk of beef.  This helped make the recipe popular in households throughout the world.
In a 2017 survey, the French overwhelmingly voted for boeuf bourguignon as their top national dish.  Moreover, it continues to be a favorite amongst foodies all over the world and many famous chefs have shared their customized recipes, including Anthony Bourdain, Richard Olney and Michel Roux.  Will you share ours?  Click the link to order our mouth-watering version of Beef Bourguignon, based on the recipe of none other than Julia Child.
EatFlavorly is a frozen meal delivery service in the Houston Area that provides same-day local meal delivery. Order yours today!
Sources
https://robbwolf.com/2014/02/05/history-lesson-recipe-beef-bourguignon/
https://frenchtraveler.com/boeuf-bourguignon/
https://www.french-waterways.com/beef-bourguignon/
https://www.thespruceeats.com/what-does-bourguignon-mean-995587
https://www.196flavors.com/france-boeuf-bourguignon/
https://www.garlicandzest.com/julia-childs-boeuf-bourguignon/
https://www.frenchcountryfood.com/recipes/with-meat/boeuf-bourguignon.html
https://www.theguardian.com/lifeandstyle/wordofmouth/2017/mar/09/how-to-cook-the-perfect-boeuf-bourguignon
https://www.cote.co.uk/blog/2018/11/23/the-history-of-beef-bourguignon/
https://www.burgundy-canal.com/burgundy/
https://dailygazette.com/article/2016/09/23/beef-bourguignon-peasant-stew-fancy-reputation
https://www.thatsfarming.com/news/charolais-cattle-cow-breed