Eatflavorly and Clothed by Faith (and its sister organization Closets for Schools) have a very special relationship.  They are tied together in philanthropic spirit by a desire to improve the lives of others.  They also share the same family spirit:  The Fourie family.
Clothed by Faith began with humble origins:  A young woman with a servant's heart, an empty garage and a tower of black trash bags filled with donated clothing from a local ministry.  As the daughter of an immigrant family Abi Fourie knew only too well what it was like to live on the poverty line without adequate clothing; the feeling of isolation and exposure not only to the elements but also to the unkind words of others.  She knew true hardship.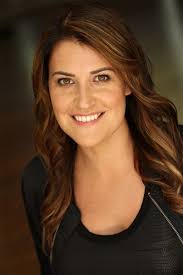 Reaching the Underserved
In the summer of 2013 Abi felt called by the Lord to reach out to the underserved in Katy.  Consequently, she decided to reach out to citizens walking the same path that she had experienced as a little girl, struggling without enough to wear and all the stigma and side-effects that go alongside.  Likewise, Abi felt led to show God's love by providing clothing to children at risk and those living in poverty.  And she observed how great the need in such an affluent community as Katy.
During that same year Abi, a London girl, met two Scottish sisters at a Katy community social event.  There she presented her concept to an expatriate group interested in creating a supporting fundraiser.  Audrey Hosie and Susanne Hewson were among the guests and they approached Abi after her presentation.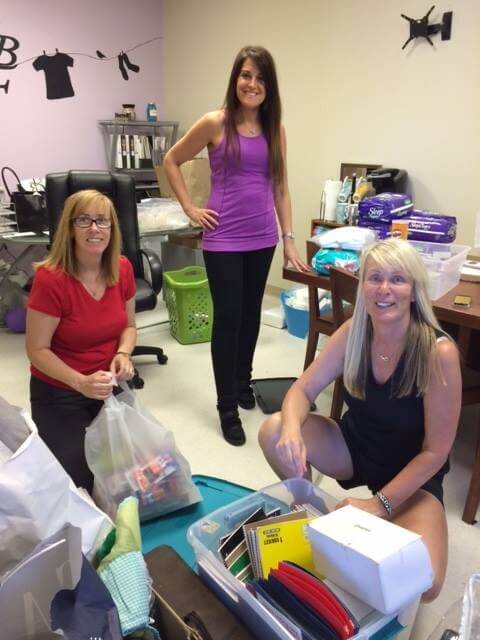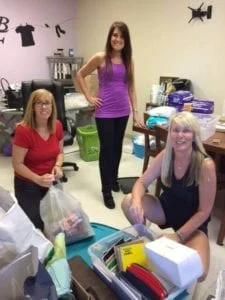 Clothed by Faith's Growth
Together they began to develop a plan that would take Abi's idea and turn it into a long term project supported by the necessary infrastructure to attract volunteers, apply for funding and establish a presence in the community.  Abi's marketing and PR background inspired a unique professional brand, Susanne's financial skills formed the basis of an essential treasury and general management function while Audrey's operational skills devised meticulous warehouse procedures that underpin the entire sorting, bagging and distribution process.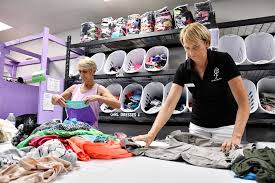 The nonprofit grew organically from that day in the garage, transitioning slowly to a storage unit, then to a small unit in Mason Creek business park without either natural light nor air conditioning and then to humble new beginnings in a larger unit on Dominion Drive, owned by Kingsland Baptist Church.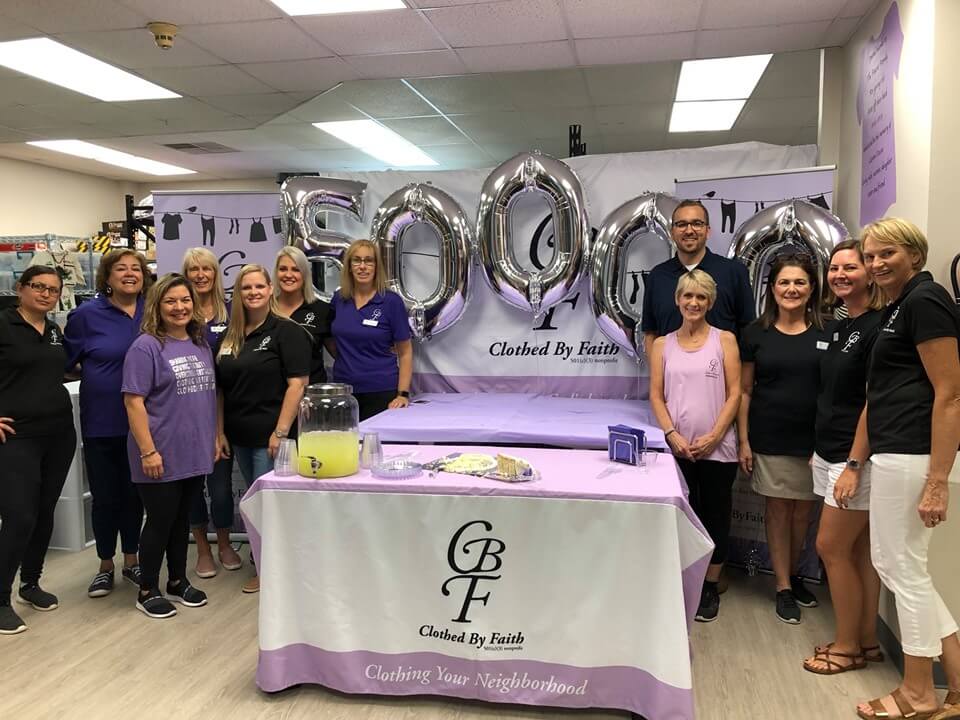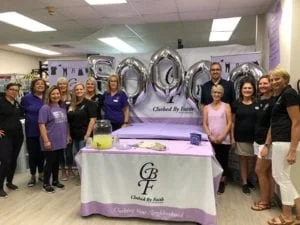 Remarkable Volunteer Program
After renovations in 2018 the Dominion Drive address now includes three adjacent units.  This space is carefully planned.  Firstly sorting and storage.  Next, a shared office for administrative support.  Finally an area for volunteers to take breaks and refuel.  Volunteers are at the heart of Clothed by Faith and the organization prides itself on providing a clean and respectful environment for all its helpers.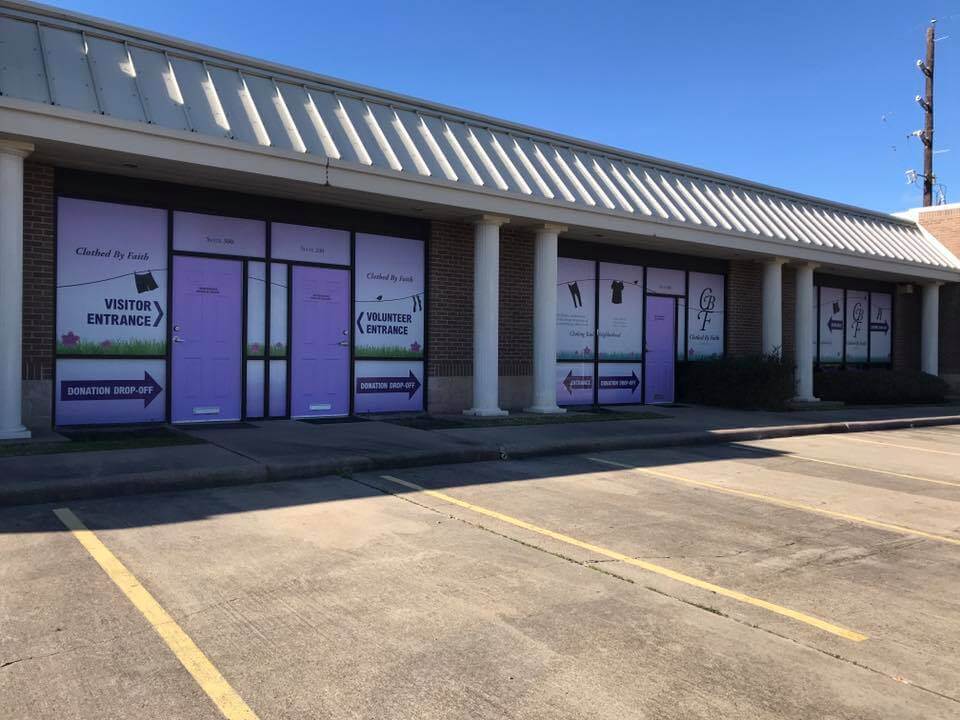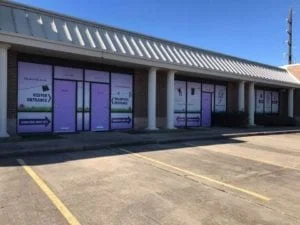 One of the keys to the success of Clothed by Faith is its unusually polished volunteer program. This includes detailed training videos, practical support in the warehouse and a culture of ongoing volunteer appreciation.  The program is unique to CBF founders and the way they work with others.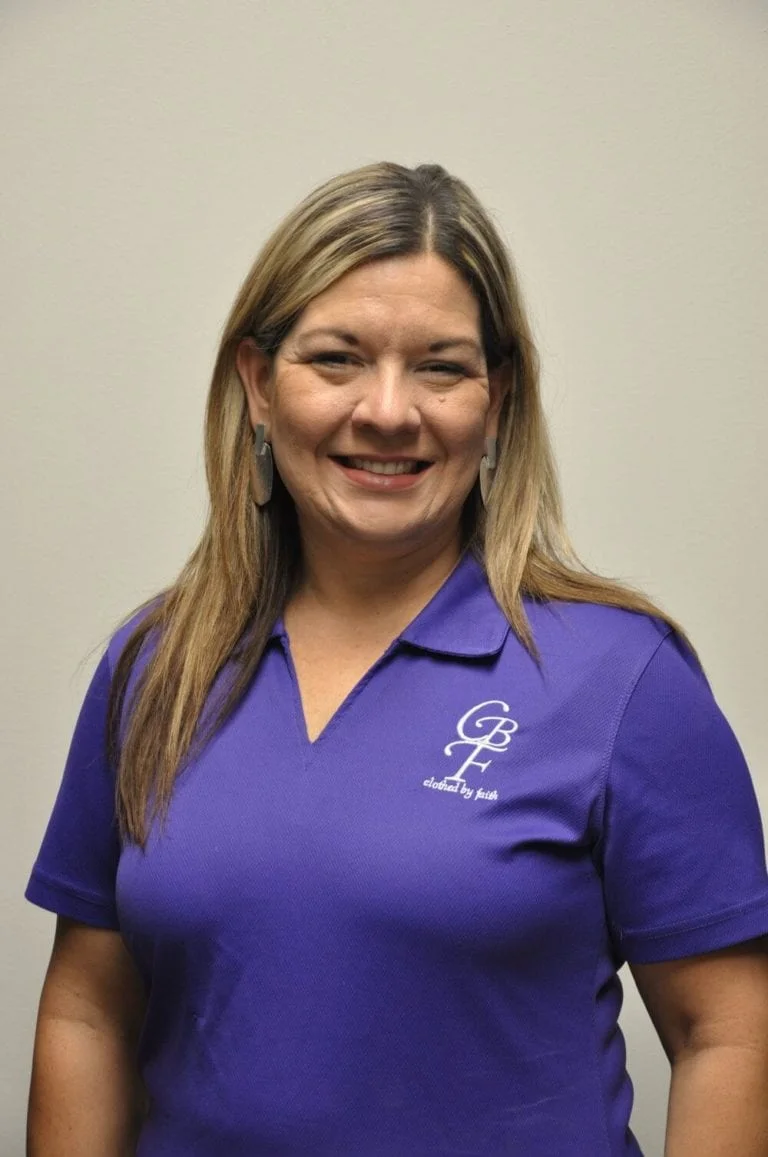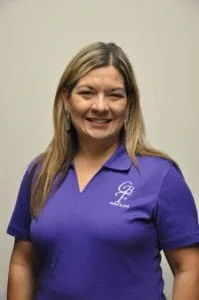 South East Houston Deer Park Branch
Today Clothed by Faith comprises two branches – the Katy branch on Dominion and a South East Houston Branch in Deer Park which was founded and is managed by Melinda Stephenson (read Melinda's story here).  The mission of both branches is the same:  To seek out those who need CBF the most and provide them with new or gently used clothing.  This happens by working with other charitable organizations – 'agencies' or 'partners'.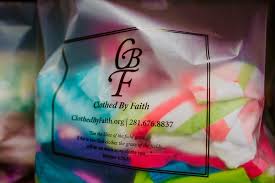 The clothing we donate either looks new or is new and it is always respectable and clean.  Undergarments and socks are always brand new.  Those we serve are in need of clothing for a multitude of unrelated reasons.  The person receiving your donated clothing could be one of your neighbors who has fallen on hard times.  Or, a teenager in sheltered accommodation or a foster family needing assistance with an intake of children.  These are just three of dozens of different circumstances that lead to destitution.
Clothed by Faith needs your help to sustain its ministry and to help those desperately in need. Infants, children and adults are all waiting for your help.  It thrills us that for every Eatflavorly meal you purchase, you are helping Clothed by Faith.  How?  Because we donate a percentage of proceeds directly to Clothed by Faith.
If this story has moved you, please consider making a financial donation toward this worthy cause:  $25 will clothe a person for an entire week.
Thank you in advance for your much needed and appreciated support.
The Fourie Family