The first in this series of Global Recipe Cards is South African Bobotie.  For anyone who loves to cook with ground beef or hamburger, this is a recipe to add to your repertoire.
Category:  Entree, Comfort Food
Global Flavor:  South African
Prep Time:  30 mins
Cook Time:  1 hr 30 mins
Yield:  8-10
Method:  Oven
What is Bobotie?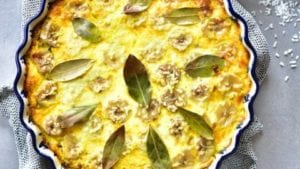 South African bobotie is a meatloaf that is covered with a mixture of milk and egg that forms a custard crust. The dish is traditionally served with basmati rice.  Other accompaniments include chutney or sambal, the Indonesian condiment made of chili peppers.  Bobotie is very simple to make and is prepared with easy to find ingredients. The sweetness of dried fruits, the complex aromas released by the spices and the crispness of almonds give a delicious taste to this colorful dish.
Etymology:  What's in the Word?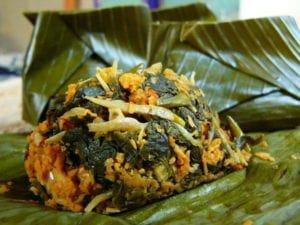 The name bobotie comes from the Indonesian word bobotok or botok.  Bobotok is a dish made from coconut flesh, vegetables and occasionally meat that is cooked in banana leaf.  Reuben Riffel, one of South Africa's most lauded chefs and a Western Cape native, says that while the transformation of the dish from bobotok to bobotie is not documented, bobotie came about as slaves from the region would eat roast meat on Sundays.  The following day, leftovers would be mixed with spices including bay leaves and sometimes fruits such as raisins.  To finish, an egg mixture would then be poured over the top, and the dish would be baked and served with rice and vegetables.
History of the Dish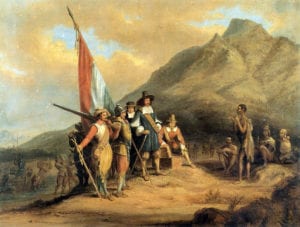 Bobotie's roots in South Africa date back to the 17th century. Dutch traders set up camp in the area that is now Cape Town as a stopping point on their journeys back and forth to Indonesia. The traders brought spices, cooking techniques, and recipes with them. While the specifics are a bit vague, it is thought by some that the original bobotie recipe came from Indonesia and was adapted to fit the available ingredients.  Today many consider bobotie to be the national dish of South Africa, and it has become popular on menus featuring South African cuisine all over the world.
Bobotie Recipe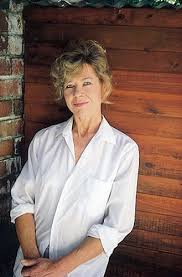 My favorite bobotie recipe is by South African chef Lynn Bedford Hall.  This is her version, which I refer to time and time again in a well-thumbed cookbook on my kitchen shelf.
Ingredients
1 thick slice of white or brown bread
12 fl oz milk
2 tbsp oil
½ oz butter
2 onions, sliced
2 garlic cloves, crushed
5 tsp curry powder
2 tsp salt
2 tbsp chutney
1 tbsp each smooth apricot jam, Worcester sauce and turmeric
5 tsp brown vinegar
2 ¼ lb lean ground beef
2 oz sultanas
3 eggs
Pinch of salt
Pinch of turmeric
Bay leaves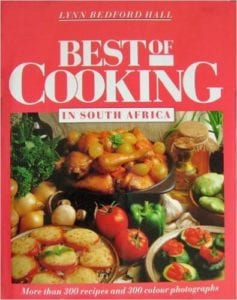 Directions
First, remove the crusts and soak the bread in the milk.  Next, heat the oil and butter in a large pan and fry the onions and garlic.  When the onions soften, add the curry powder, salt, chutney, jam, Worcester sauce, turmeric and vinegar.  Mix well.
Drain, mash bread and reserve the milk.  Add the bread to the pan together with the meat and sultanas.  Cook over a low heat, stirring, and when meat begins to turn brown, remove from heat.
Add 1 beaten egg, mix well, then spoon into a greased 12 x 16 in baking dish and level the top.  Beat the remaining eggs with the reserved milk (you should have about 10 fl oz) and the salt and turmeric.
Pour over the liquid over the meat mixture and put a few bay leaves on top.  Stand dish in a larger pan of water.  This is important to prevent drying out.
Finally, bake the bobotie uncovered at 350 F, gas 4, for 1 hour or until set.  Serve it with rice, coconut, chutney, nuts and bananas.
Chef's Note
Although the recipe calls for either beef or lamb, the latter can be a bit fatty.   Traditionally the dish should also include a handful of quartered almonds.  Enjoy eating it cold or warm!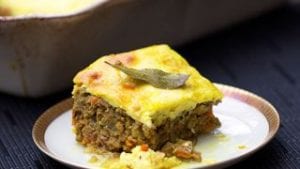 Interested in other South African recipes?  Check out our blog South African Cuisine – Postcards from a Rainbow Nation.  In it you will learn about three culinary experiences:  Potjiekos, Peri Peri Chicken and the Braai.  And if you haven't already tried it we recommend Flavorly's Peri-Peri grilled chicken.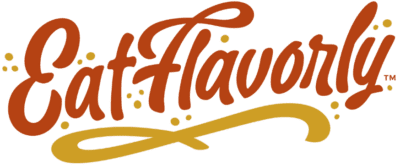 Sources
https://www.scmp.com/lifestyle/food-wine/article/1098128/story-plate-bobotie
https://www.196flavors.com/south-africa-bobotie/
https://lifeaccordingtomazza.wordpress.com/2013/06/28/the-story-of-bobotie/
https://www.nytimes.com/1981/12/20/travel/bobotie-south-africa-s-indigenous-cuisine.html