I could literally be doing this tonight.  That is to say eating chowder – for dinner in the sitting room – here in my Airbnb in Boston.  I can even fake a New England accent reasonably well.  It's not that hard, to be honest, if you're British.  I love an opportunity to write about regional cuisine while actually physically there in person.  There's nothing quite like experiencing it first-hand to make me want to put pen to paper (okay, fingers to laptop).  And what better excuse does anyone need to justify sampling New England cuisine?  None whatsoever or "No Suh!" as the locals might say.
Needless to say, clam chowder, lobster roll, cannoli and Boston cream pie have been at the top of my do-to list this weekend.  Maybe it is destiny that the address where I am staying is located on the same street as America's very first restaurant…a snippet of local culinary history right here on my door step.
Boston's Culinary Beginnings
At the start of the early 18th century, Boston lacked a central marketplace. According to Food Timeline, pushcart vendors circulated through the town offering an assortment of local fare including seafood, wild game, fowl, apples, nuts, berries and onions. Cooking was largely based on traditions of English and Irish immigrants, including meals like stews, roasts, preserved meats, biscuits and puddings. However, influences from New World ingredients like corn, squash, beans and potatoes were beginning to appear.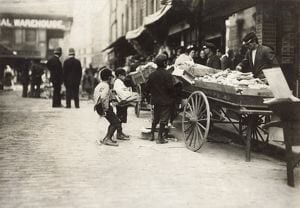 Boston's First Marketplace
Faneuil Hall, built in 1742, served as a marketplace for fresh goods as well as an area for public congregation. Consequently, the region became important for trading, farming, and fishing. By the 19th century, traditional Bostonian dishes such as baked beans slow-cooked with molasses, deep-fried batter-dipped clams, and creamy clam chowder (which got its start as a working-class, one-pot meal for New England fishermen) began to appear on dinner tables. But over the decades, Boston's food culture took a hit as Faneuil Hall fell into disrepair and farms gave way to industrialization. Fortunately, the past few decades have brought about a culinary revolution for Boston's food scene.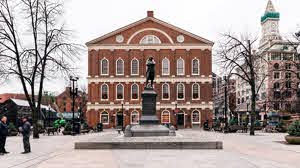 America's First Restaurant
Jean Gilbert Julien, formerly a private cook, established Julien's Restorator in July 1793.  He modeled it successfully after Parisian restaurants.  I can see the site from the window of my Airbnb here on Milk Street in the financial district of Boston,  although no historical evidence remains.  Taverns offering a warm meal and a place to sleep had been available in Boston for some time.  However, Julien's distinguished itself by offering a menu from which customers could select a specific meal of choice and pay for only what they ate, as opposed to a flat rate buffet-style meal. The aim of the Restorator, in addition to the obvious goal of serving food to hungry diners, was to restore guests to full health (hence the name "restorator").  The establishment emphasized healthy aspects of menu options, highlighting soups, meats, and alcohol.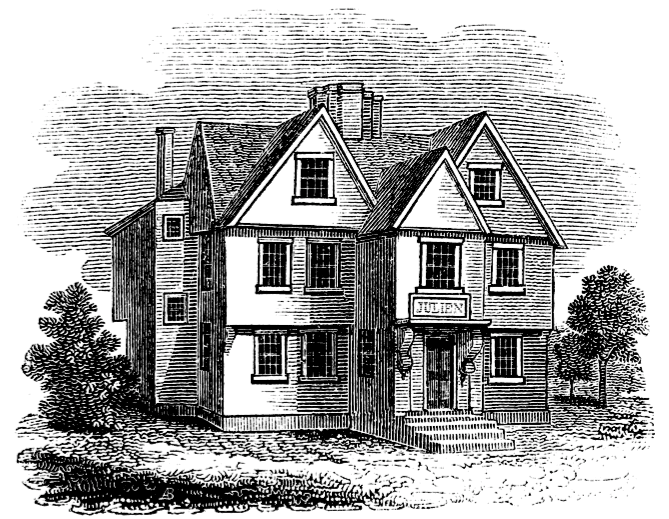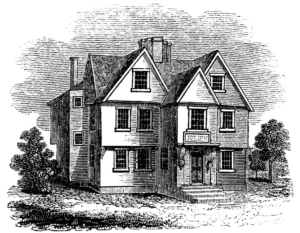 The Restorator opened in July 1793: "a resort where the infirm in health, the convalescent, and those whose attention to studious business occasions a lassitude of nature; can obtain the most suitable nourishment. … Spirits are not to be used; … and all gaming is disallowed. … Excellent wines and cordials, good soups and broths, pastry in all its delicious variety, alamode beef, bacon, poultry, and generally, all other refreshing viands, will be kept in due preparation: and a bill of fare will be kept … from which each visitor may command whatever may best suit his appetite."  (Ref:  Restorator. American Apollo (Boston), July 19, 1793)
And now for my 'to-do' food list!
Clam Chowder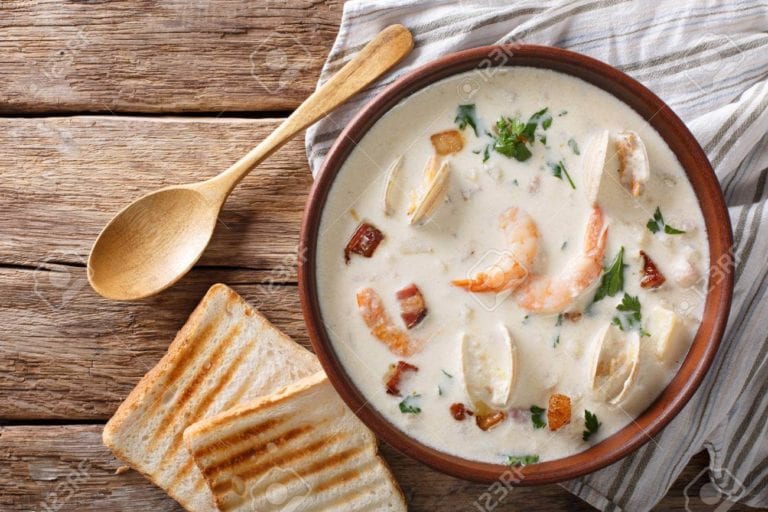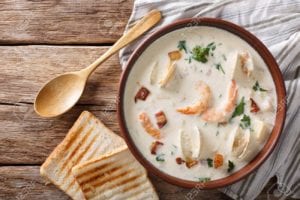 Amy Schulman of Culture Trip reminds us that clam chowder has been around for centuries, thanks to a handful of settlers (presumed to be either British, French or Nova Scotian)  in the early 18th century. Although there are a couple of different styles, Boston has become a haven for the New England variety – a white chowder crafted out of clams, onions, milk or cream, potatoes and thickened with oyster crackers. It's clam chowder's distinct milky color that separates it from any other chowder.
Lobster Rolls
Lobster rolls are native to New England's six states (Maine, Vermont, New Hampshire, Massachusetts, Rhode Island, and Connecticut). They are also traceable to the Canadian Maritimes (New Brunswick, Prince Edward Island, and Nova Scotia). Today, you can purchase lobster rolls from the hatches of food trucks, in award-winning restaurants, and out of seafood shacks along the oceanfront. America may have claimed this crustacean sandwich, but the lobster roll is proudly East Coast.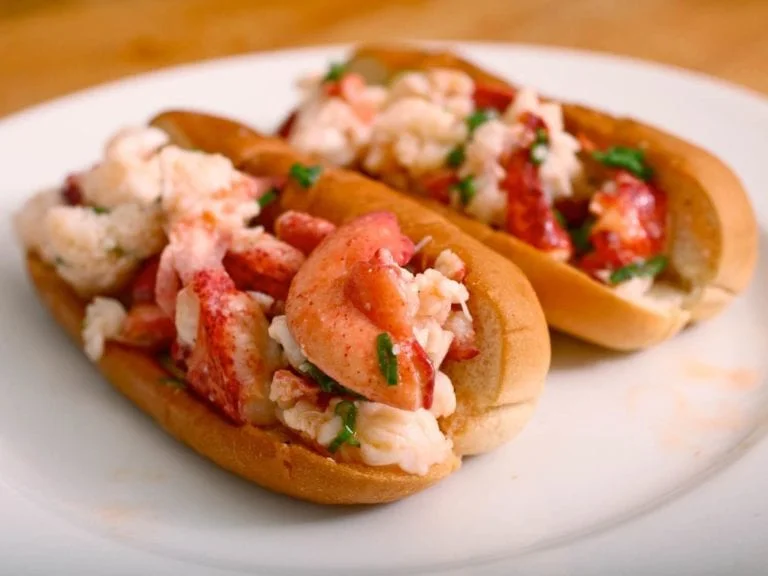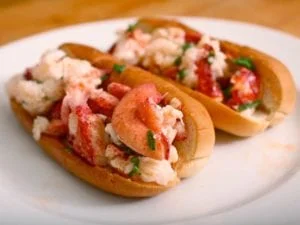 Before the roll went gourmet, lobstermen made the lobster sandwiches. It was a simple, cheap sandwich with two slices of white bread involving lobster meat from less-than-perfect lobsters or from the days unsold catch.   Lobster rolls really started to gain traction in 1996 when native New Yorker Rebecca Charles served her Maine-style rolls at Greenwich Village's Pearl Oyster Bar. The fresh, steamed meat was piled into butter-grilled buns before being lightly coated with mayonnaise and garnished with chives.
Cannoli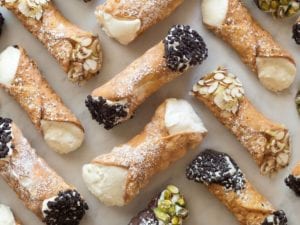 Boston's Little Italy is located in the North End, which is famed for being the city's oldest neighborhood.  The Irish, Portuguese, and Jewish lived there before the Italians moved in, around the early 20th century. Today the area is home to narrow, winding streets and historic buildings along the Freedom Trail (such as the Paul Revere House).   A large number of Italian restaurants and pizzerias prevail as well as the most popular Italian pastry in New England – the Cannoli.  These Sicilian pastries are tubes of fried pastry dough with a sweet filling that is a mixture of ricotta cheese, cream, and other flavorings.  One of the best places to sample these is at Mike's Pastry, founded in 1946, a bakery located in that same area.
Boston Cream Pie
Boston cream pie is a yellow butter cake with a custard or cream middle layer and chocolate glaze topping.  Owners of the Parker House Hotel in Boston say that the Boston cream pie was first created at the hotel in 1881 by French chef Raelyn, who led the hotel's culinary staff from 1865 to 1881. A direct descendant of earlier cakes known as American pudding-cake pie and Washington pie, the dessert had the alternative names chocolate cream pie, Parker House chocolate cream pie, and finally Boston cream pie on Parker House's menus.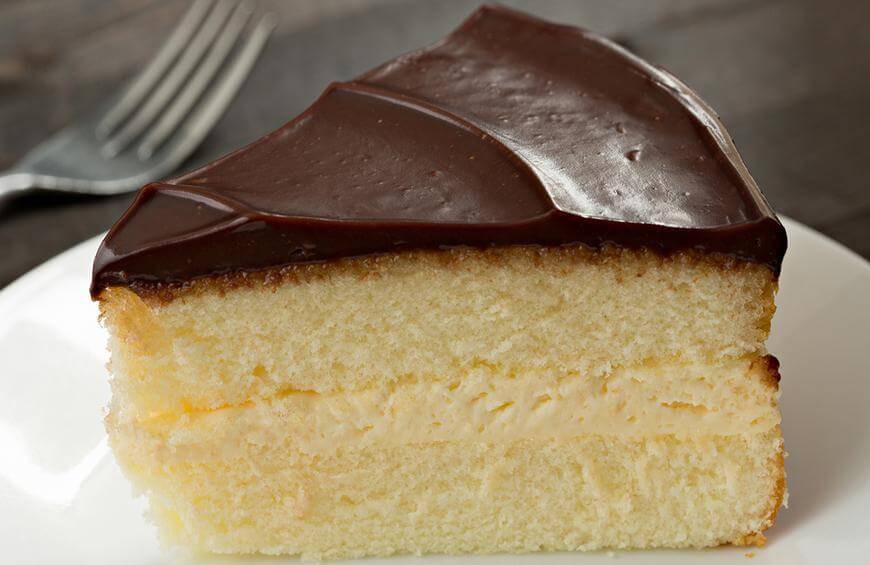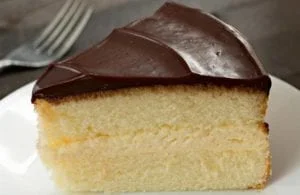 The cake consisted of two layers of French butter sponge cake.  Thick custard filled the layers and rum syrup brushed the top.  The same custard overlaid its side with toasted sliced almonds, and chocolate fondant coated the top.  While other custard cakes may have existed at that time, baking chocolate as a coating was novel. On December 12, 1996, Boston cream pie became the official dessert of Massachusetts.
What are you having for suppah in your parlah tonight?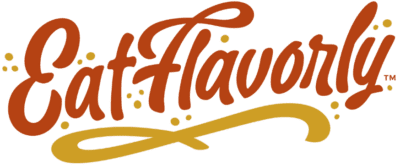 Sources
https://www.insider.com/best-foods-to-try-when-visiting-boston#boston-cream-pie-was-originally-just-called-chocolate-cream-pie-2..
https://www.bostonmagazine.com/restaurants/2015/12/08/boston-history-food-tour/..
https://www.todaysdietitian.com/newarchives/100610p34.shtml..
https://www.bostonglobe.com/lifestyle/food-dining/2016/12/26/culinary-historian-surprising-account-boston-restaurants-through-time/..
http://www.foodtimeline.org/statefoods.html#massachusettshttps://blog.ihg.com/signature-flavors-of-boston..
http://www.unionoysterhouse.com/https://lobsteranywhere.com/new-england-style/history-lobster-roll/..
https://eatyourworld.com/destinations/united_states/massachusetts/boston/what_to_eat/italian_pastry_cannoli
https://www.mikespastry.com/history/..