The Middle East is a vast region located at the crossroads of North Africa, Asia, and Europe.  It centers on western Asia, Egypt and Turkey and incorporates several major countries.  These include Lebanon, Egypt, Oman, Kuwait, Iraq, Iran, Bahrain and Cyprus.  People from all over the world flock to the Middle East to witness its architecture, culture, and remnants of the ancient world.  Not surprisingly, history, religion, Mediterranean climate and tradition play a huge role in defining its cuisine.  In addition, foreign invasions and trade routes throughout Europe, Africa and Asia have been influential.  Middle Eastern cuisine uses a characteristic blend of local herbs and spices to season its meat.  Accordingly, lamb, beef and chicken skewers produce many different versions of kebab.  Let's look at Middle Eastern kebabs in more detail.
Herbs and Spices
Herbs and spices from this region tend to overlap with those used in South Asian/Indian and Latin American cuisine (cumin and coriander, for example), although not all of them do.  Many season Middle Eastern kebabs in some way. Firstly, Ground Sumac is unique to Middle Eastern cuisine and used mainly in the preparation of appetizers 'mezze'.  It is a maroon-black powder that comes from a wild berry and has a sour taste.
Next up, Isot is a unique chili pepper flake used mostly to prepare kebabs.  It is milder than most red pepper found in other parts of the world.  Then there is Oregano, which often adds a finishing touch to stews and is a vital component of the za'atar spice blend.  Nigella Seeds (black cumin) impart a strong flavor when roasted or toasted and are often added to freshly baked bread.  Dried Mint is used in teas and sprinkled on mezze platters and salads.  Za'Atar, Ras al Hanout and Baharat are popular spice blends used in a variety of ways as an ingredient, topping or condiment.  Each household tends to have its own special recipes and spice variations.
Beef Shish Kebab
Turkish cuisine is not only famous for introducing the world to the term 'shish' but also for a variety of delicious grilled meats and kebabs.  In Turkish cuisine, 'şiş' (pronounced shish) refers to the metal skewer (literally meaning 'sword') and 'kebap' means 'roasted meat dish'.  Chunks of marinated lamb or beef slide onto the skewers, usually without vegetables, and turn over a coal fire until they're done.  Some of the world's best and most flavorful kebabs come from Turkey's southeastern provinces.  Shish kebabs can be tricky because you need to select a cut of meat that is tender and flavorful.  Filet mignon is the most naturally tender choice.  On the other hand it is expensive and less flavorful than other cuts (due to lack of fat) unless marinated.  Sirloin, especially sirloin tip, is a good option because of its big beefy flavor – and it is cheaper than filet.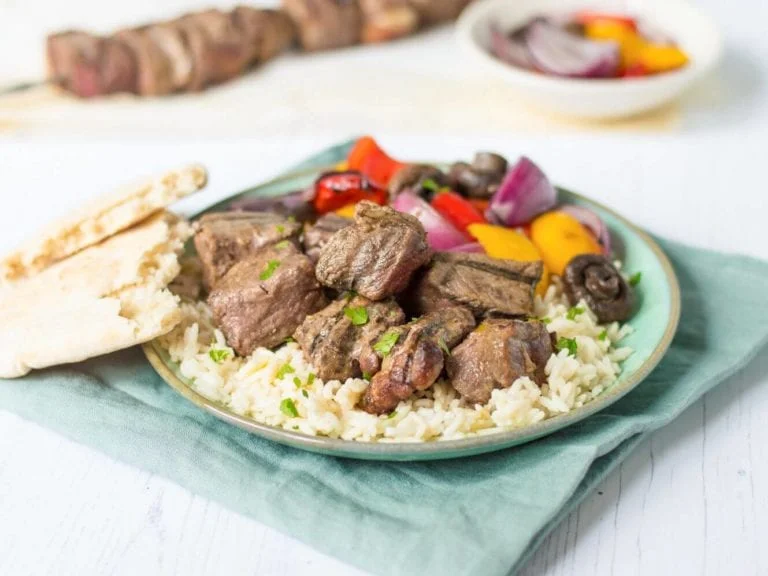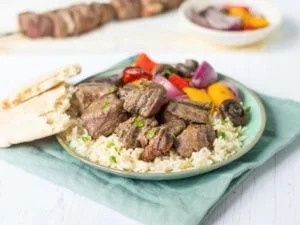 Adana Kebab (Ground Lamb)
The Adana Kebab receives its name from the city of Adana in Turkey, where it originates.  Traditionally it comprises minced lamb on a skewer, kneaded together with onion, garlic, and Turkish spices, then packed by hand around large, flat metal skewers and grilled over charcoal. When the kebabs are on the grill, the fat drips from the meat causing it to bind together. It forms a long, hollow tube of cooked meat once you remove the skewer.  Adana usually comes with grilled vegetables like hot green chili peppers, onions, and tomatoes, and a hearty bulgur and vegetable pilaf.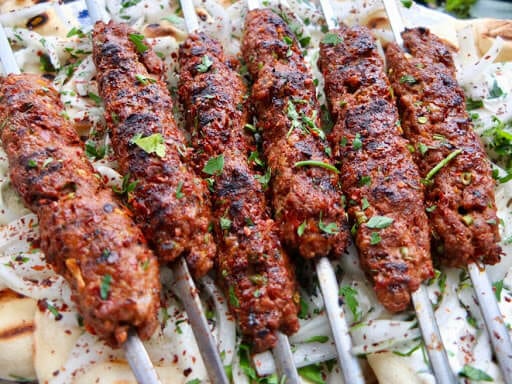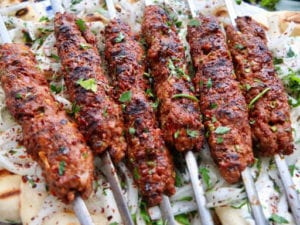 Urfa Kebab
Another popular kebab is the cousin of Adana kebab. Named after the city of Urfa, Urfa kebab is prepared in nearly the same fashion as Adana but it is less spicy in terms of heat. Urfa has a mild flavor seasoned with onions, garlic, cumin, oregano, and sweet paprika kneaded into the meat. As a result, it becomes tender and juicy letting the flavor of the meat shine through.  On the other hand, Adana is hotter, with generous amounts of hot red pepper flakes and paprika kneaded into the meat.  This gives it both a fiery color and flavor whereas Urfa is much more gentle and subtle in flavor.  Both dishes enjoy a side serving of hot green chili pepper, onions and tomatoes on a bed of rice.
Döner Kebab
The Döner kebab, or 'turning' kebab, is a popular Turkish street food and the birthmother of Greek gyro and Arabic shawarma. In Turkey, the meat is leaner, browner and crisper.  Shavings of meat are usually eaten plain over a bed of rice or wrapped in a soft tortilla made from durum wheat flour. This kebab originated not in the deep southeast, but in Bursa, a city just south of Istanbul and the first capital of the Ottoman Empire. Originally, the kebab hung horizontally and cooked over coals. Thus, the modern turning kebab came into existence.
Iskender Kebab
İskender kebap is one of the best-known dishes of northwestern Turkey. It takes its name from its inventor, İskender Efendi, who lived in Bursa in the late 19th century Ottoman Empire.  One day, İskender decided to invent a special grill to roast meats vertically. Subsequently this new invention allowed the meat to rotate and be shaved off simultaneously. The dish consists of döner kebab prepared from thinly cut grilled lamb topped with hot tomato sauce.  This piles on top of pieces of pita bread with melted sheep butter and yogurt. Efendi, better known as Master Alexander, was born into Ottoman Turkish nobility.  Consequently this gave him opportunities to travel around the empire and experience various cuisines and cooking methods.
Alinazik Kebab
Alinazik kebab, or simply alinazik, is a home-style Turkish dish which is a specialty of the Gaziantep province of Turkey. It is made from smoked and spiced eggplant, grilled and then pureed.  Next it is topped with cubes of sauteed lamb, previously seasoned and marinated.  Coming in a close second to the Iskender kebab in terms of popularity, the smoky flavor of its roasted eggplant enhances the taste of the grilled lamb.
There are two stories about the name of this dish. One of them dates back to 16th century Ottoman Empire, during the reign of Yavuz Sultan Selim. On a trip to the city of Antep, (today's Gaziantep), the Sultan experienced this local delicacy of delicious eggplant and yogurt mash with grilled lamb.  Sultan Selim liked the dish so much that he asked: "Whose 'gentle hand' ("eli nazik" in Turkish) made this?" Allegedly, the name 'ali nazik,' has stuck since then.  The second story says the name stems from the old Ottoman Turkish language, where 'ala' meant 'beautiful' and 'nazik' meant 'food.' Over the centuries, this turned into 'ali nazik' because in modern Turkish, 'nazik' means 'polite,' thus the meaning 'polite Ali.
Shish Tawook
Shish Tawook (Lebanese Chicken Skewers) is a traditional Middle Eastern marinated chicken dish. Although these grilled chicken skewers are popular in Lebanon, they are also popular in Turkey, Egypt, Syria, Iraq, and Israel.  Tawook is an adaptation on tavuk, which comes from the old Turkish takagu, meaning chicken.  The Ottoman (Turkish) Empire ruled Lebanon in some capacity from 1516-1918, which is why there is a lot of Turkish influence in Lebanon cuisine including its name.
Like any widely-appreciated recipe with deep cultural roots, there are as many recipes for shish tawook as there are cooks who make it.  However there are three ingredients that are key to getting an incredibly flavorful shish tawook:  Lemon, yogurt and garlic.  Additionally, many recipes call for a touch of tomato paste and paprika blended in.   In Lebanon and Syria, shish tawook is most commonly a pita 'sandwich' with a creamy garlic paste toum (like an aioli or garlic mayo) and tomatoes.  In Turkey, rice and grilled vegetables commonly accompany shish tawook.
Healthy Gourmet's Chicken Kebabs will be our house version of the Shish Tawook served on a bed of fragrant golden rice.  Check out our menu in coming weeks and take a trip to the Middle East with us to enjoy some Turkish delight…
Sources
https://www.taste.com.au/recipes/baharat-middle-eastern-spice-mix.
https://www.thespruceeats.com/middle-eastern-spices-and-herbs-2355845
https://www.daringgourmet.com/baharat-middle-eastern-spice-blend/
https://www.superprof.us/blog/what-is-traditional-middle-eastern-food/
https://www.qsrmagazine.com/menu-innovations/middle-eastern-cuisine-makes-its-move
https://www.kcet.org/shows/the-migrant-kitchen/tracing-the-history-of-middle-eastern-cuisine-and-setting-roots-in-los
http://www.hummuselite.com/middle-eastern-cuisine.php
https://www.thespruceeats.com/best-turkish-kebabs-3274274
https://www.onceuponachef.com/recipes/middle-eastern-chicken-kebabs.html
http://factsanddetails.com/world/cat55/sub359/entry-5913.html.
https://www.thespruceeats.com/popular-spices-in-turkish-cuisine-3274234.
https://www.epersianfood.com/alinazik-kebab-recipe/.
https://www.curiouscuisiniere.com/shish-tawook/.
https://guide.michelin.com/en/article/features/6-herbs-and-spices-used-in-middle-eastern-cuisines.