Corned beef and cabbage has become known as the traditional St. Patrick's Day meal, at least on the American side of the Atlantic. Like many aspects of St. Patrick's Day, the dish came about when Irish-Americans transformed and reinterpreted a tradition imported from the Emerald Isle. According to the Smithsonian, more Irish people ate bacon as a traditional meal than beef, partly because cows were considered symbols of wealth in Gaelic Ireland and were not usually killed for their meat. 
The First St Patrick's Day Parade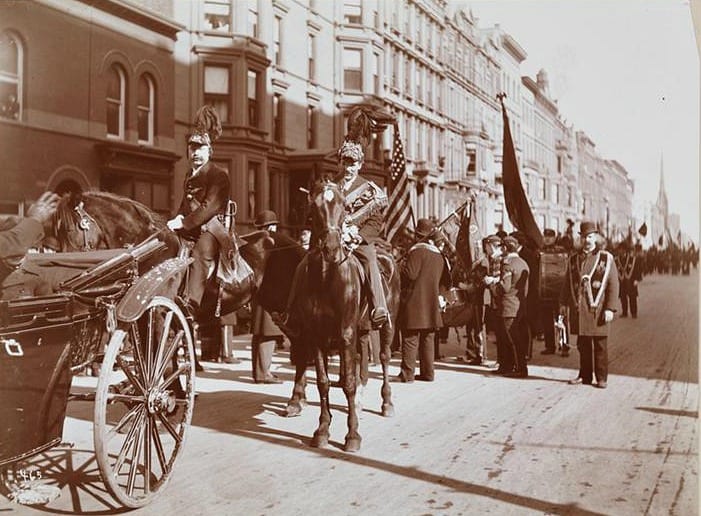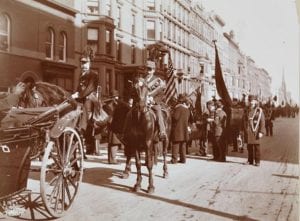 The first St. Patrick's Day parade took place not in Dublin but in New York City, in 1762. Over the next 100 years, Irish immigration to the United States exploded. The new wave of immigrants brought their own food traditions, including soda bread and Irish stew. Pork was the preferred meat, since it was cheap in Ireland and ubiquitous on the dinner table. The favored cut was Irish bacon, a lean, smoked pork loin similar to Canadian bacon. But in the United States, pork was prohibitively expensive for most newly arrived Irish families, so they began cooking beef—the staple meat in the American diet—instead.
From Irish Bacon to Corned Beef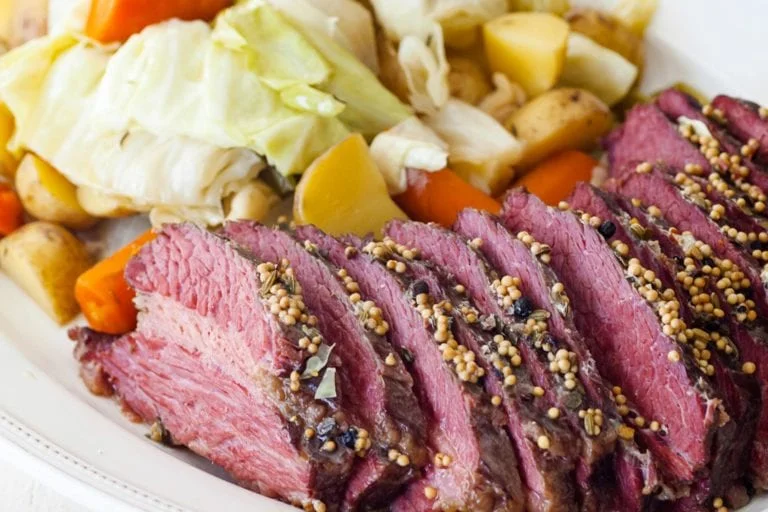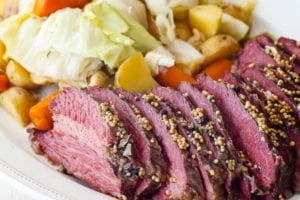 Members of the Irish working class in New York City frequented Jewish delis and lunch carts, and it was there that they first tasted corned beef. Cured and cooked much like Irish bacon, it was seen as a tasty and cheaper alternative to pork. And while potatoes were certainly available in the United States, cabbage offered a more cost-effective alternative to cash-strapped Irish families. Cooked in the same pot, the spiced, salty beef flavored the plain cabbage, creating a simple, hearty dish that couldn't be easier to prepare.
Category: Entree, Comfort Food, Holiday
Global Flavor: Ireland
Prep: 30 mins (+ 8 hrs soaking time)
Cook: 3 hr 30 min
Yield: 6 to 8 servings
1 (3 1/2- to 5-pound) corned beef brisket
2 teaspoons Kosher salt (or to taste)
1/2 tablespoon coarsely ground black pepper
1 bay leaf
Optional: spice packet (from the corned beef package)
3 quarts water
2 pounds red potatoes (cut in half)
4 carrots (peeled, cut into chunks)
1 onion (large dice)
3 ribs celery (large dice)
1 medium head cabbage (cut into wedges)
Directions
Place the corned beef, 1 teaspoon of the salt, pepper, bay leaf, and contents of the optional spice packet into a large pot along with 3 quarts of cold water.
Cover and bring to a boil over high heat. Turn down the heat to low and simmer for 2 1/2 hours.
Add the remaining salt if needed, potatoes, carrots, onions, and celery. Simmer covered for 30 minutes.
Add the cabbage wedges and cook for another 30 minutes or until the potatoes and vegetables are tender.
Remove from the pot and let rest for 10 minutes, loosely covered with aluminum foil. Remove the bay leaf and discard it.
Slice the corned beef against the grain and serve in a bowl topped with cabbage, vegetables, and some of the cooking liquid. Accompany with dark bread and mustard on the side.
Serve and enjoy!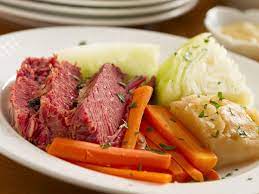 If you enjoy corned beef and cabbage you're sure to enjoy Flavorly's other comfort food recipes such as bangers and mash, or shepherd's pie. Head over to our menu and see what you can find.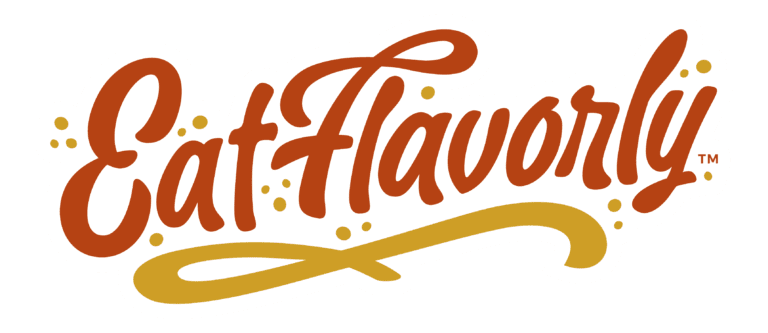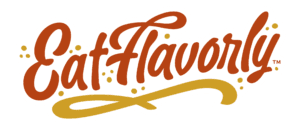 Sources