So continuing where I last left off…I survived the dried-out, boxed airline food and landed sleepily at Manchester Airport on the final leg of my 4-flight journey home to visit family.  My final destination would be Cheshire, a 40 minute Uber ride in a southwesterly direction, where I would remain for the next 10 days in a picture postcard village named Tarporley.
Cheshire is a county covering 905 square miles and has a population of around 1 million. It is mostly rural, with a number of small towns and villages supporting the agricultural and other industries which produce Cheshire cheese, salt, chemicals and silk.  Cheshire is a bit like Devon. Not in geography, nor in climate, but in that whenever people are asked to think of a food from these counties, they can usually only think of one thing. And in Cheshire, that is cheese.
What is Cheshire Cheese?
One of Britain's oldest cheeses, Cheshire is a hard-pressed, cows' milk cheese with a relatively dry, crumbly texture and a mild, tangy character that's made in large drums using vegetarian rennet. Young Cheshire is white and crumbly with a milky, clean flavor. The flavor develops as the cheese ages and it also becomes firmer in texture, and darker in color.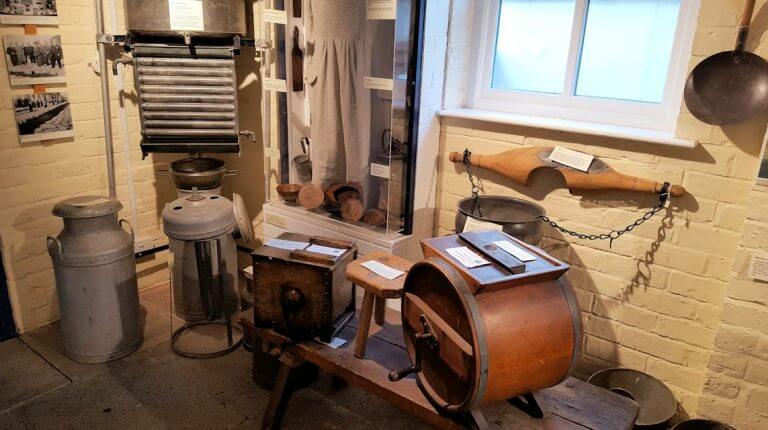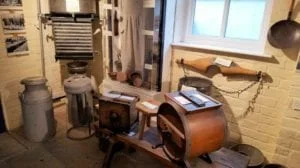 Cheshire is now made worldwide, but the best examples come from the county that gave the cheese its name. There are four varieties of Cheshire cheese: white, extra-mature, red (which is actually yellow) and blue. All have the same sharp, nutty taste and are manufactured in the same manner.
How is Cheshire Cheese made?
The traditional method of making Cheshire cheese involves leaving milk from the evening milking to stand until the morning, when it is mixed with the morning's milk and a starter culture is added. When the curds form they are roughly torn into small pieces, passed through a mill and then pressed in moulds for up to two days. The cheese then takes between 4 and 8 weeks to ripen, although some are ripened for up to 15 months. The longer the cheese matures, the sharper the flavor becomes.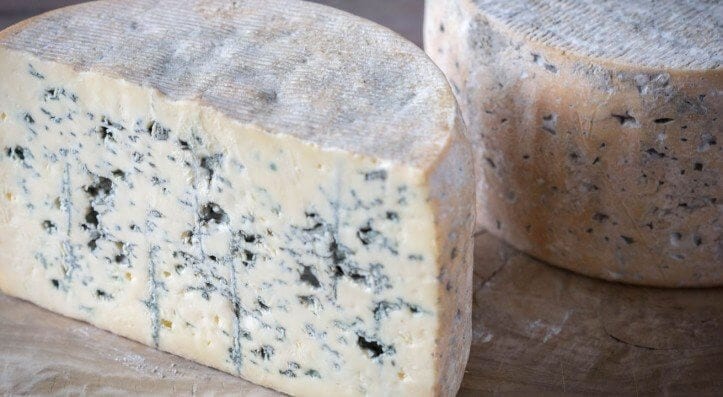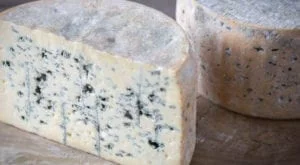 To make red Cheshire, the curds are colored with annatto, whilst the blue Cheshire is punctured during curing. This puncturing produces the blue veins.  The finest Cheshires, made using traditional methods, are clothbound, and produced in the Chester region from the milk of cows grazed on the salty pastures of the area.
Salt in Cheshire
Cheshire is a county in North West England. Rock salt was laid down in this region some 220 million years ago, during the Triassic period. Seawater moved inland from an open sea, creating a chain of shallow salt marshes across what is today the Cheshire basin. As the marshes evaporated, deep deposits of rock salt were formed.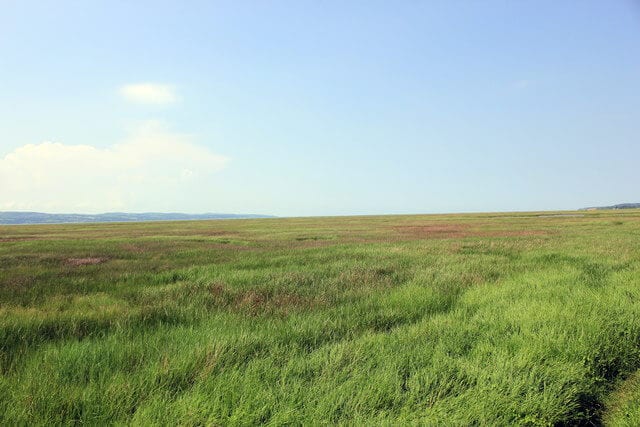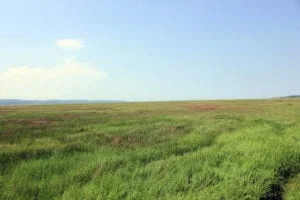 The salty flavor of Cheshire Cheese comes from the salt springs that run under most of the county. The salt enters the pasture land and thus into the cows' milk from which the cheese is made. Originally only made in the Roman garrison of Chester, production of Cheshire cheese soon spread to the surrounding farms near the River Dee.
History of Cheshire Cheese
First officially recorded in the Domesday Book of 1086 but made since Roman times, Cheshire Cheese is Britain's oldest named cheese. Legend has it that a Cheshire cheese-maker was put to death by the Romans for refusing to tell them how to make it. In the 16th century it was allegedly the favorite cheese of Queen Elizabeth 1.  In fact, even the French, not normally known for their enthusiasm for English food, respect English Cheshire cheese, and have a rhyme about it:
dans le chester sec et rose,
a longues dents de l'anglais mordent.
Into the Cheshire cheese, dry and pink,
The long teeth of the English sink.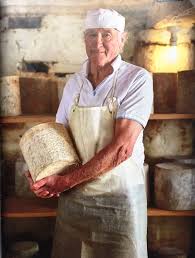 The Romans of Chester
Chester was one of 3 major Roman army bases and is home to the best surviving Roman Fortress Wall in Northern Europe. Dating back to Roman times, it was founded as a fort in 79 AD, and apart from a small 100-metre section, the listed Grade I walls are all still standing today.  The Wall was built to protect the then major Roman garrison of Deva, on the River Dee, during the Roman occupation of Britain.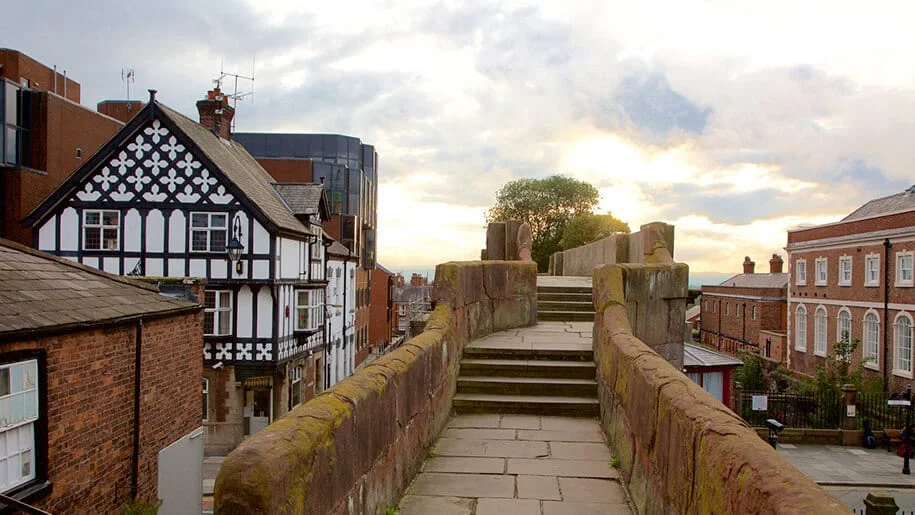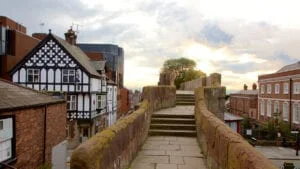 Cheshire Cheese Recipes
I enjoy Cheshire cheese the most when it is 'un-messed with'.  In other words, on its own or perhaps with crackers and a bit of chutney.  But naturally there are some wonderful ways to cook with it too:
Recipes
Cheshire soup
1 pint stock (vegetable, chicken, pork or veal)
10 oz peeled and diced potatoes
2 leeks, washed and trimmed, both white and a bit of green
2 carrots, peeled and finely chopped or grated
1 oz oatmeal
1/2 cup of grated Cheshire cheese
salt and pepper
Method
Firstly, put the stock into a large pan, add the vegetables and seasoning and bring to the boil.
Next, simmer for 15 minutes then add the oatmeal and simmer for 10 more minutes.
Just before serving, stir in half the cheese, pour the soup into four bowls and sprinkle the remaining cheese on top.
Cheshire Cheese and Asparagus Charlotte
4 Slices of buttered bread
298 g 10oz fresh Cheshire asparagus spears, cooked
175 g ( 5 oz) Cheshire cheese
2 large eggs
568 ml (1 pint) milk
Salt and black pepper
Method
Firstly, cut the crusts from the buttered bread.
Next, place a layer of bread in a buttered dish .
Layer with asparagus spears and half the grated cheese.
Cover with remaining bread and cheese and season.
Beat together the eggs and milk .
Pour over the bread in the dish and leave to stand for 15 minutes.
Top with grated cheese cheese and bake 180°C (375°F) or Gas 4/ 5 for about 50 minutes or until set .
Cheshire Lamb Crumble
1 lb minced lamb
medium onion,
1 tbsp tomato puree
1/2 pt veg stock or water
salt and black pepper
2 oz hard margarine
4 oz flour
2 oz Cheshire cheese, crumbled
Method
Firstly, cook the minced lamb with onions and puree in the stock in a pan for about 15 mins.
Next, transfer to an oven proof dish.
Rub the fat, flour and seasoning together to make a crumble topping.
Add crumbled cheshire cheese.
Cover the meat mixture with crumble topping and bake for about 30 mins 180 C gas 4/ 5.
…
What do you love about cheese?  Some of our favorite cheeses here at Flavorly include Ricotta, Mozzarella, Pepper Jack and Cheddar!  Can you spot the meals that feature these creamy flavors?  Check out our menu and see if you can find them!
Sources
https://www.timetravel-britain.com/articles/taste/taste04.shtml
http://blog.bookcottages.com/blog-entry.htm?entry=22
http://historyservices.webeden.co.uk/old-cheshire-recipes/4566017940
https://wizzley.com/traditional-cheshire-food/
https://www.visitcheshire.com/food-and-drink/local-produce
https://www.cheshirecheesecompany.co.uk/recipes
https://www.cheshire-live.co.uk/whats-on/food-drink-news/five-most-popular-dishes-people-18650088
https://aspenwoolf.co.uk/10-remarkable-facts-about-chester-uk/