At 4.30am yesterday morning I was sitting in a cold, deserted departure lounge at Dublin airport, huddled in a cheap fleece blanket, waiting for my connection to Manchester (UK).  I was overtired and cold, having been in transit for almost 24 hours.  This was my fourth consecutive flight since leaving Houston, a route that had forcibly taken me indirectly through Dallas, New York and Ireland in cramped, coach-class seating all the way home.  I looked down at the Aer Lingus lime green breakfast box on my knee.  "Rise and shine, it's breakfast time!" exclaimed the cheerful message on the outside of the packaging.  I couldn't have felt less like eating the contents:   A dried out blueberry muffin and 4 fluid ounces of warm OJ concentrate served in a tightly-sealed, foil lid cup, guaranteed to spill in my efforts to open it.  Airport dining in its least glamorous form…
All the same, I ate it because nothing was open in the terminal building and I needed to stay awake to catch my final flight.  Surprisingly it tasted quite good and made me think about the business of airline food and of airport dining in general.  If ever there's an environment that has adapted to cater for global travelers with an appetite for global flavors the aviation industry is it.  From basic snacks to gourmet dining, most international airports cater generously for worldwide travelers.  But how do you decide what to eat and what are they going to serve once you are onboard?  Here are a few "good-to-knows" before you pack your bags.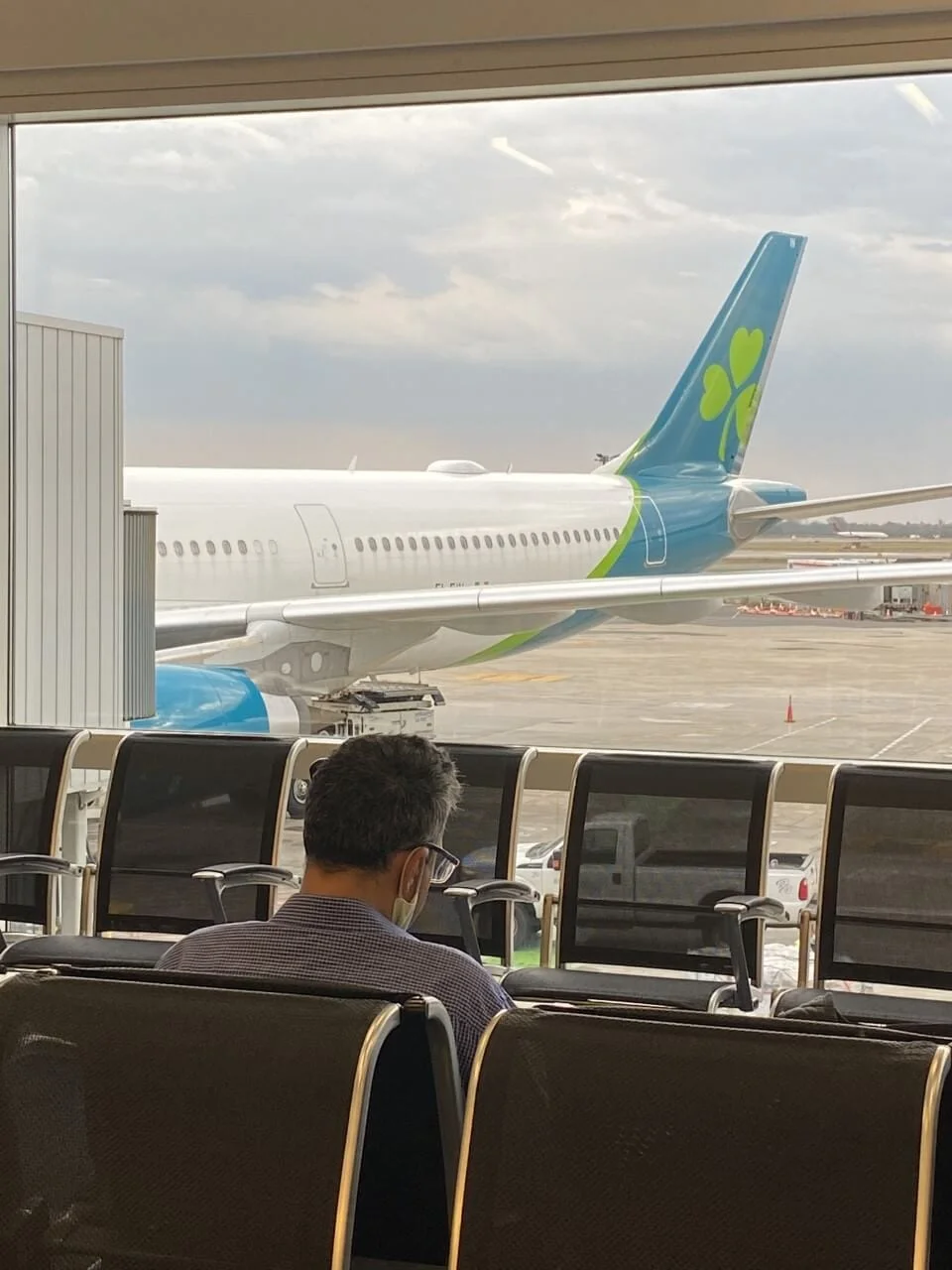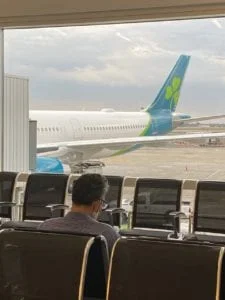 What to eat before you fly
In a few minutes you're doing to be traveling in a confined space at tens of thousands of feet above sea level in a pressurized cabin.  However, there are things you can do before you board the plane to minimize some potential hazards of flying such as dehydration, bloating, swelling and restricted blood circulation.  These small adjustments to your airport dining habits can make all the difference to how you feel during and after your flight.
Choose Low Sodium and Minimize Saturated Fats
According to the medical community, the body doesn't do so well digesting foods laden with sodium and saturated fats in the first place — and digestion at 35,000 feet proves even more difficult.   But beyond the digestion problems, there's also the issue of in-flight blood circulation. Sitting cramped and stationery in a pressurized cabin hinders blood flow, setting off a physiological chain that can lead to swollen feet, or worse, deep vein thrombosis (DVT). DVT involves the formation of a blood clot deep inside the body that when breaks free can lodge in the brain, lungs or heart, causing severe damage, even death.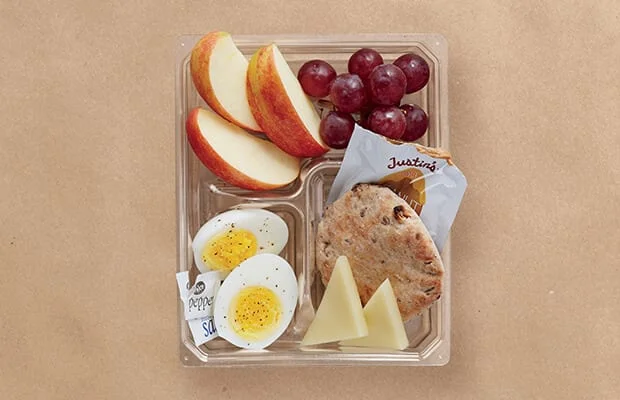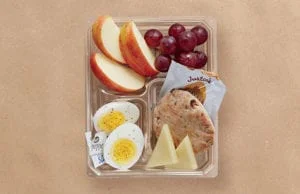 Avoid Food Causing Gas and Bloating
Avoid foods that encourage intestinal expansion, as the nature of the pressurized airplane cabin promotes further bloating. Chief among such foods are fried and super-saturated dishes, but even certain "healthy" foods — onions, cauliflower, cabbage, beans, lentils — can make you feel like an over-filled balloon. High-sodium foods can cause you to retain water, further contributing to that bloated feeling.
Drink Plenty of Water
Alcohol causes dehydration, which is already a concern for most fliers given the ultra-dry air and salty meals on planes. If having a drink is a must for you, counteract the effect of the alcohol by consuming plenty of water.   Carbonated beverages contribute to bloating and cramping, two enemies of the long-haul traveler.  The best option for hydrating before airline travel is still water.   Increasing hydration should be an essential part of your pre-flight airport dining plans.
Best Airport Restaurants
Now you know what kind of food and drink to aim for, what are some of the best airport restaurants in America?  The Daily Meal has compiled a list of 25 and these are 3 of my personal favorites on the list:
1) Deep Blue Sushi (JFK, New York)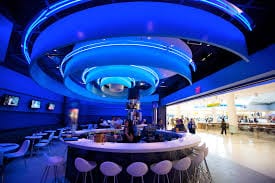 Serving quality sushi and Asian specialties from Michael Schulson, this dramatic restaurant in Terminal 5 has an ethereal feel of being in an aquatic environment that is complemented by a modern, clean aesthetic. Highlights of the menu, inspired by East Asian cuisine, include sushi, sashimi, ramen, udon, and teriyaki. Adjacent to the restaurant, Deep Blue on the Fly features takeout from Deep Blue Sushi as well as an assortment of pre-packaged Asian delicacies.  Why I like it:  With a son in New York I frequent New York's airports several times a year and Deep Blue is one of my favorite places to eat.  I love a restaurant that gives you an immersive experience and this one checks all the boxes.  Airport dining that feels like you're just about anywhere other than in an airport.
2) The Salt Lick BBQ (Austin-Bergstorm & Dallas/Fort Worth Airport)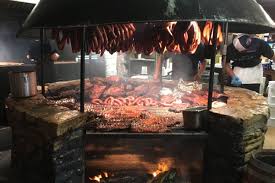 Barbecue is a staple in the state of Texas, and The Salt Lick BBQ provides an authentic Texas barbecue experience for incoming travelers who can't wait, outgoing travelers who still crave it, and through-traffic travelers who have no time to leave the airport.  To begin with, the iconic Salt Lick started 46 years ago on a ranch in Driftwood, Texas.  Now, it is noteworthy for its signature beef brisket, pork ribs and sweet, sticky pies and cobbler desserts.  Why I like it:  I love its signature BBQ Red Wine, made from grapes grown in the restaurant's vineyards in Driftwood, Texas.  A blend of the Syrah/Shiraz and Mourvedre grape, it has a smoky flavor that pairs really well with Salt Lick's barbecue menu.
3) Berghoff Café (Chicago O'Hare Airport)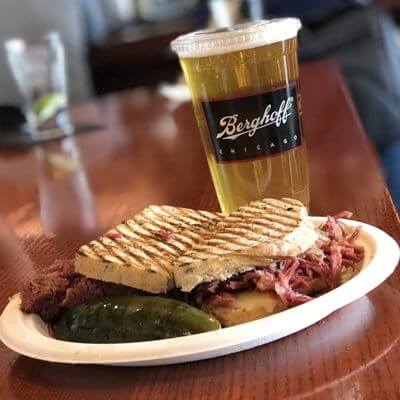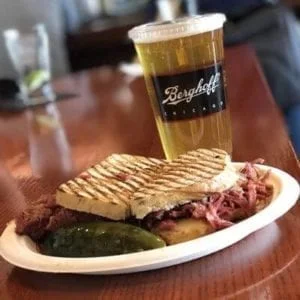 It's not often that a US airport has a restaurant serving classic German fare, but you can find some of the best at Berghoff Café.  The famous Windy City restaurant located in Chicago Loop has an outpost in O'Hare International Airport's Terminal 1.  Grab a seat at the mahogany bar and order the signature Reuben (made on bread that is baked in the downtown Chicago restaurant) and sauerkraut and wash it down with Berghoff Root Beer — the soda pop was created by Berghoff founder Herman Joseph Berghoff and has been a menu staple since its debut during Prohibition.  Why I like it:  My husband's family hails from Chicago and we lived there for many years before transplanting to Texas.  Reuben sandwiches are one of Mike's favorite meals and I enjoy Berghoff's purely for the smile on his face when he bites into their signature sandwich.
The World's Best Airline Food
Airline food is a hugely variable experience depending on the airline and the route you're taking (factors including flight duration and country or origin and destination).  In addition, if you're traveling in comfort (first or business class) your dining experience above the clouds is going to be on a whole other plain to that of your cattle-class companions behind you.  Nonetheless, some airlines provide pretty decent food even for budget travelers.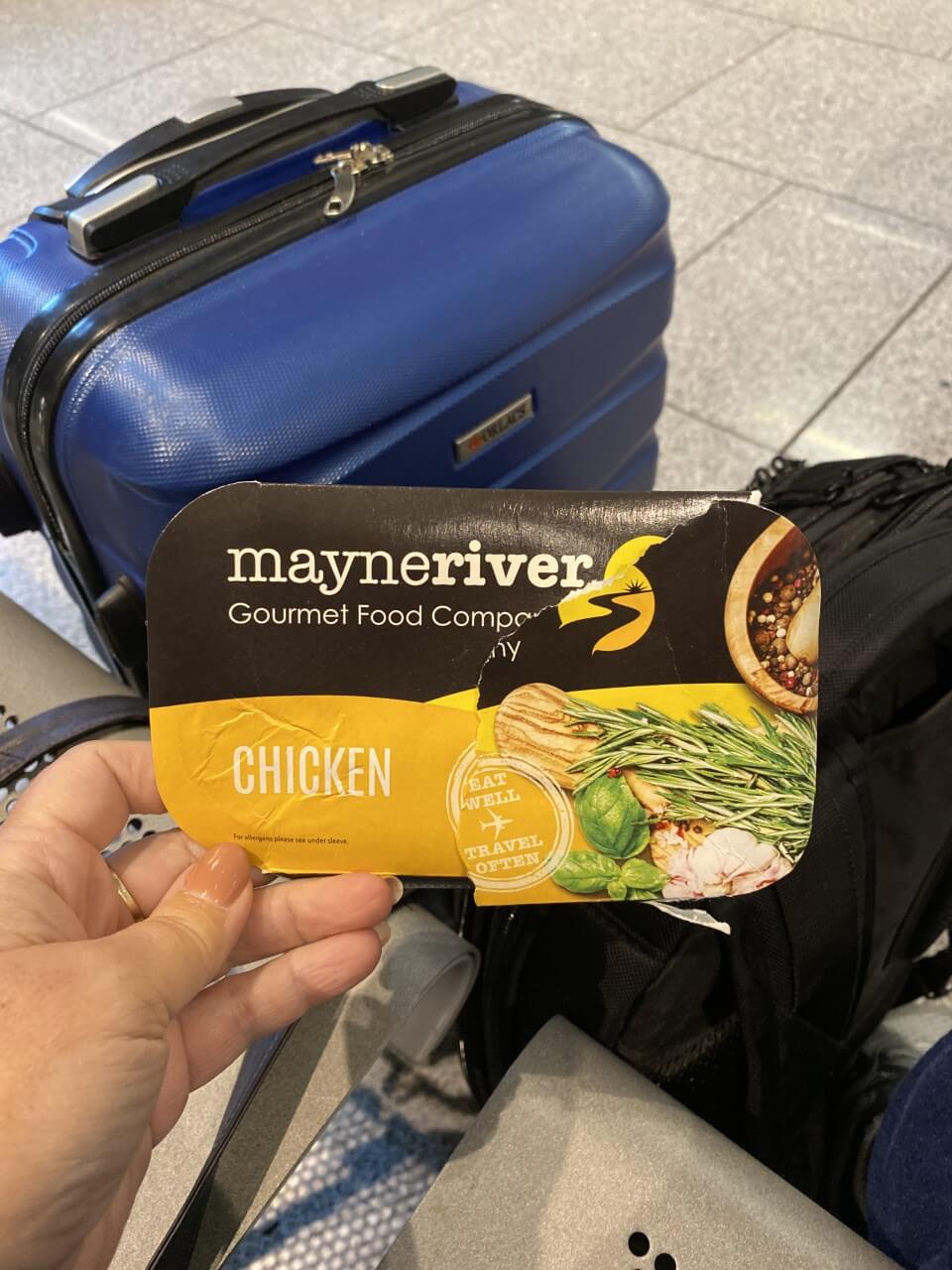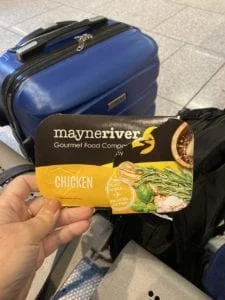 According to The Daily Meal, airlines consistently serving up the best airline meals across economy and first class include:
Air France
Austrian Airlines
Cathay Pacific
Emirates
Qatar Airways
Singapore Airlines
Thai Airways
Turkish Airlines
What to expect during Covid
Traveling during Covid is obviously best avoided if possible in order to minimize the risk of spreading infection.  However, if you do need to travel, airports are working to ensure that travelers and employees are safe if traveling during this time, including restaurants. Methods that airports have implemented include:
Increased cleaning of seating, handrails, restrooms, moving walkways and elevators during the day
Nightly deep cleaning of entire terminals
Guidelines to encourage safety and social distancing
Installation of hand sanitizing stations
Workers wearing masks and protective gloves
Are restaurants at airports open?
It depends on the airport.  Restaurants, cafes and coffee shops at airports have either remained open with reduced hours or have temporarily closed. Sit-down restaurants offer only takeaway items, and shared condiments, self-select utensils and self-fill beverage dispensers have been removed.
Want some advice?
A personal tip I can share, as someone who has traveled several times during Covid, is to assume that airport and airline food and beverage services will be extremely limited.  If your flight is lengthy, my recommendations are:
Eat before you depart for the airport
Carry several healthy sealed snacks to consume in transit
Use airport restaurants if available because airlines have very limited onboard services
But!  You don't need to travel to experience global flavors.  Just visit Healthy Gourmet and enjoy a taste of foreign shores from the comfort of your own home…
Sources
https://www.insider.com/what-to-eat-on-a-plane-2018-1.
https://www.smartertravel.com/5-foods-avoid-flying/.
https://www.loveexploring.com/gallerylist/71205/ranked-the-best-airline-food.
https://theluxurytravelexpert.com/2020/05/04/top-10-airlines-best-inflight-food/.
https://www.cntraveler.com/galleries/2015-02-19/15-economy-class-airline-meals-you-actually-want-to-eat.
https://www.mashed.com/61246/ranking-u-s-airline-food-best-worst/.
https://www.smartertravel.com/guide-airline-meals-snacks/.
https://www.thedailymeal.com/travel/best-airport-restaurants-america-gallery.
https://www.thrillist.com/travel/nation/best-airport-restaurants-in-america.
https://www.holidayextras.com/travel-blog/before-you-go/airline-meals.html.
https://airwaysmag.com/industry/evolution-airport-dining-experience/.
https://www.tripadvisor.com/blog/what-to-expect-at-airports-during-the-covid-19-pandemic/