Have you ever wondered how they make that delicious green sauce that goes with Mexican spicy shrimp tacos? For me, that is the motivation for preparing this Mexican dish. It's not that I'm not into shrimp. It's because to me the green sauce is what makes the meal distinctive. I have sat and pondered the mystery of the green sauce many times and have concluded that it means different things to different people. For some it's a green salsa while for others a creamy avocado topping. After much experimentation I finally found the recipe I was looking for – a garlic cilantro lime sauce using sour cream or greek yogurt as its base.
ORIGINS:  BAJA CALIFORNIA
Tacos de camarones ("shrimp tacos") originated in Baja California in Mexico. Grilled or fried shrimp usually enjoy the same accompaniments as fish tacos.  In other words, lettuce or cabbage, pico de gallo, avocado and a sour cream or citrus/mayonnaise sauce, all placed on top of a corn or flour tortilla.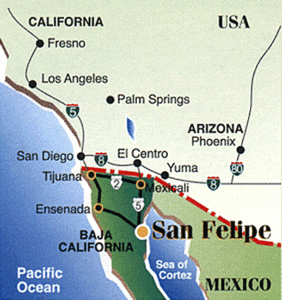 The Baja California Peninsula in north west Mexico separates the narrow Gulf of California on the east from the Pacific Ocean. The peninsula comprises Baja California in the north and Baja California Sur in the south and at its narrowest is just 40 kilometres wide. With such an extensive coastline, the peninsula is known for its great seafood while the arid central areas also produce excellent beef cattle. 
INGREDIENTS
Garlic Cilantro Lime Sauce
1/4 cup vegetable oil
1/4 cup water
1/2 cup chopped green onions
2 cloves garlic
1/2 teaspoon salt
juice of 2 limes
1/2 cup sour cream or full fat yogurt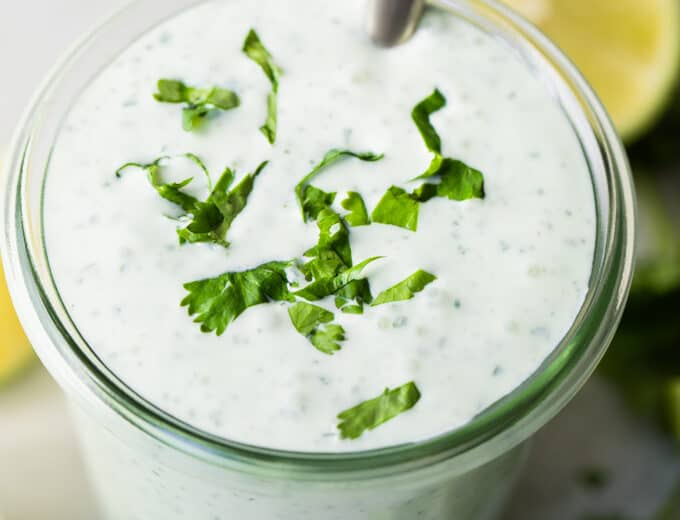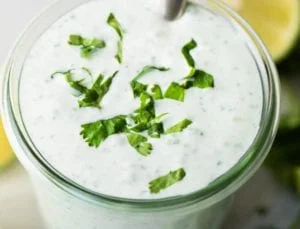 Shrimp Taco Spice Mix
2 teaspoons each chili powder and cumin
1/2 teaspoon each onion powder and garlic powder
1/4 teaspoon cayenne pepper (more or less to taste)
1 teaspoon coarse sea salt
Taco Filling
1 lb shrimp, peeled and deveined, tails removed
2-3 cups shredded green cabbage
8 small tortillas (corn or flour)
avocados, Cotija cheese and lime wedges for serving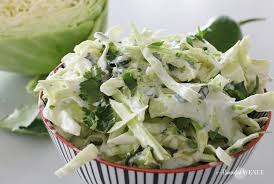 What is Cotija?
Cotija is a Mexican cow's milk cheese named after the town of the same name in the state of Michoacán. It is white in color, firm and dry in texture, and salty and milky in flavor. When younger (as in, aged for a shorter amount of time), its texture is akin to that of feta: moist and crumbly.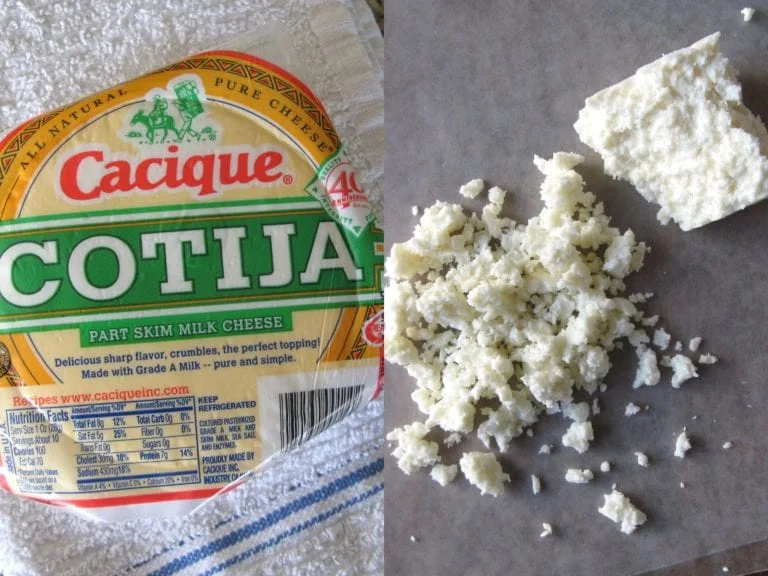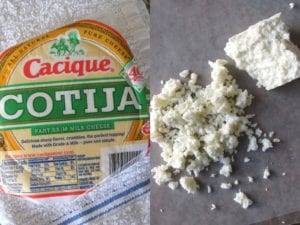 DIRECTIONS
Sauce:  Pulse all the sauce ingredients in a food processor or blender until mostly smooth
Slaw:  Toss only some of the sauce with the cabbage because leftover sauce will garnish the tacos
Shrimp:  Pat the shrimp dry with paper towels and then toss in a small bowl with the spice mix to get it coated.  Heat a drizzle of oil in a large skillet over a medium to high heat.  Add the shrimp to the hot pan and cook for 5-8 minutes, flipping occasionally until the shrimp are cooked through.
Assembly:  For the prettiest and easiest-to-eat assembly, go in this order:  Smashed avocado, slaw and then shrimp.  Finish with Cotjia cheese, lime wedges and extra sauce. Voila the best ever spicy shrimp tacos!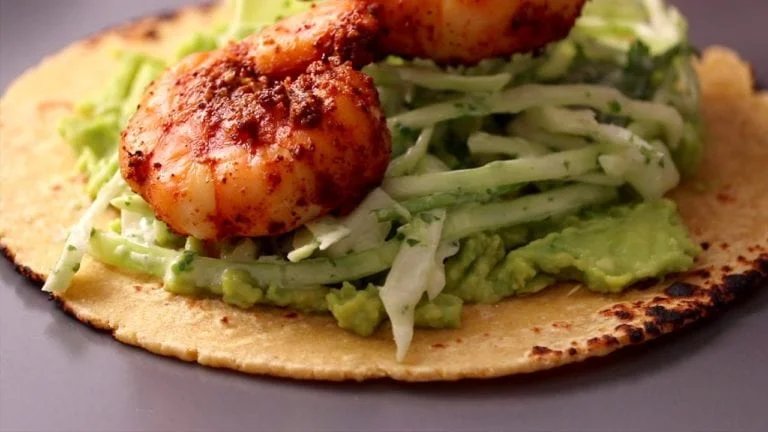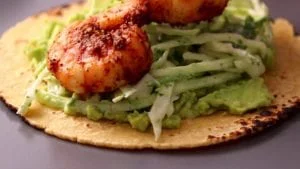 MORE REGIONAL DISHES
What other classic dishes come from the Baja California region of Mexico?
Caesar Salad
This one may surprise you!  Legend has it that Italian-American restaurateur Caesar Cardini invented the salad in 1924 in Tijuana in Baja California.  Cardini apparently owned a restaurant in the tourist destination to attract Americans across the border during prohibition.  General consensus is that on July 4th that year Cardini threw together some ingredients on hand and served them as a salad to his friends.  The rest is history!
Abalone
A delicacy in Asian countries, the world sources abalone from the waters of the Baja California Peninsula.  Most of it ends up in cans for domestic and export consumption however locals enjoy eating it fresh, ceviche style when they can.
Gallo Pinto
Originating from Nicaragua, this dish became popular in many countries close to the Caribbean including Mexico.  It includes ground beef with rice, potato and other vegetables in a hot stew.
Machaca
Machaca is a type of stew where spicy beef or donkey is dried like jerky as a method of preservation.  Pounding and cooking in spices and liquid rehydrates the jerky until tender.  Machaca features widely in north Mexican cuisine.   It comes with flour tortillas which are more common than the corn variety in northern Mexico due to the proximity to the United States and availability of wheat flour.  In the northern Baja there is a machaca dish using eggs called Machaca con Huevo.
If you enjoy spicy shrimp tacos why don't you check out some of Flavorly's other meals from the Americas region or alternatively check out our Spicy flavors.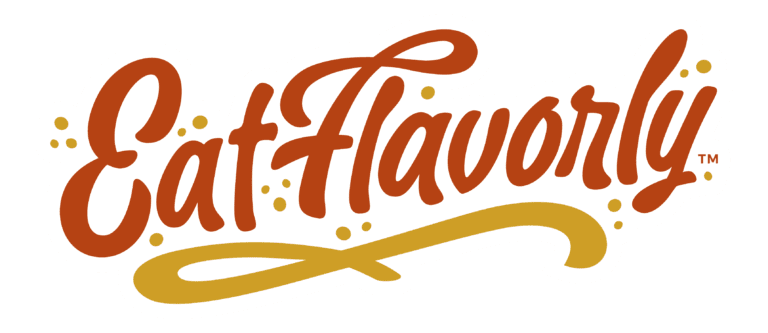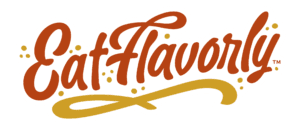 SOURCES
https://donacholita.com.au/the-food-of-the-baja-california-peninsula-in-mexic
https://pinchofyum.com/spicy-shrimp-tacos-with-spicy-cilantro-lime-slaw