Following my last blog I wanted to share a salad that embodies the essence of the Mediterranean diet: Salad Niçoise. This is the most famous of all French salads. Its name comes from the city of Nice, on the Côte d'Azur in Provence, France. This French recipe employs tuna, green beans, hard boiled eggs, tomatoes, onion, capers, and potatoes. Essentially it is similar to our American Cobb salad except for fish, beans and potatoes instead of chicken, bacon and avocado.
Category:  Entree
Global Flavor:  France
Prep Time:  20 mins
Cook Time:  6 mins
Yield:  2
Method:  Cook top
Nice and The Côte d'Azur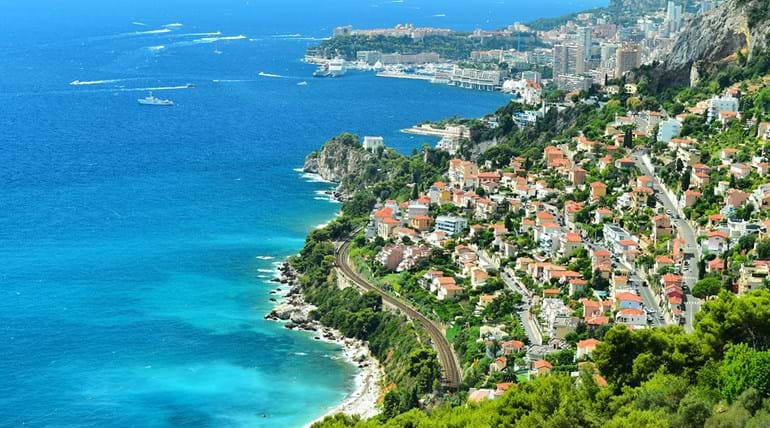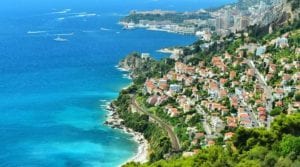 The French Riviera (or Côte d'Azur) is the Mediterranean coast of southeastern France. It includes famously glamorous beach resorts such as Saint-Tropez and Cannes, and the independent micro state of Monaco. A health retreat in the 18th century, the area later attracted aristocrats, artists and the 1960s "jet set." Today it's an established holiday destination, with paths connecting many coastal villages and towns. The name Cote-d'Azur means 'blue coast' and was the name given to Nice in 1887 by French writer and poet Stephen Liégeard (1830 -1925).
Niçoise is the French word for "in the style of Nice." So any dish that is labeled Niçoise would be in the cooking style of Nice. Usually these are recipes that have ripe olives, tomatoes and anchovies. The predominant flavoring is often garlic. Dining in Nice with its French, Provençal and Italian influences makes the visitor aware of the many other dishes that originated here including Ratatouille (stewed vegetables), Pissaladiere (caramelized onion tart) and Socca (thin chickpea flour crepe).
Authentic ingredients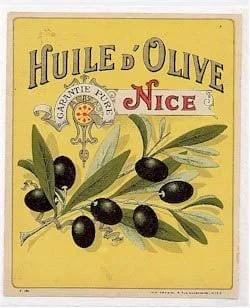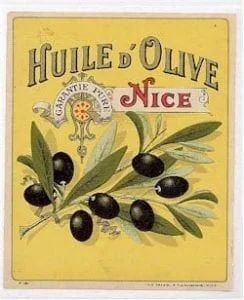 Most chefs from Nice agree that the recipe will include canned tuna or anchovies, but not both. Then there are tomatoes, the black Niçoise AOC olives, fava beans, cooked baby artichokes, sweet peppers and herbs, especially basil. Next there will be a vinaigrette dressing using oil from Nice's own AOP olive oil and red wine vinegar. Among the variations that came later are boiled potatoes, boiled eggs and green onions. Usually there will be boiled or steamed haricots verts; France's favorite fresh bean that we call the green bean or snap bean. Lettuce is often an ingredient too although not strictly speaking authentic.
What Are Fava Beans?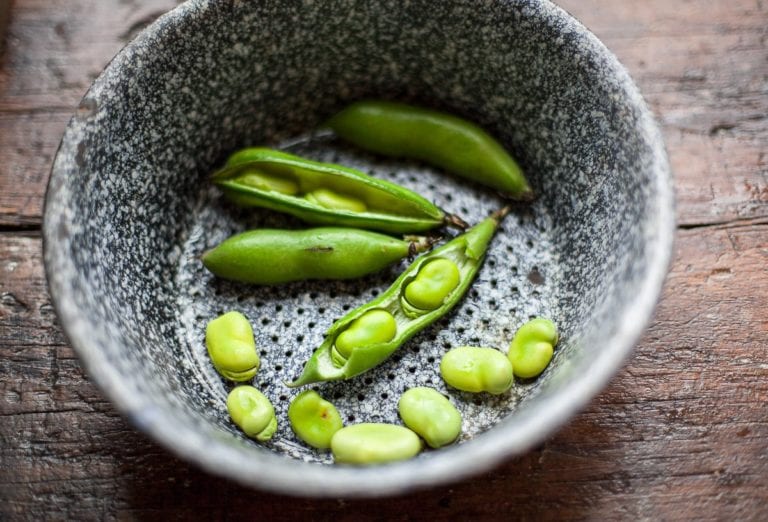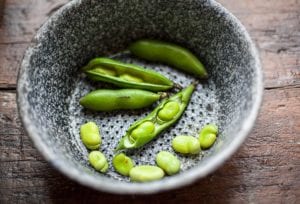 Fava beans grow in big, bumpy green pods on an easy-to-grow flowering pea plant that is harvested in the spring. Inside the cushy pods are large, flat, bright green beans with a tough, clear skin that is typically removed before eating. The labor-intensive process of preparing fava beans may have attributed to the legume's slow rise to popularity in America, a country full of bean options. Sought out by chefs and veggie lovers, fava beans are more expensive than your average fresh or dried bean. Another name for fava is the broad bean
How and when to eat it
The classic Salad Niçoise was originally an hors d'œuvre, an appetizer served before the first course, the French entrée. However, the tradition of serving Salad Niçoise as an hors d'œuvre is now more often broken than observed. Today, a Salade Niçoise will likely be a French main course, as part of a light lunch.
A Modern Twist – Salmon Niçoise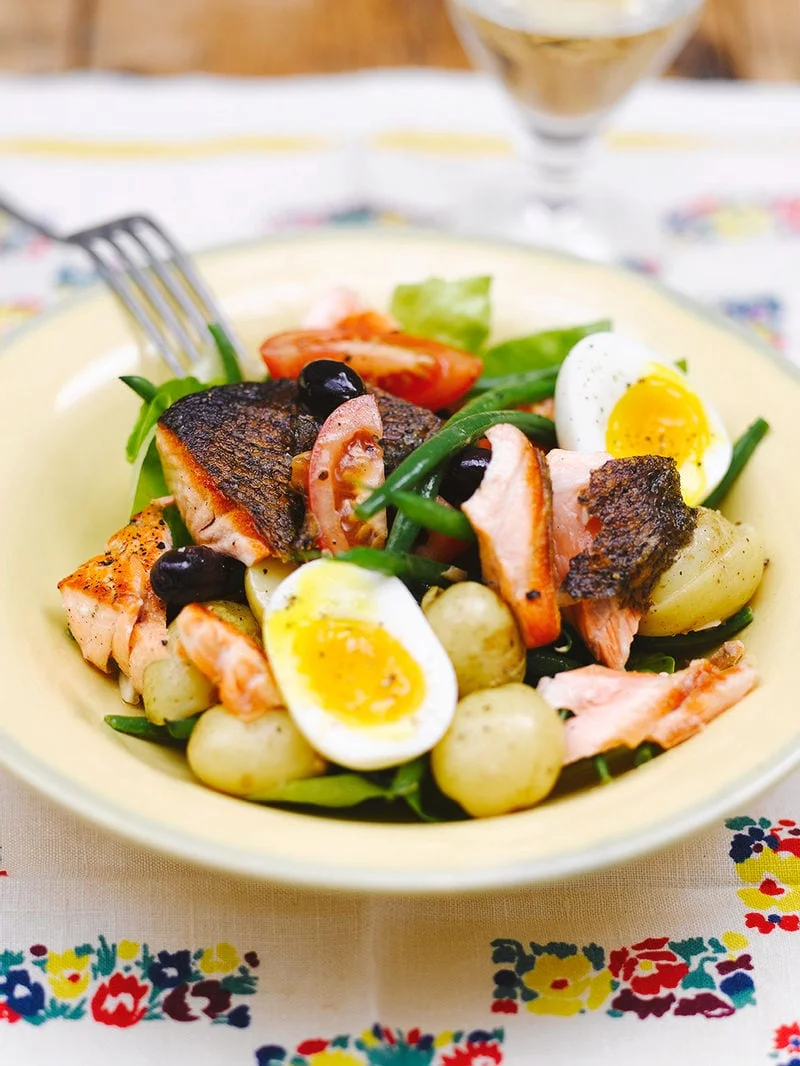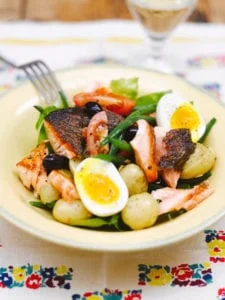 Salad Niçoise using salmon instead of tuna is one of my favorite versions of the dish.
Ingredients
8 oz salmon fillet, from sustainable sources
olive oil
1/2 lb baby red or fingerling potatoes
1/4 lb green beans
2 large free-range eggs
1 butter lettuce
1 handful of black olives (stone in)
4 ripe Roma tomatoes
1 clove of garlic
3 tablespoons extra-virgin olive oil
1 lemon
1 teaspoon Dijon mustard
Method
Season the salmon with sea salt and black pepper, then add, skin-side down, to a hot frying pan with 3 tablespoons of olive oil. Fry for 4 minutes, then turn and cook for a further 2 minutes.
Remove from the pan and set aside to cool, then flake into chunks.
Halve the potatoes and boil with the beans until tender, then refresh in cold water.
Cook the eggs in a pan of boiling water for 6 minutes to hard-boil, then remove, peel and quarter.
To make the dressing, peel and finely chop the garlic, then combine in a large bowl with the extra virgin olive oil, lemon juice, mustard and a pinch of salt and pepper.
Add the lettuce leaves to the dressing with the potatoes, beans and olives. Cut the tomatoes into wedges, add to the bowl, then toss to coat.
Divide between 2 bowls and top each with the egg quarters and flaked salmon.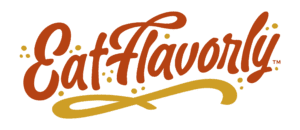 Sources