What better way to celebrate the holidays than to take a look at some festive culinary experiences from around the world.  Let's look at some Christmas food traditions from countries where Flavorly has introduced a new meal:  Mexico, Italy, Greece and Korea.
Italy – The Feast of Seven Fishes
Italy has many regional culinary traditions at Christmas. For example, in some parts of Italy, they celebrate with The Feast of the Seven Fishes.  Also known as The Eve, this feast is an Italian–American celebration of Christmas Eve with dishes of fish and other seafood.  The meal includes seven different fish prepared in seven different ways. More often than not, two of the featured items are baccala (salted cod) and calamari. Whereas in other areas, they eat roasted lamb, or poultry roasted or boiled and seasoned with sauce.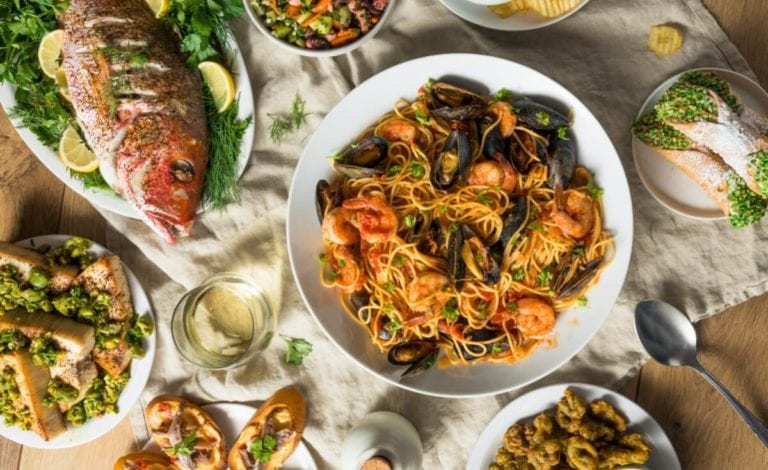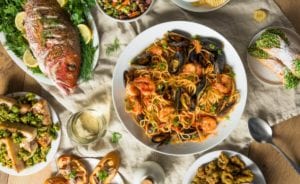 Desserts also play an important role during the holiday season.  In Northern Italy, one of the infamous holiday sweets is panettone – a cake with candied fruit, chocolate, raisins, and nuts. In addition, other treats include torrone, nougat, marzipan, zeppole, cannoli, and pandoro.
Greece – Egg-Lemon Chicken Rice Soup
Either as the first meal after Christmas Eve church services, or the first course at the main meal of the day, this egg-lemon chicken-rice soup avgolemono is a familiar sight in Greek homes.  This soup is velvety, bright, citrusy and soothing.  It is one soup that lives up to the adage that chicken soup is food for the soul.   In fact, the egg-lemon combo is the basis of many Greek broths and sauces, not just chicken soup. It is also common in other parts of the Mediterranean. Some food historians suggest it traces back to Sephardic Jews who were expelled from Spain in 1492.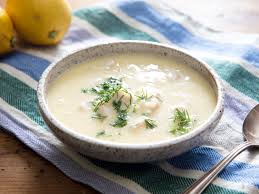 Personal note:  I have been to Greece many times and cannot believe I haven't yet tried this soup.  I have made a mental note to prepare it on Christmas Eve this year.  It also sounds like a fun alternative to classic American Chicken noodle soup.  Relatively low in calories too because even though it's creamy there is no cream.  In terms of Christmas food traditions this just might be one I introduce into our family routine.
Mexico – Mexican Pork and Hominy Stew
Red Pozole is a comforting Mexican stew filled with shredded pork and hominy in a warm red chile broth. To begin with, it is easy to make and full of authentic Mexican flavor. Pile your bowl with toppings like shredded cabbage, radishes, cilantro, lime, and avocado!  In Mexico, pozole is typically served at Christmas, New Year's Eve, Mexican Independence Day and other holidays.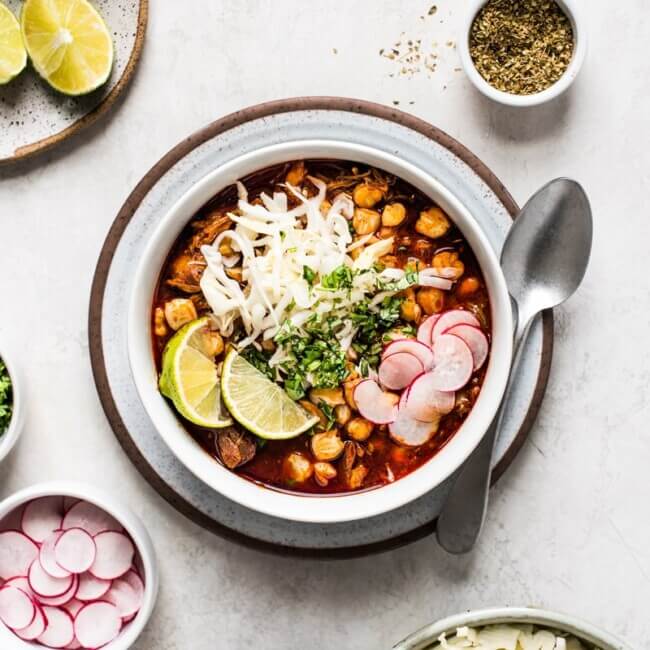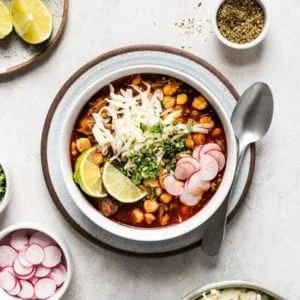 What is hominy?  These big kernels of corn are puffy and chewy with a very unique flavor owing to a special processing technique.  Hominy comes from whole corn kernels that have been soaked in a lye or lime solution to soften the tough outer hulls. Before eating you need to wash the kernels to remove the excess solution, the hull, and often the germ. Ready-to-eat hominy is available in cans or cook it yourself like dried beans.
Korea – Beef Bulgofi
Korean traditions are rooted in family. For example, a large potluck dinner often occurs at Christmas.  The holiday menu features foods like Bulgogi (barbecued beef), sweet potato noodles, and kimchi. In fact, everyone brings their best dish. Then, the family will finish the meal with a Christmas cake, often a steamed rice cake decorated with fruits.  Alternatively there is a buffet of all the best Korean desserts the family has to offer.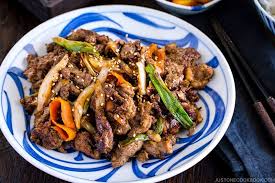 Bulgogi is a Korean dish using thin slices of marinated beef on a grill. The marinade highlights the savory flavors of soy sauce, sesame oil and garlic and the sweet flavors of brown sugar and Asian pear. Bulgogi is popular because of the sweet and savory flavor infused in every tender piece of beef.  Interestingly, the word "bulgogi" comes from a combination of words in a Korean dialect "bul" meaning fire and "gogi" meaning meat. In summary, this dish combines meat and heat to make a delicious entree.
And finally…
From all of us here at Flavorly we wish you a very MERRY CHRISTMAS AND HAPPY HOLIDAYS!
Psst….!  Don't forget to give yourself a break from cooking and order something from our delicious menu of global flavors…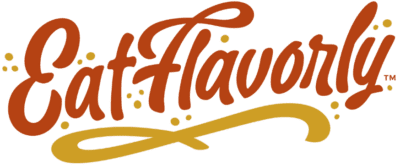 Sources
https://www.thespruceeats.com/greek-christmas-food-traditions-1705476
https://www.fluentin3months.com/christmas-food/
https://www.northcoastjournal.com/humboldt/lemony-soup-for-the-soul/
https://glitterinc.com/my-moms-greek-lemon-chicken-soup-a-k-a-avgolemono-soup/.
https://www.simplyrecipes.com/recipes/posole_rojo/
https://www.thekitchn.com/h-is-for-hominy-what-is-it-and-100215
https://christmas.lovetoknow.com/Korean_Christmas_Traditions
https://www.dinneratthezoo.com/beef-bulgogi/…