'Bangers and mash' is a staple part of British cuisine; a popular national dish, alongside fish and chips, shepherd's pie and a 'Sunday roast' dinner.  Besides the fact that it is easy to prepare and inexpensive to source it is a classic crowd pleaser. You could say it's an absolute "Banger".  The name 'Bangers and Mash' literally means sausages and mashed potatoes and it is typically served with a brown onion gravy and sometimes a side of green peas.   Although the ingredients are simple in essence, the overall flavor and appearance of the dish can vary enormously.  A lot depends on the type of sausage and the way that the cook prepares the gravy.  Therefore, it is tricky to replicate if you cannot source or make the right kind of sausage meat and are unsure how the gravy is supposed to taste.
Why Bangers?
The term bangers supposedly originated during World War I, when meat shortages resulted in sausages being made with a number of fillers.  These fillers included fat, rusk, breadcrumbs and water, and caused the sausages to explode when cooked.  Subsequently, the slang name stuck.  Today the word bangers mostly refers to sausages paired with mashed potatoes even though the exact same sausages feature in many other dishes.  The meat used in bangers may be pork, beef, or lamb.   Alternatively, one of the most traditional meat sausages is Cumberland sausage, a coiled pork sausage from northwestern England.
Cumberland Sausage
Cumberland sausage is a pork sausage that originated in the ancient county of Cumberland, England, now part of Cumbria.  It is a chunky, coarse cut sausage spiced with black pepper and made in a continuous coil, up to twenty-one inches in length. The ingredients for traditional Cumberland sausages consist of  boneless pork meat, rusk water and seasonings. The taste of traditional Cumberland sausage is quite spicy due to the generous amount of pepper and herbs.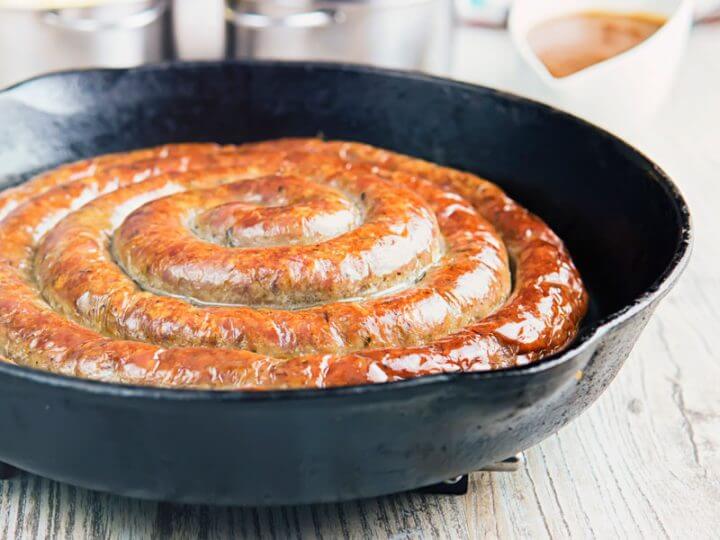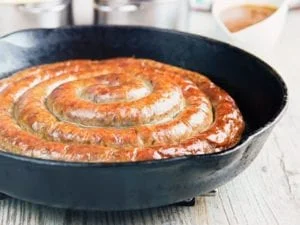 American Breakfast Sausages?
American breakfast sausages are not the same as bangers although they are probably the closest approximation.  In fact, there are certain characteristics in terms of shape, texture, makeup and flavor that help distinguish American breakfast sausages from bangers.  Classic American breakfast sausages don't normally contain cereal filler, more often having nonfat dry milk powder.  Coupled with ingredients like cloves, maple syrup and brown sugar, they tend to have a sweeter taste.
Bangers, on the other hand, are more savory, containing a greater quantity of herbs like thyme, sage, marjoram, mace, nutmeg and onion powder.  Together with the herbs and spices in British bangers, their lack of sweetness is what makes them pair well with mashed potatoes and gravy.  If you line a British sausage up next to an American one, you will note that the shape of the links differ too.  The British version is much fatter, somewhat similar to a Bratwurst in shape, but with a smoother and less chewy consistency.
Anything Special about the Mash?
In the UK, mashed potato recipes began emerging in the mid eighteenth century, notably in The Art of Cookery  (Hannah Glasse, 1747).  In those days, the recipe consisted of potatoes, butter, milk or cream, and a little bit of salt.  Mash is made with very similar ingredients today, although there are more sophisticated variations.  Examples include bacon bits, garlic, onion, cheese, leeks and sour cream.  But for the most part, there's no reason to complicate the elegant simplicity of mash which makes it the perfect companion to a banger.  To make a perfect mash, Russet potatoes or other non-waxy varieties are ideal.  Interestingly, American mashed potato sometimes tends to be more of a puree than its firmer British counterpart.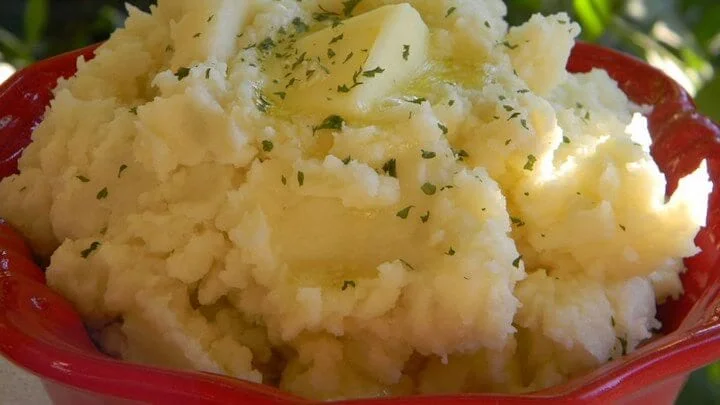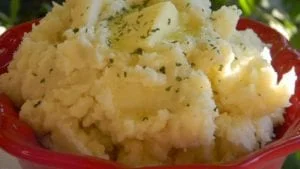 What about the Gravy?
Gravy doesn't have to be part of the bangers and mash matrimony but the addition of gravy provides a finishing touch. Traditionally the gravy served is an onion gravy although Guinness or red wine base flavorings are good alternatives.  The onions produce a sweet flavor and by caramelizing them in butter they contribute to make a darker color as well.  The color of the gravy is important – it is dark, because of a chicken or beef stock base and sometimes the addition of red wine and Worcestershire sauce.  What is important is that it is definitely not the pale, milky gravy that often accompanies American sausage and biscuits.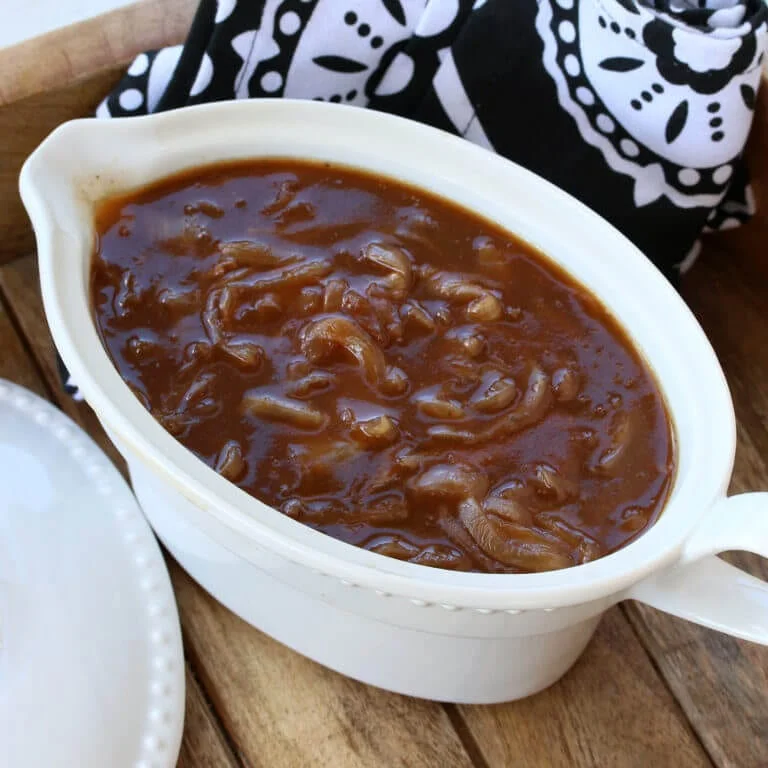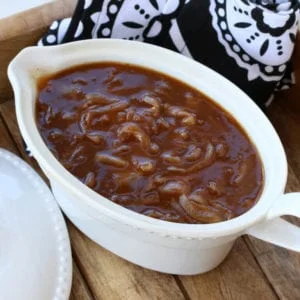 Fun Fact about British Bangers
Firstly, the Romans introduced sausages to Great Britain circa 400 A.D.
Under the rule of King Charles I, sausages were divided into links for the first time; with the exception of the traditional Cumberland sausages which are never separated into links.
Queen Victoria, who reigned from 1837 to 1876, was particularly fond of sausages but made the tedious request that her cooks chop rather than grind the meat.
Bangers are consumed more frequently on Saturdays in the UK than any other day of the week.
The British Sausage Appreciation Society dedicates itself entirely to sausage and hosts British Sausage Week every year!
The most popular sausages in the UK are pork. Some popular varieties include Cumberland, Lincolnshire (flavored with fresh sage), Pork and Apple, Pork and Leek, and Pork and Herb.
Costing 20 British Pounds, equivalent to about 28 US Dollars, the most expensive sausage ever was made from Fillet steak with Champagne and truffles.
In the year 2014, Britons spent an estimated 780 million British Pounds, or just over 1.1 trillion US dollars, on sausages alone!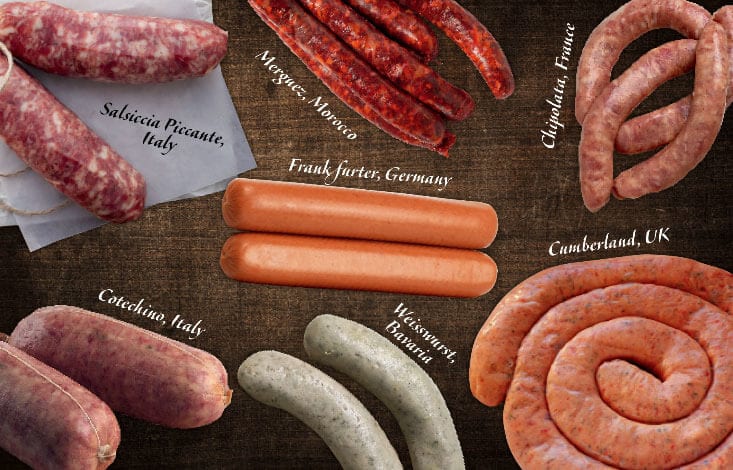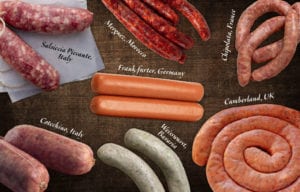 Preparing the Perfect Dish
Preparing bangers and mash doesn't require a great deal of skill but correct ingredients are critical.  It is essential to source or make savory sausage links that use similar herbs and spices to those used in British recipes.  In addition, try to avoid the sweet additives that are more common in the American breakfast sausage.  You should also include a little rusk or breadcrumb filler to smooth out the otherwise chewy texture.  Perfect mashed potatoes require floury potatoes combined with a little but not too much butter and milk.  Additionally, avoid the yellowy, waxy kind which don't lend themselves to a fluffy, smooth, creamy colored mash.  Finally, get your gravy right – no white, milky sauces please!  If you follow these guidelines you should have an authentic tasting meal.
Healthy Gourmet's Bangers and Mash
Here at EatFlavorly  we think we've come pretty close to the perfect Bangers and Mash!  To conclude, we would love you to try it and find out for yourself!  Top quality British style sausages can be difficult to find in the US and we are very proud of ours – a premium pork sausage free of preservatives and made with pork from Duroc, heritage breed pigs.  Our bangers are served with creamy mashed potato, onion gravy and a side of fresh green peas.  If you're British and want a taste of home then this the real deal! Have your meal delivered directly to your door with EatFlavorly.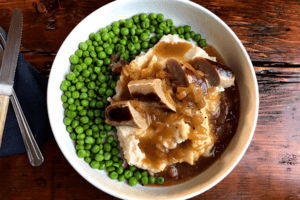 Sources
https://thompsonhouse.ca/2017/12/bangers-mash-history/.
https://englishbreakfastsociety.com/bangers.html
https://www.quora.com/What-kind-of-sausage-are-bangers
https://www.myrecipes.com/extracrispy/why-british-bangers-taste-different-than-american-breakfast-sausage
https://honest-food.net/bangers-sausage-recipe-homemade/
https://www.daringgourmet.com/homemade-british-bangers/
https://www.thepauperedchef.com/article/homemade-british-bangers-and-the-search-for-rusk
https://www.noblehops.com/a-brief-history-on-a-pub-favorite-bangers-mash/.