In the United States, Cinco de Mayo is widely interpreted as a celebration of Mexican culture and heritage, particularly in areas with substantial Mexican-American populations.  Revelers mark the occasion with parades, parties, mariachi music, Mexican folk dancing and traditional foods like tacos and mole poblano.  Interestingly, Cinco De Mayo is more of an American than Mexican holiday.  Los Angeles, Chicago and Healthy Gourmet's hometown Houston hold some of the largest festivals.
What is the true meaning behind Cinco de Mayo and where did it originate?  Let's examine the cultural center of Puebla in central Mexico where Cinco de Mayo originates and take a look at the regional Mexican cuisine that inspires some of Healthy Gourmet's freshly prepared meals like our Barbacoa Breakfast Hash, Beef Fajita Bean Bowl and Big Texas Chili.
The Truth Behind Cinco De Mayo
Contrary to popular belief, Cinco de Mayo is not Mexico's Independence Day; surprisingly it celebrates a single battle – the Mexican victory at the Battle of Puebla – during the Franco-Mexican War, which came after Mexico's independence from Spain, the Mexican-American War and the Mexican Civil War.
Battle of Puebla Day
Although not a major strategic win in the overall war against Napoleon III and his French army, the Mexican triumph at the Battle of Puebla on May 5 undeniably represented a great symbolic victory for the Mexican government and bolstered the resistance movement.
Also known as Battle of Puebla Day, Cinco de Mayo is mainly celebrated in the region of Puebla, and mostly in the state's capital city of the same name.  Traditions include military parades, recreations of the Battle of Puebla and other festive events.
For the rest of Mexico, however, May 5 is a day like any other.  It is not a federal holiday, so offices, banks and stores remain open.  In other words, it is a relatively minor holiday.  Nonetheless, in America it has evolved into a celebration of Mexican culture, some aspects of which are more authentic than others.
Authentic Eats on Cinco de Mayo
What America's Cinco de Mayo misses is the traditional food of Mexico, named to the UNESCO Representative List of the Intangible Cultural Heritage, a recognition given to only one other cuisine (French).  Moreover, Nachos with refried beans, cheese wiz and jalapenos is nowhere on the list or in the country. Likewise, Taco Bell has even tried opening up in Mexico but each time has failed, simply because no one will eat there.
What makes traditional Mexican fare worthy of such a distinction?  You won't find cumin soaked ground beef hard shell tacos topped with iceberg and cheddar. On the other hand, you may find lamb barbacoa that has been smoked underground in banana leaves or carnitas topped with queso fresco, pickled onions and homemade salsa verde wrapped in a warm homemade corn tortilla and lightly heated on a comal.
Healthy Gourmet's Signature Mexican Dishes
Many consider Puebla the gastronomic capital of Mexico.  Read on to find out how to create a truly authentic Cinco De Mayo based on traditional dishes from Puebla and Central Mexico.  And discover how Healthy Gourmet's three signature Mexican dishes incorporate regional flavors to bring an authentic Cinco De Mayo to your table this year:  Barbacoa Breakfast Hash, Beef Fajita Bean Bowl and Big Texas Chili.
The Ancho and Guajillo chili powders and the Poblano peppers in Health Gourmet's Big Texas Chili are indigenous to Puebla and the Jalapenos originate from nearby East Central Mexico.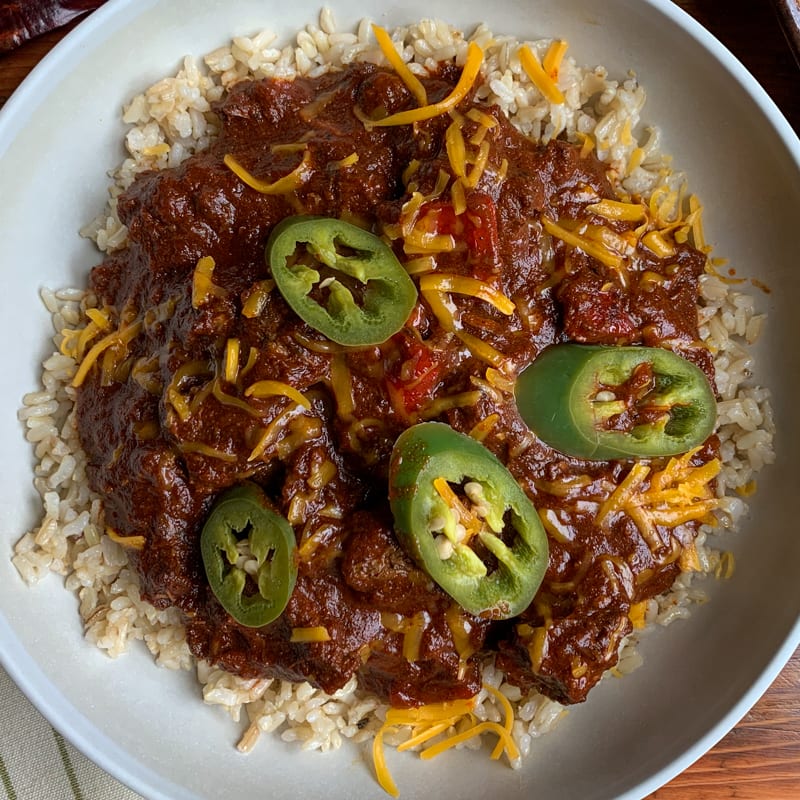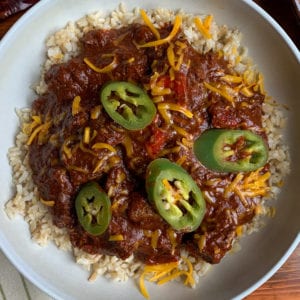 Healthy Gourmet's Big Texas Chili:  Loaded with Texas chuck Angus beef, our award-winning chili sauce, house-pickled jalapeños, red peppers, cheddar, and brown rice.
Ingredients: Chili Sauce (Water, Onion, Tomatoes (Tomatoes, Citric Acid), Poblano Pepper, New Mexico Chili Powder, Guajillo Chili Powder, Salt, Olive Oil, Ancho Chili Powder, Lime Juice, Garlic Powder, Cumin, Oregano, Chipotle Chili Powder. ), Brown Rice, Lean Steak (Beef, Natural Seasoning (Sea Salt, Garlic Powder, Paprika, Black Pepper, Spice)), Bell Peppers, Cheddar (Milk, Cultures, Salt, Enzymes, Annatto), Jalapenos
Regional and Mexican Cuisine:  Puebla and Central Mexico
There are seven regions of Mexican cuisine. Due to their geography and history, each region's food has distinctive characteristics.  For example, these may vary in everything from staple crops to the spices used to season dishes.
Those regions are The North (red), The North Pacific (chartreuse), The Bajio (blue), The South Pacific Coast (orange), The South (green), The Gulf Coast (magenta), and Central Mexico (indigo).   Puebla lies in Central Mexico alongside Mexico City, Morelos, Tlaxcala, Hidalgo and Distrito Federal (Federal District / Mexico City).
Puebla and Central Mexico
The main characteristics of Central Mexican cuisine are:
in arid highlands "classic Spanish" cuisine predominates
in rugged mountains diverse Indian cultures affect local cuisines
easternmost fringe is hot, humid lowlands giving out tropical produce
the city of Puebla is a "gastronomic heartland" for central Mexico because of its history straddling the main route between the Gulf Coast and Mexico City.  Puebla is famous for its very complex "Baroque" recipes. In other words, a fusion cuisine influenced by more than one world cultural tradition.
Outdoor Markets
The central part of the state comprises the city of Puebla and the towns and villages lying to the east and west. The area offers many large markets and twice-weekly traditional tianguis– outdoor markets- featuring a huge array of fresh produce, dried chiles, herbs and spices. Not surprisingly, this part of the state is gastronomic heaven, and humble food stalls as well as elegant restaurants serve food of outstanding quality.
Historic Center of Puebla
Charming Centro historic buildings are impressive.  For example, fine colonial mansions, the 16th-century Catedral de Puebla on leafy Zócalo square, and Biblioteca Palafoxiana, a library dating from 1646. Upscale eateries serve the city's signature dish, mole poblano, and vendors sell handicrafts at the Parian market and shops and stalls around artsy Los Sapos street. The Museo Amparo shows pre-Hispanic to contemporary art.
Oldest Regional Cuisine
The creative blending of diverse ingredients is the hallmark of Mexican cooking.  Above all, in the state of Puebla it is a passion. Everywhere there is talk of food.  Their enthusiasm for the subject reveals their pride in one of the oldest, most savory regional cuisines of Mexico.
Culinary Influences and Mexican Baroque Cuisine
The Baroque movement emerged in the 17th century and it features an ornate, intricate, over-the-top style. When Spanish explorers traveled to Latin America, a blend of European and American indigenous traditions formed. In Mexico, people started to mix European and indigenous ingredients into their recipes. A popular dish was mole, a sauce with several spices.  The richness of the colonial cuisine of this time also reflects the way Mexico was a nexus of Spanish imperial wealth and global trade of this time.
Puebla's food is much more than only some typical dishes. It is the result of a mixture of pre-Hispanic and Spanish food, which consequently gives the dishes their colors, aromas, tastes and textures. On the other hand, there are also influences from French and Middle Eastern cuisine.
Pre-Columbian Street Food
Long before the Spaniards came to this area and built the city of Puebla, the nearby town of Cholula was a ceremonial center and home of pre-hispanic street food. In this ancient city, vendors would set up outside the pyramid to feed this street food to those who came to worship.
Spanish Nuns
After arriving in Puebla, the Spanish conquerors settled close to Cholula and created the city of Puebla. Religion was a major aspect of Spanish conquest and convents and monasteries appeared across the city.
Spanish nuns invented many of Puebla and Mexico's most cherished dishes in these convents by integrating old world traditions with new world ingredients that were introduced by Creole and Mestizo (mixed race) homes in Puebla.
Poblano Cuisine
Poblano cuisine is a mixture of the traditional indigenous fare and the influence of the Spanish nuns.  In grand conventos the nuns created culinary specialties.   Chiles en nogada, mole poblano, and a variety of sweets bordering on the baroque were among them.
Produce from the region, such as corn, chili, beans, tomato, and turkey blended with ingredients from overseas.  For example, oils and vegetables such as olive oil, onion and garlic were typical. For the preparation, they used cooking utensils such as: clay pots, "metates" and wooden spoons.  In fact, these were very different from those that could be found in the rest of the country.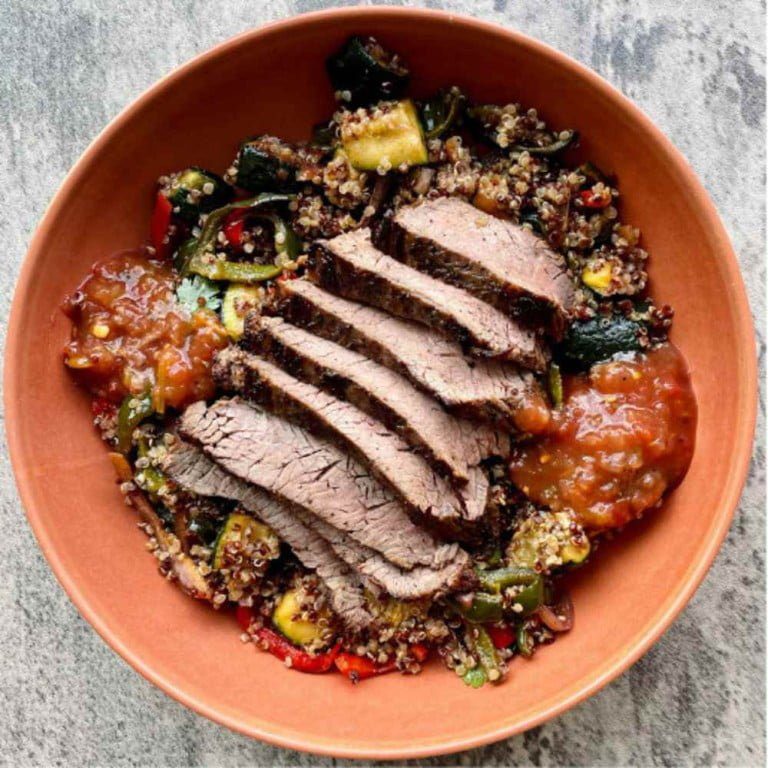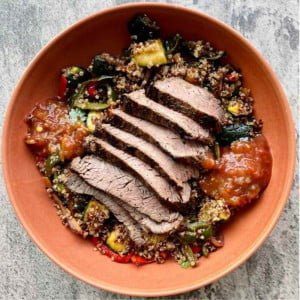 Beans are one of Puebla's main agricultural crops alongside corn, coffee, avocados and alfafa.   Healthy Gourmet's Beef Fajita Bean Bowl uses both Black and Pinto Beans from the region as well as Ancho and Poblano peppers.
Tender seared sirloin bavette steak over our 9 bean blend mixed with poblano & sweet red bell peppers, caramelized onions and cilantro with roasted tomato & chipotle salsa.
Ingredients: 9 Bean Blend (Black Beans, Pinto Beans, Great Northern Beans, Black Turtle Beans, Red Kidney Beans, Flageolet, French Navy, Cannellini Beans, Light Red Beans.), Sirloin Steak (Beef, Natural Seasoning (Sea Salt, Garlic Powder, Paprika, Black Pepper, Spice)), Roasted Tomato Salsa (Tomatoes, Onion, Lime Juice, Cilantro, Sea Salt, Ancho Pepper, Cumin Seed, Olive Oil, Garlic Powder), Bell Peppers, Poblano Pepper, Onion, Cilantro, Olive Oil, Sea Salt, Black Pepper
Cradle of Corn
The nuns spent a great deal of their time cooking, and enthusiastically embraced the local ingredients.  Consequently, Tortillas and salsas, moles and pipians (both sauces), found their way onto the tables of the Poblano families of New Spain. By far the most widely-adopted meal was corn.  In fact, families tend to eat one form or other other every day.  Puebla's other name is la cuna del maiz – the cradle of corn.  This is because the oldest corn kernels in the world originate from the area of Tehuacán, Puebla.
Puebla Traditional Dishes
It is almost impossible to narrow down the extensive list of notable Pueblan dishes.  However, perhaps three most widely recognized include Mole Poblano, Chiles en Nogada and Barbacoa de Puerco.
Mole Poblano
In this part of Mexico, any stew made with a combination of ground ingredients is a 'mole'.  Above all others, the most famous is mole poblano. The classic version uses four kinds of chile, a variety of ground seeds and nuts and accompanies turkey.
An unusual and distinctive ingredient is dark bitter chocolate.  Subsequently, cinnamon and cloves, onions, garlic and tomatoes add interest.  This is the dish you will usually serve at a wedding fiesta.  Additionally, traditional Cholulteca families, present a live turkey at the reception. First, this placid creature passes gently from dancer to dancer, absorbing the good feeling of the party.  Then, the chefs at the wedding party prepare it for the newlyweds' first mole.
Chilies en Nogada
In this dish green chilies are stuffed with ground beef and topped with walnut sauce and pomegranate seeds.  This dish is a tribute to the fruit of Puebla's late summer-early fall harvest season. Ground meat is seasoned and combined with raisins, pine nuts and local fruit.
Ingredient fruits include apples from Zacatlán and peaches and pears from Huejotzingo. Roasted poblano chiles from San Martin are stuffed with the mixture, batter-dipped and fried.  Next they are topped with a creamy sauce made with walnuts from Calpan and garnished with pomegranates from Tehuacán. Today this creation appears on the menu all over the country, especially during the patriotic month of September
Barbacoa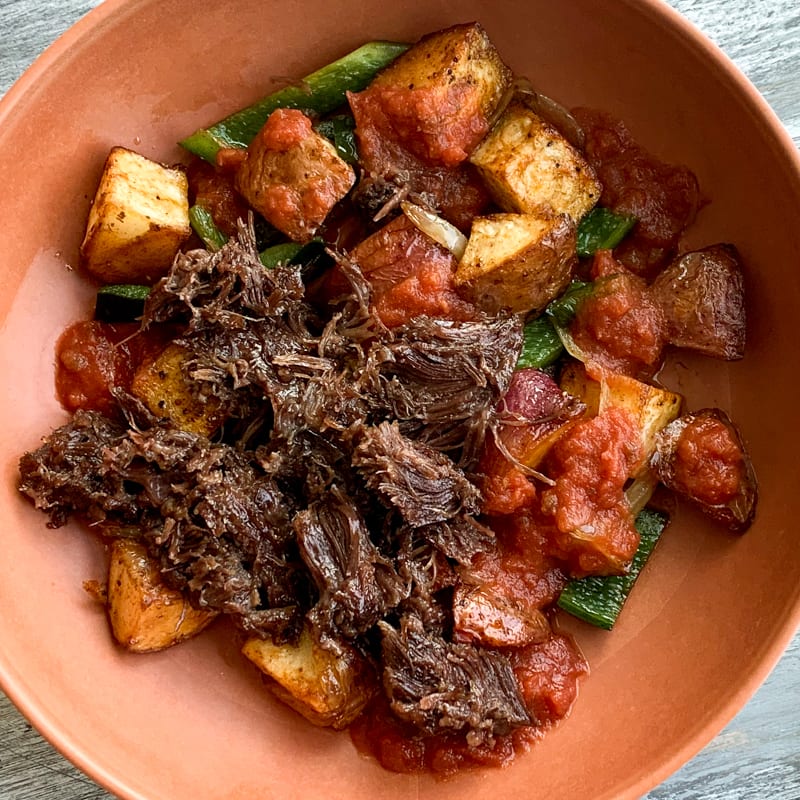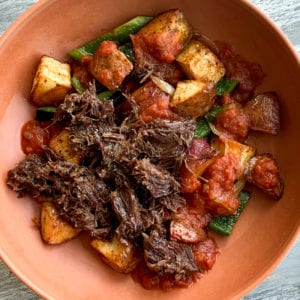 Healthy Gourmet's Pulled lean tender beef over red potato, poblano and onion hash, with handmade roasted tomato salsa.
Ingredients: Potato Hash (Red Potatoes (Sea Salt, Spices), Poblano Pepper, Onion, Sea Salt, Spice), Lean Steak (Beef, Natural Seasoning (Sea Salt, Spice, Garlic Powder)), Roasted Tomato Salsa (Tomatoes, Onion, Lime Juice, Cilantro, Sea Salt, Ancho Pepper, Cumin Seed, Olive Oil, Garlic Powder)
Method
Traditionally, barbacoa is meat (usually sheep, goat, or beef) steam cooked in an underground oven until tender and succulent.  First, a brick-lined oven, usually about 60 centimeters (23 inches) in diameter and about a meter (3 feet) deep, is dug into the earth. Next, wood is placed at the bottom and burned until the whole oven is red hot.
A large pot is prepared with a little liquid (usually water and/or pulque with vegetables and aromatic herbs) and a grille in the bottom so that the meat does not touch the bottom of the pot. Next, Meat (usually lamb or mutton) is wrapped in maguey leaves and placed inside the pot.  Finally, it is topped with the animal's stomach, stuffed with other edible organs and a mixture of herbs, spices, and chiles.
Three Meals in One
A metal sheet and a layer of fresh earth covers the oven, which cooks the meat overnight, undisturbed. When uncovered, the organs (often called pancita de barbacoa) and the leaf-wrapped meat are perfectly tender and most and the liquid has turned into a delicious soup. Frequent partakers of this rustic culinary masterpiece often do justice to all three parts.  That is to say, starting their meal off with a small bowl of the brothy soup (called consomé), followed by tacos made from the internal organs and finally tacos made from the meat itself wrapped into soft corn tortillas.
Desserts
Savory food is not all Puebla has to offer.  For instance, Cocada and Jamoncillo are examples of typical, local desserts.
Cocada — dessert composed of coconut, egg, and sugar, sometimes also milk, pineapple, jícama, or even wine
Jamoncillo — finely ground nuts or seeds, especially pumpkin, pine-nuts, or peanuts, prepared with milk and sugar
A well-rounded meal would not be complete without a local drink to accompany such as Nevedo (whisky with fruit).  Additionally, Acachú (a cherry liqueur) and Chumiate (a loquat liqueur) are fruit based liquors unique to the region.
Mexican Independence Day
Many people outside Mexico mistakenly believe that Cinco de Mayo is a celebration of Mexican independence.  However, this occurred more than 50 years before the Battle of Puebla!
Independence Day in Mexico (Día de la Independencia) is commemorated on September 16, the anniversary of the revolutionary priest Miguel Hidalgo y Costilla's famous "Grito de Dolores" ("Cry of Dolores"), a call to arms that consequently declared war against the Spanish colonial government in 1810.
In conclusion, maybe we should all have a second Cinco de Mayo on September 16!  Let's use it as an excuse to party and celebrate more of Mexico's extraordinary regional cuisine.
Healthy Gourmet will help start your party!
Sources
https://www.usatoday.com/news/
https://www.smithsonianmag.com/arts-culture/what-to-really-eat-on-cinco-de-mayo-50767054/
https://www.foodrepublic.com/2012/01/19/a-brief-history-of-chili-con-carne/
https://spoonuniversity.com/lifestyle/what-you-should-actually-eat-on-cinco-de-mayo
https://www.thedailymeal.com/authentic-mexican-dishes-cinco-de-mayo/5514
https://www.history.com/topics/holidays/cinco-de-mayo
https://www.seriouseats.com/2014/07/regional-mexican-cuisine-what-is-pueblan-food.html
http://northernlauren.com/popular-mexican-foods-puebla-mexico/
https://matadornetwork.com/pulse/9-foods-try-puebla-mexico/
https://www.picos.net/the-seven-regions-of-mexican-cuisine/
https://www.everydayhealth.com/diet-nutrition/true-flavors-mexican-food/
https://www.mexconnect.com/articles/2246-the-cuisine-of-puebla-cradle-of-corn
https://www.menuism.com/guides/getting-to-know-the-7-essential-regions-of-mexican-cuisine-1003
https://www.history.com/topics/mexico/puebla
https://www.backyardnature.net/m/food/states/puebla.htm
https://www.bestday.com/Editorial/PueblaCuisine/
https://thedailytexan.com/2014/10/27/foodways-of-mexico-explains-the-history-of-savory-mexican-cuisine
https://mexicansilverstore.com/mexican-food-regions/
https://www.nytimes.com/2005/11/20/travel/bread-and-chocolate.html
https://www.thespruceeats.com/mexican-barbacoa-basics-4128824