If you're thinking about how to make Mother's Day unique this year, consider mixing mom a special Mother's Day Mocktail that she will never forget. Try a recipe suggested below using one of Just Made's unique fruit and vegetable juice blends, or create something unique using individual ingredients you know she will love.
Serve your Mother's Day Mocktail in the morning or for a midday pick-up.  Alternatively,  serve it as a sophisticated adult beverage while you prepare her dinner.
What Is A Mocktail? 
The Escoffier School of Culinary Arts describes the 'Mocktail' as a cocktail without the liquor, using juices, sodas, infused waters and many other non-alcoholic ingredients to provide flavor. Generally, a mocktail is made fresh rather than poured from a fountain or container.  Modern mocktails tend to have a sense of sophistication that's shared with their alcoholic counterparts, using a variety of ingredients to cover a spectrum of flavors.  The name "mocktail" derives from the word "mock" meaning to "imitate or mimic". 
Mother's Day Mocktail Benefits
Nonalcoholic drinks have gained popularity in recent years because consumers are more cautious around their consumption of alcohol. Lifestyles are healthier and we have many social systems in place to raise awareness against drinking.  Your Mother's Day Mocktail could embody a host of hidden benefits:
Nutrition
Nutrient dense ingredients like fresh vegetable juices, kombucha and coconut water are loaded with essential vitamins and minerals.  These liquids augment your mocktail with drinkable nutrition.
Easy to Make and Inexpensive
The alcohol that goes into cocktails is typically quite pricey and usually the most expensive ingredient that goes into a cocktail. When you remove the alcohol from a drink, you greatly reduce its cost.  Therefore, mocktails tend to be much cheaper to make and buy than real cocktails.
Feel Good
Without the alcohol, mocktails will leave you hangover-free the next day.  Mocktails containing minimal sugar and not too much fruit juice allow you to feel great the next day.
No Addiction
By leaving out alcohol you can be sure that your mocktail will not cause an alcohol craving that may lead to over-indulging or ultimately addiction.
Hydration
With mocktails, not only are you leaving out the dehydrating alcohol, but you actually hydrate your body when using base ingredients like high quality, low sugar coconut water and sparkling mineral water. Coconut water is so high in potassium and such a great electrolyte replacement that it has even been used for IV hydration in some emergency situations
Safety
Pregnant moms, children and the chronically ill can all enjoy mocktails, making them a great celebratory drink to enjoy together.  However, if you have any health concerns or are taking medications, always check with your doctor before adding any new juices or other mocktail ingredients to your diet.
How To Make A Mocktail
Dr. Josh Axe, DC, DNM, CNS, is a chiropractor, a certified doctor of natural medicine and a clinical nutritionist with a passion to help people eat healthily and live well.  On his natural health website, he describes four basic steps for creating a mocktail.
He recommends avoiding artificial flavors and colorings and sugary liquids and opting instead for naturally sparkling water, unsweetened juices or tea, coconut water or milk and fresh herbs, spices and fruit.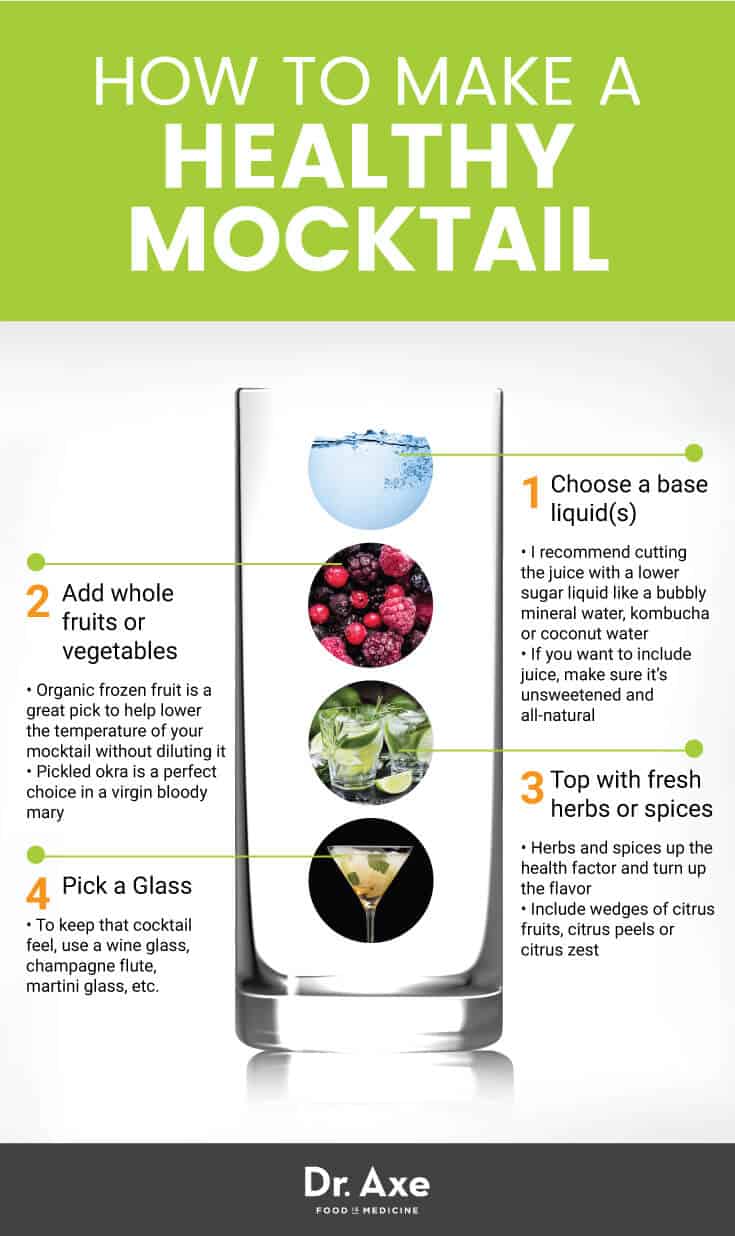 Healthy Mocktail Base Liquids
The secret to preparing flavorful mocktails is to use whole, fresh ingredients. Think plenty of fruit or top quality, cold-pressed fruit and vegetable blends, fresh herbs, seltzer and avoid simple syrups, drink mixes, or sweetened fruit juices and concentrates with artificial flavors and colorings.  According to McKell (Hill) Kooienga, registered dietitian, wellness coach and owner of Nutrition Stripped, here are some of the best liquid bases:
Kombucha
Kombucha is a fermented tea drink that has excellent probiotic benefits. You brew tea and then add sugar and SCOBY (symbiotic culture of bacteria and yeast). The SCOBY eats the sugar, which turns the tea into a fermented beverage. What's great about kombucha is that it's vegan-friendly and dairy-free, and it also tends to be low in calories. But some brands of kombucha tend to be high in sugar and have very small amounts of alcohol (usually under one percent). It's also unpasteurized, so pregnant women should avoid it.
Green juice or any other cold-pressed juice
Juices make a great base for mocktails because they're full of flavor from the fruits, veggies, and herbs you add into it. They're also rich in vitamins, antioxidants, phytonutrients, and minerals.
Seltzer or sparkling water
Selzers make a great base for mocktails because they're bubbly, fizzy and have a hint of flavor. You can dress them up with flavors you love, like lemon, lime, berries, ginger, etc. Most seltzers have zero calories or have very few calories and don't contain any sugar. And best of all, other people in the room don't know you have a non-alcoholic drink, so you're partaking in the festivities minus the dehydration and hangover that often comes with drinking alcohol.
Iced tea
Tea has a calming effect and it's more refreshing than coffee. In addition, tea is packed with health-boosting antioxidants, catechins, and polyphenols that help prevent chronic disease, cancer, bone loss. The list goes on! Tea also has a complex flavor profile, ranging from sweet to earthy to grassy to nutty to floral. Simply brew tea in a kettle and allow it to steep for at least 12 hours to fully get its flavors and nutrients.
Mother's Day Mocktail Garnishes
These are a few examples of fruit, herbs and flowers that are sometimes used for garnish:
– Berries
– Ginger
– Cherries
– Pomegranate
– Watermelon
– Citrus fruits: Lime, lemon, grapefruit, oranges, and kiwi
– Fresh herbs and flowers: Mint, lavender, rose, rosemary, sage, and basil
– Chia seeds
– Rhubarb
Using Fruit and Vegetables 
Benefits of Juice Blends
Top quality, cold pressed vegetable juice blends, such as Just Made juices, are ideal for those who struggle with vegetables because the flavor of a vegetable can be disguised.  Moreover, juiced fruit and vegetables are devoid of pulp and seeds making absorption into the body easy especially on an empty stomach.  When juicing whole fruit, an electric juicer makes larger quantities of juice than a manual juicer.  This can be less time-consuming and labor-intensive.
Using Just Made Juices
All of Just Made Juice blends are grown and harvested in Central and South America and bottled locally in their proprietary processing plant.  The juice is sent through a process referred to as 'high pressure processing'.  This subjects the bottled juice to 87,000 pounds per square inch which destroys any residual bacteria and microbes.  This method avoids using heat which destroys nutrients, flavor and color, preserving the juice to a give it a 60 day shelf life and a freshly made taste.
Mother's Day Mocktail Recipes
Our friends over at Just Made are passionate about delivering a good-for-you flavor adventure inspired by popular juice recipes from Latin America and the Caribbean. Every bottle is crafted with tropical plants and functional ingredients to help you on your health and wellness journey.  In other words, they provide a treat for mom on Mother's Day by making ideal bases for your Mother's Day Mocktail.  Try any of these ideas:
The Passion Dragon
For a mom who loves a little pink in her life!
Nutrition
This juice is crafted with passion fruit, dragon fruit, pineapple, and maca root so it's a good source of iron, magnesium, and antioxidants. These superfoods promote a healthy gut, strengthen your immune system, and maca may improve concentration and mental focus.  The addition of coconut water in the recipe below produces a lighter taste and a hint of extra Caribbean without compromising flavor.
Directions
Mix 6 fl oz Passion Dragon juice (half a bottle) with 6 fl oz high quality, sugar free coconut water (such as ZICO Natural 100% Coconut Water Drink).  Serve poured over ice in a tall glass, garnished with a slice of fresh pineapple.  One juice bottle makes two mocktails.
The Spicy Mango
For a mom who can take the heat!
Nutrition
Made with mango, pineapple, pear, lime and chili peppers. This proprietary 3-chili blend contains high levels of capsaicin, which can help boost metabolism and fight inflammation.  The addition of lime seltzer accents the lime in the juice blend giving it an extra zing and Latin American flair.
Directions
Mix 6 fl oz Spicy Mango juice (half a bottle) with 6 fl oz sparkling naturally flavored lime seltzer water (such as Spindrift).  Serve poured over ice in a rocks glass, garnished with a twist of lime or a de-seeded, split chilli pepper.  One juice bottle makes two mocktails.
The Ginger Green
For a mom who loves to keep active!
Nutrition
Made with spinach, kale, pineapple and ginger.  The Ginger Green is loaded with fiber, potassium, Vitamin C and Vitamin K. These superfoods work together to naturally boost energy, help fight cardiovascular disease and support healthy bones.  The addition of filtered fruit water or herbal tea dilutes the juice and helps to quench thirst.
Directions
Blend 6 fl oz Ginger Greens juice (half a bottle) with 6 fl oz filtered fruit water (infused with fresh apple, lime and mint) or 6 fl oz organic iced ginger tea or organic iced lemon balm tea.  Serve in a tall glass with chilled and garnish with a sprig of mint or cilantro.  One juice bottle makes two mocktails.
The Original Mocktail
The modern day fruit and vegetable based mocktail may be all thanks to some of the most well-known, original alcohol-free drinks named after celebrities from the early and middle 20th century.  Although simple in construction and strongly sweet, these drinks can be seen as the forebearers of the modern mocktail. They were developed to provide a sophisticated cocktail experience to those who cannot or choose not to drink, offering them similar service and presentation without the alcohol.
Shirley Temple
A ginger ale, lemon-lime soda, lemonade or other non-alcoholic base mixed with grenadine syrup and frequently garnished with a maraschino cherry. Named after the famous child actress and allegedly created in Hollywood's Brown Derby Restaurant in the 1930's.
Roy Rogers
A cola base, mixed with grenadine syrup and garnished with a maraschino cherry. Named after the famous Western film actor and entertainer.
Arnold Palmer
A mix of iced tea and lemonade. The exact ratio and type of tea, whether sweet, unsweetened or something else entirely, is open to interpretation and local tastes. Unlike the other two drinks, which simply bear the name of a popular celebrity, champion golfer Arnold Palmer was known to make this drink at home and order it at country clubs after finishing a round.
Ready to make your Mother's Day Mocktail?  Shop for Just Made fruit and vegetables blends stocked by Healthy Gourmet here.
Sources
https://nutritionstripped.com/your-guide-healthy-mocktails/
https://www.thespruceeats.com/best-mocktails-for-mothers-day-760203
https://www.escoffier.edu/blog/culinary-arts/what-is-a-mocktail-and-what-are-the-best-recipes/
https://theinspiredhome.com/articles/drink-to-your-health-creating-fruit-and-vegetable-mocktails-for-everyone-using-fresh-pressed-juice?gclid=EAIaIQobChMIyqv-8IGA6QIVyf7jBx0eAA9oEAMYAiAAEgLcUvD_BwE
https://www.npr.org/sections/thesalt/2014/02/11/275351771/thank-you-shirley-temple-for-the-original-mocktail
https://www.drinks.ng/brief-history-cocktail-meaning-origin/
https://www.oster.com/blog/archive/2015/jun/5-benefits-of-juicing.html#?sortby=newest
http://bestjuicerlab.com/manual-juicer-vs-electric-juicer/